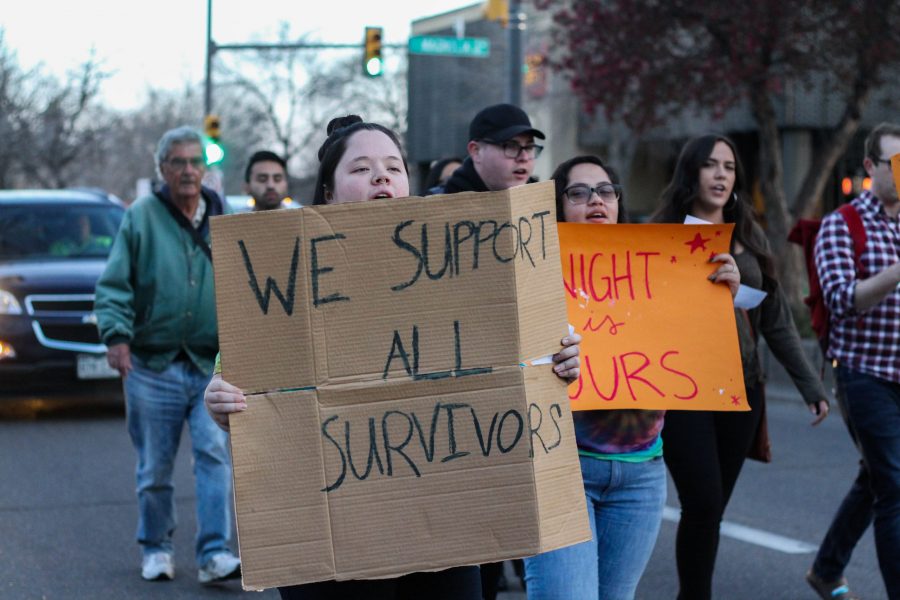 Editor's Note: All opinion section content reflects the views of the individual author only and does not represent a stance taken by The Collegian or its editorial board. Letters to the Editor reflect the view of a member of the campus community and are submitted to the publication for approval.
This is a response to Arisson Stanfield's column The Problem with #BelieveWomen that ran November 6th.  It was argued that the hashtag erased male survivors. The article then painted women as liars which unintentionally highlighted the need for the hashtag in the first place.
The problem we have at hand is that rape is a tool of terrorism used to police women's bodies and discrediting women as liars when they come forward is a part of that violence. Women are constantly silenced and by publishing that article we are once again de-centered in our own struggle.
That article was painful to read because instead of talking about how #believewomen does not always center the most vulnerable among women i.e. trans women, disabled women and women of color. It weaponized the death of Emmett Till as a reason women should not be believed.
Emmett Till was a fourteen-year-old black boy who was falsely accused of whistling at a white woman and then brutally lynched. His body was so badly mutilated that he was almost unrecognizable. His body was sent to his mother, Mamie Till, and it was she who decided that his funeral would be open casket. By putting her pain on display, the murder of Emmett Till propelled the civil rights movement forward.
His mother sacrificed mourning in private because she refused to not fight for justice. She would make the world see what white supremacist patriarchal violence cost.
So to use his death to deflect taking responsibility for toxic masculinity and rape culture in the Black Community was incredibly disrespectful and painful.
It hurt because black women do not lie about rape.
And black women, who stand at the intersection of misogyny and racism, who have been tasked with the burden of defending black men without any reciprocity, who have lost their sons to white supremacy (Emmett Till, Trayvon Martin, Philando Castile, Freddie Gray) will then have to witness those painful losses be used to excuse the sexual violence at the hands of black men.
Let's pause and talk about statistics for a second. The article referenced that two-to-eight percent of rape accusations are proven false. Emmett Till was then used to highlight how those statistics are radicalized, and to put the loyalty of race against the loyalty of gender, but context is everything.
Two-to-eight percent is not a wrong number but in the era of fake news it is the responsibility of journalists to make sure truth is not manipulated to uphold false and malicious causes.
Those citations come from the FBI, which also notes that those assaults reported still took place, but the details were changed to avoid backlash and to gather more resources. Women are constantly disenfranchised from resources and face more violence when they come forward. Trans women, disabled women and women of color are especially vulnerable to this.
Women, especially those who exist in the borderlands like Native women, trans women, disabled women and children have no benefit from coming forward. As  stated before, rape and sexual assault are tools of terrorism specifically weaponized against women and the cost of coming forward is high.
Like Anita Hill, Dr. Christina Blasely Ford, and Deborah Ramirez all still face death threats to this day. They came forward only for their sexual assault perpetrators  be rewarded rather than face consequences.  
To be forced to see your assaulter get appointed to the Supreme Court  is incredibly painful and they did it to fight for justice. Just like Mamie fought for justice for Emmett.
"Emmett's mother is a pretty-faced thing; the tint of pulled taffy.
She sits in a red room, drinking black coffee.
She kisses her killed boy. And she is sorry.
Chaos in windy grays through a red prairie."
The Last Quatrain of the Ballad of Emmett Till, Gwendolyn Brooks
Zora Satchell,  Major in Ethnic Studies
The Collegian's opinion desk can be reached at letters@collegian.com. To submit a letter to the editor, please follow the guidelines at collegian.com.