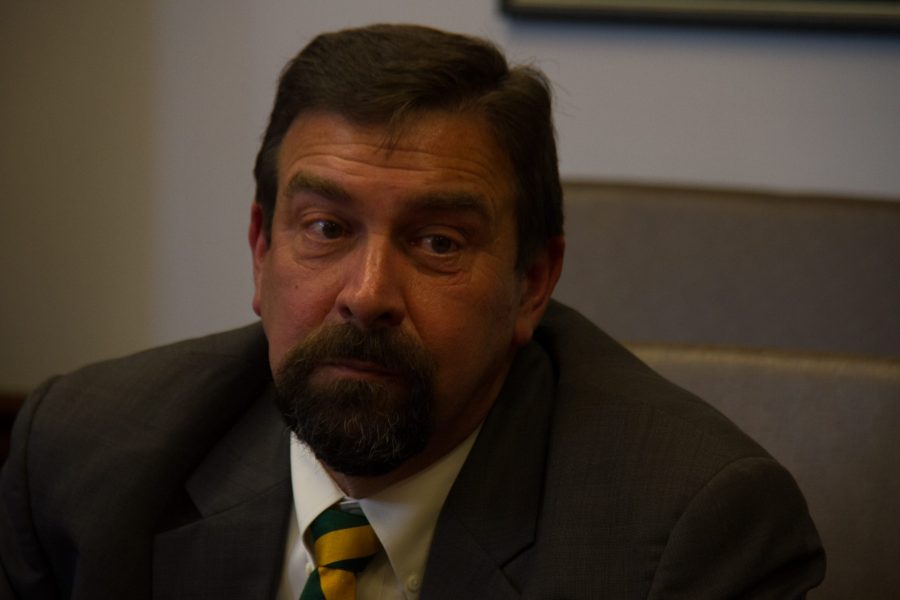 Editor's note: This is a satire piece from The Collegian's opinion section. Real names may be used in fictitious/semi-fictitious ways. Those who do not read editor's notes are subject to being offended.
If Tony Frank wasn't already itching to vacate his current position as Colorado State University president, then an embarrassing mistake made earlier this week certainly helped.
This Wednesday, Frank decided to give the Sweet Sinsations coffee shop in the Lory Student Center a visit for the first time. It is speculated that he was either curious about the coffee shop he had been passing by since 2008 or was going to attempt to have a drink named after him.
Regardless of the nature of his visit, he walked past the festive and spirited decorations, arches made of green and yellow balloons and green and yellow streamers hanging from the ceilings throughout the LSC. Frank presumed they were painstakingly furnished by his adoring students and faculty to celebrate and honor his tenure as CSU president.
Except, they aren't. The green and gold decor adorning the LSC is to celebrate homecoming week rather than Frank himself.
A Sweet Sinsations barista recalls the cringe-inducing conversation she had with president Frank. "After ordering whatever he wanted and while he was waiting for it to be made, he leaned over the counter and loud whispered 'you didn't have to do all this.'" Confused, she asked him to clarify what he meant. Frank responded by coolly stroking his beard and then gesturing to the décor.
"If I wasn't so humble I would think this is all for me," she remembers him saying, followed by another loud whisper of, "but I know it is."
"If I wasn't so humble I would think this is all for me, but I know it is." – President Tony Frank to a Sweet Sinsations Barista
While waiting for his drink to be made, Frank tweeted, "Thank you all so much for the wonderful goodbye decorations. I feel so loved."
This tweet was immediately seen by Rick Miranda and other members of Frank's cabinet, as he requires all staff to turn on "bell notifications" so they won't miss any of his tweets. Panicked by Frank's wrong assumption, Miranda quickly called his boss. 
"He answered how he usually does, with a 'Pickle Riiiiiiiiiiiick! What's up?'" Miranda recalls. After informing Frank that the decorations weren't for him, Miranda said that the president went quiet. "He didn't say anything, but I heard a whimper and then a thud and splash."
The thud and splash Miranda heard was Frank's coffee he was just handed falling out of his hand. Too embarrassed to stay and clean it up, Frank was seen hastily deleting his tweet and making a beeline for his office.
With his ego small enough to fit through his office door, Frank has locked himself inside. No one has seen him since, presumably still replaying the situation in his head. The "Sound of Silence" by Simon and Garfunkel has been heard playing in his office on repeat.
Whether or not he'll make an appearance at the homecoming game or in the parade remains a mystery. However, it's an absolute certainty that this memory will keep Frank up at night for years to come.
Satirical writer Ethan Vassar can be reached at letters@collegian.com or online @ethan_vassar.