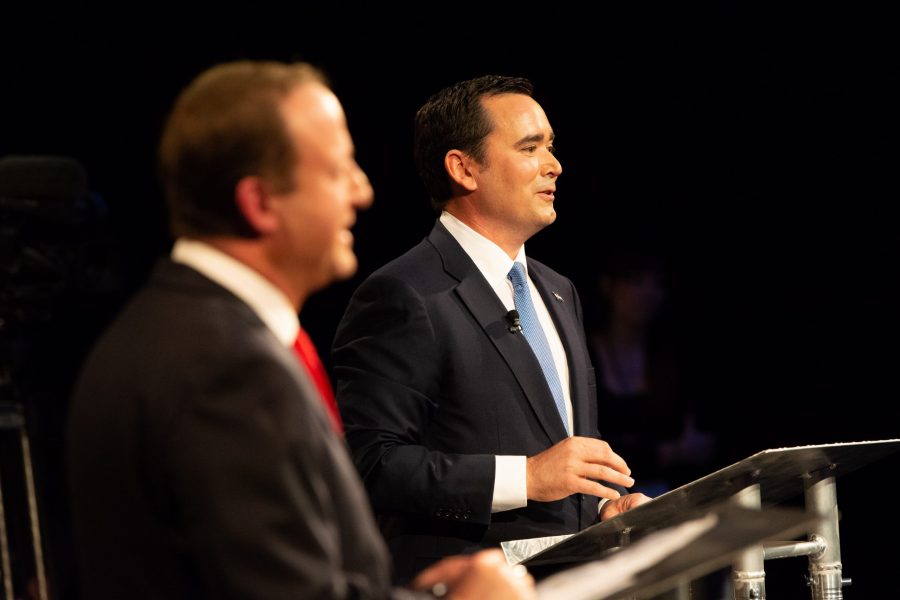 Editor's Note: All opinion section content reflects the views of the individual author only and does not represent a stance taken by The Collegian or its editorial board.
The second gubernatorial debate held in the Lory Student Center at Colorado State University between this year's two major party candidates Jared Polis and Walker Stapleton, seemed to help establish Polis as the leading candidate among students.
According to a survey conducted by the Kaiser Family Foundation, Colorado voters top issues for the gubernatorial election are education, healthcare and housing. Based on these topic issues and Polis's performance, he appears to have done better than Stapleton.  
"I wish there were a few more questions around education, that should have been a larger focus. Still I did appreciated all the questions that the facilitators did ask, they really helped keep the debate on track," junior social work student Bobbie Nathan said. "I'm voting off of immigration, education, women's rights, all of it. So, it was nice at least hearing all of those addressed."
The debate touched on several key-points and controversies around each of the candidates' platforms, and while both Polis and Stapleton did the "politician dodge," and did not directly answer certain questions, Polis' tactful responses and open demeanor helped him win the crowd.
"Student issues were addressed well in the debate, and I feel like Polis represented student issues well … Stapleton spent most of his time attacking his candidate instead of actually talking about issues," junior political science Ben Blea said. "Polis would jump right into address issues and his policy ideas which really helps the students understand where he is going and who they want governing Colorado."
Stapleton's defensive style and tendency to talk over the moderators, Kyle Clark and Marshall Zelinger, did not distract students from the fact that he ended most of his answers talking about or attacking Polis.
"It was a super polarized debate between giving direct answers and personal attacks between the two candidates" said Michael Mortensen, a Front Range Community College student who attended the debate hoping to get a deeper insight into each candidate. "At times both of them were guilty of going around the bush for certain views, but there were definitely more ad-hominem attacks by one candidate than the other."
Per usual with debates, things got heated between the candidates, with one exchange even moderators Clark and Zelinger could not break up. While responding to a question about the Supreme Court overturning Roe v. Wade, the candidates both ended up in what can be considered one of the worse displays of the night.
Stapleton's response to if he, and the state constitution, would protect women's rights if the U.S Constitution changes, was his most apparent attempt to dodge a question. He claimed the question was too "hypothetical" and did not give a direct stance.
Polis was much more forward and boldly claimed, "It is up to the Colorado governor to protect the reproductive rights of women."
Stapleton's aggressive and indirect answers partnered with exaggerated statements, like there would be "no free market" under Polis proved to further disconnect him from students. Also, the fact that he doesn't appear to know the correct way to refer to the  LGBTQ community against an openly gay opponent was not a good look.
"The candidates only did okay, neither of them really got into the nitty-gritty of many issues. Stapleton came off as weaker when addressing issues that affect students, Polis was stronger specifically when talking about funding for higher education. Both were flimsy but Stapleton was worse," senior engineering student Vance Payne said.
According to the first fall poll released last week, Jared Polis leads Walker Stapleton. It will be interesting to see how this debate was perceived among Coloradoans, but from the audience of the Lory Student Center Theatre the winner was clear: Jared Polis.
While both politicians were hypocritical at times, Colorado deserves a representative who listens to the people. A real leader isn't the loudest person in the room, but the voice that helps amplify the quieter ones.
Tonight's debate exemplified exactly what kind of leaders both Polis and Stapleton would be.
Jayla Hodge can be reached at letters@collegian.com or online at @Jaylahodge.