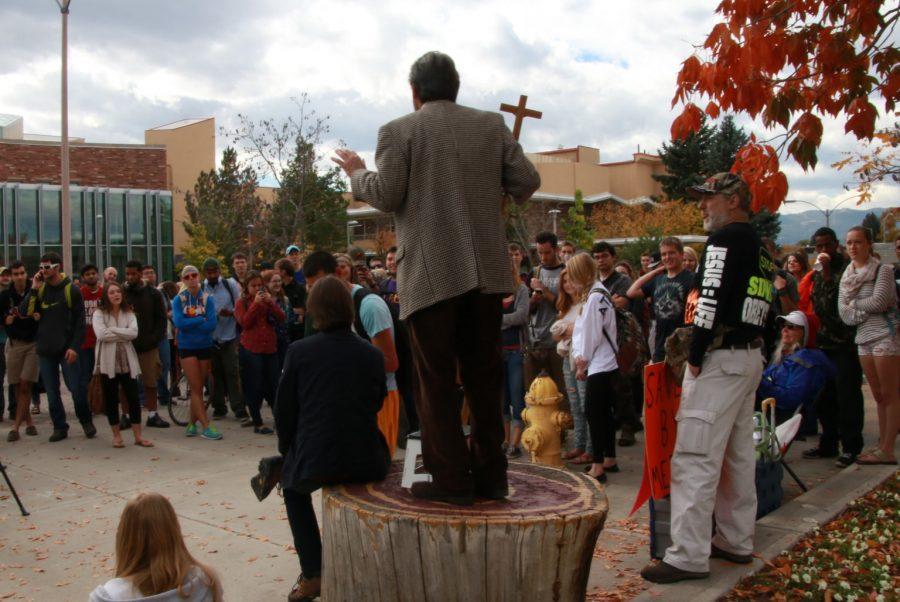 Editor's Note: All opinion section content reflects the views of the individual author only and does not represent a stance taken by The Collegian or its editorial board. Letters to the Editor reflect the view of a member of the campus community and are submitted to the publication for approval.
Congress shall make no law respecting an establishment of religion, or prohibiting the free exercise thereof; or abridging the freedom of speech, or of the press; or the right of the people to peaceably assemble, and to petition the government for a redress of grievances." -First Amendment, United States Constitution
Dear Colorado State University Community:
As a public university, there are often speech and assembly activities on the Lory Student Center Plaza and throughout campus. Freedom of speech at Colorado State University is a treasured right and critical component of learning. An open and respectful environment for speech supports a complete higher education experience.
CSU strives to balance opportunities and requirements of free speech while promoting civility, respect, privacy, and our Principles of Community.
Members of our community will both agree and disagree with issues, language and ideas presented on campus. The right to agree or disagree, along with expressing these views, are the bedrock of our First Amendment rights.
The First Amendment of the U.S. Constitution requires the university to support an open exchange of ideas and dissenting points of view, even when such expression might be deemed offensive and run counter to our Principles of Community or other institutional values. We also embrace this ideal; Free speech is a core value, and our Principles of Community declare that the university is "committed to freedom of expression, critical discourse, and the advancement of knowledge."
We also uphold our community's rights to present counter-arguments and speak back through peaceful protest and other means.
CSU, a public university, is committed to providing an open and respectful living and learning environment for a spectrum of ideas and issues to be discussed and debated. Campus, and our larger society, is composed of diverse individuals representing a wide range of strong, personal beliefs related to politics, civil rights, religion, economics, the environment, and many other local, national and global issues.
Passionate and contradictory views often collide. Diversity of thought provides an opportunity to learn, question, and think conventionally and unconventional. Expressing disagreement must occur within lawfully protected boundaries.
If you experience speech or topics you do not agree with, support resources are listed below. You have the right to not engage, or to express your own thoughts or opinions, or to peacefully protest an issue; however, disrupting a speaker or an event is not protected by the First Amendment. It is imperative to refrain from violence or other unprotected activities.
The profound right of freedom of speech and peaceful assembly comes with great responsibility to represent ourselves in the best possible way, on and off campus.
Resources: 
Dean of Students 970-491-5312
201 Administration Building – For complaints and suggestions
CSU Health Network Counseling Services
970-491-6053
health.colostate.edu
Vice President for Diversity
970-491-6849
diversity.colostate.edu
Incidents of Bias Reporting
supportandsafety.colostate.edu/incidents-of-bias
Office of Equal Opportunity
970-491-5836
oeo.colostate.edu
Employee Assistance Program (for CSU employees)
970-491-1527
ombudsandeap.colostate.edu
Regards,
Dr. Jody Donovan                       Tristan Syron
Dean of Students                       ASCSU President
jody.donovan@colostate.edu        ascsu_president @mail.colostate.edu