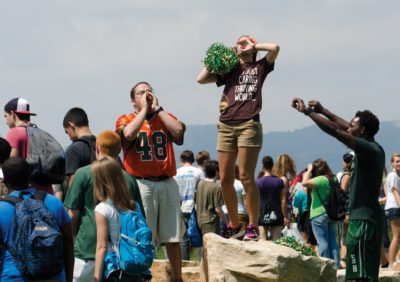 Editor's Note: All opinion section content reflects the views of the individual author only and does not represent a stance taken by The Collegian or its editorial board.
The transition from high school to college brings with it a litany of different reactions from incoming freshman. Some feel the terror of departing the life at home and stepping into the unknown, others can't think of a better promise than leaving home, and some still just would rather have a room to themselves.
Among the first steps to entering this new chapter in every freshman's life is attending orientation, and then Ram Welcome.  Orientation was probably one of the least enjoyable experiences of my CSU life and could use some re-evaluation. 
 "Letting the students acclimate to the environment on their own, without the assistance of leaders does not make it easier to get into radical change in life. Freshmen orientation should not be treated like a "one-size fits all".
Orientation shouldn't be two days long. Having students stay a night with someone to get them used to it is not well-founded because one night won't make a difference. It's just another annoying hurdle they have to get through to complete orientation, which is amplified by the fact majority of dorms don't have air conditioning. In the middle of summer.
Two days are just overkill. Majority of the agenda could be completed in one day. It is a large inconvenience for some people to find 2-3 whole days off in the middle of summer to complete orientation, especially if they live out of state.  Two days is long enough to be inconvenient but not long enough to actually make students feel more accustomed to campus. 
The vast majority of what I remember from day one was touring campus in 95-degree heat. Pro tip: bring a water bottle. The tour was great but since no one knew anything about campus, the location of buildings and landmarks do not really stick. The tour was interspersed with small skits from the orientation crew, who, given the circumstances were genuinely trying to make the experience as palatable as possible.
Later in the evening, they give a presentation on sexual assault presented by the  Red Whistle Brigade, who I still haven't seen again on campus since my own orientation, last summer.
This is an important topic and discussion to have, but it does not need to be presented in a performance or skit, it needs an upfront discussion and dialogue. 
Then we had to retire to whatever room we were assigned. It's still 95-degrees in there, so good luck sleeping. In the morning, you just get breakfast and finally register for classes. This takes about two hours and then you're allowed to leave. 
Ram Welcome is basically orientation, except a week-long and that requires you to get up early every day and undergo extensive "team-building" exercises. Also, freshman will meet their floor and roommate during this time. The team-building exercises do not work with all students and personalities, they can actually make the transition for some students more difficult. 
Ram Welcome leaders are awesome student leaders and volunteers, but the stuff they had to do does not  help them connect to incoming students. It was meant to be silly to help scared students feel more relaxed, but there has to be a better way than over-the top skits.
The rest of the week feels heavy right before the real aspects of college begin. They have you on a schedule of places you have to be to experience a vanilla version of CSU. The representation given by orientation and Ram Welcome are not accurate portrayals of CSU and college life, just a more marketable version to new students and their families.  
Ideally, orientation would look more like a loose version of the First-Year Student Mentoring Program. In this program, first-year students are assigned a mentor that can offer advice and support as new students adjust to the college environment. 
The student would be allowed to explore on their own, at their own pace, and approach the mentor with questions should they arise. This would allow students a personalized look at what they can expect from CSU and how to shape it to their preference. 
While there may be more new students than volunteers for this approach to always work, orientation and Ram Welcome need to address that the transition to college is not all pep rallies and games. It's not constant activities,smiling faces, and skits. At the very least, students should be given the option of what kind of orientation they want. Not every freshmen acclimates the same.
Students should be given the option if they want to connect to others and the University in this way. These activities should still be offered but not all of them should be mandatory. 
All in all, these two events are long, hot and cringy. They take forever and are largely irrelevant outside of registering for classes and seeing the campus. Sadly, they are a necessary step everyone needs to take in order to attend CSU.
All we can hope for is that they make adjustments to better the experience for the classes that will continue to arrive at CSU.
Columnist Ryan Tougaw can be reached on twitter @rjtougaw or online at letters@collegian.com