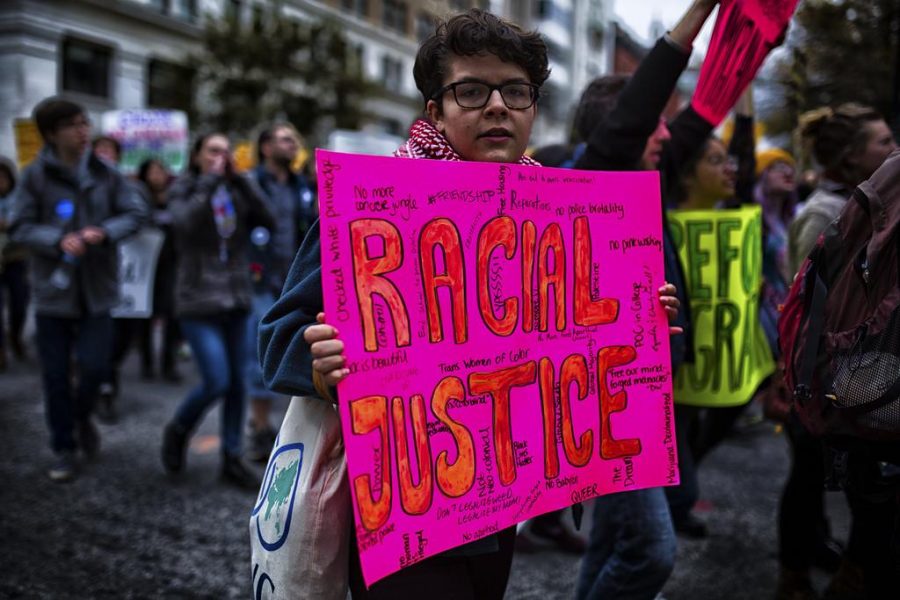 Social justice is an incredibly important topic of discussion for everyone to engage with, especially students. There are so many important aspects of social justice, tackling racial and gender inequality, or economic inequality. Most people on either side of the political spectrum can agree on something: it's important to stand up for human rights. But increasingly, those who lead these discussions are being seen as militant. Some are even called social justice warriors. Perhaps one reason for this problem is the tendency by some members of these groups to lecture and condescend.
Urban Dictionary defines Social Justice Warrior, or SJW as follows:
"A pejorative term for an individual who repeatedly and vehemently engages in arguments on social justice on the internet, often in a shallow or not well-thought-out way, for the purpose of raising their own personal reputation."
Now, if you tell someone that you are interested in social justice, depending on who you're talking to, you'll see them visibly recoil. They assume you're there to patronize them, shut them down, or that you think you're better than them. Unfortunately, in some of these conversations, that is exactly the kind of scene playing out.
There's a problem in social justice with the way we treat one another. That problem is largely caused by elitism. Often when members of a group are trying to prove that they are respectable and morally right, one way they try to do this is by tearing others down. It's a particularly destructive way to behave, considering that social justice should be about bridging the gap between those who are different than us. If you're going to be snarky and snappy every time someone new doesn't do or say what you would say, you're killing the momentum of whatever movement you're trying to bolster.
Increasingly, a trend of trying to shame others for not immediately being on the side of social justice issues is making newcomers to the movement uncomfortable, and rightfully so. In social justice movements, it is imperative to be inclusive and welcoming of all people. Immediately jumping to conclusions about the moral character of others because they may be unaware of a different perspective, or don't agree with everything you've said is shutting down important conversations that need to happen. If social justice participants want to be seen as inclusive, welcoming entities, things need to change.
As it stands now, it seems that the moment new people enter public and group forums to talk about these topics, those that have preceded them are entering these arenas with a chip on their shoulder. Kai Chen Tom, a contributor to the Everyday Feminism publication, described the experience of feeling out of place when trying to join the conversation even as a queer, transitioning, person of color. If a newcomer to the conversation lacks the tools and background knowledge to state their perspectives, often they are shot down for saying something that isn't considered correct by other members. Social justice movements can't stand for this.
I count myself lucky that the people in my life who introduced me to social justice movements have been welcoming and kind about any questions I may have had, or mistakes I may have made going in. Coming from a background where social justice was never really part of the discussion, when I first became interested in these movements, I lacked a lot of the knowledge and tools to put my perspective into words.
I can remember a time when I did not identify as a feminist. My views on social justice have certainly changed, but had I felt lectured or attacked when I became interested in issues of feminism, I doubt that would be the case. Thankfully, I wasn't immediately shut down for asking questions on intersectionality, like for example, what the LGBTQA acronym stood for (Lesbian Gay Bisexual Transgender Questioning and Asexual).
So many people that I know are reluctant to count themselves as feminists, for example, even if they do believe in gender equality. One common reason I've heard from them is that they don't feel comfortable around others who might attack them for having questions or dissenting views. Perhaps it's time that social justice warriors drop the pretenses of war, and really try to get new people on their side.
It's important to remember that we're all on the same team. If new people want to have these discussions about gender inequality, racial inequality, or income inequality, we need to work to be respectful and understanding of their different perspectives. Even if they don't agree with the movement, it's important to stay calm, to have an honest open conversation, and not jump to any conclusions.
You cannot fight the divide between social groups with more divisive attitudes towards others. There is too much at stake within social justice to be leaving those potential contributors to the movement behind.