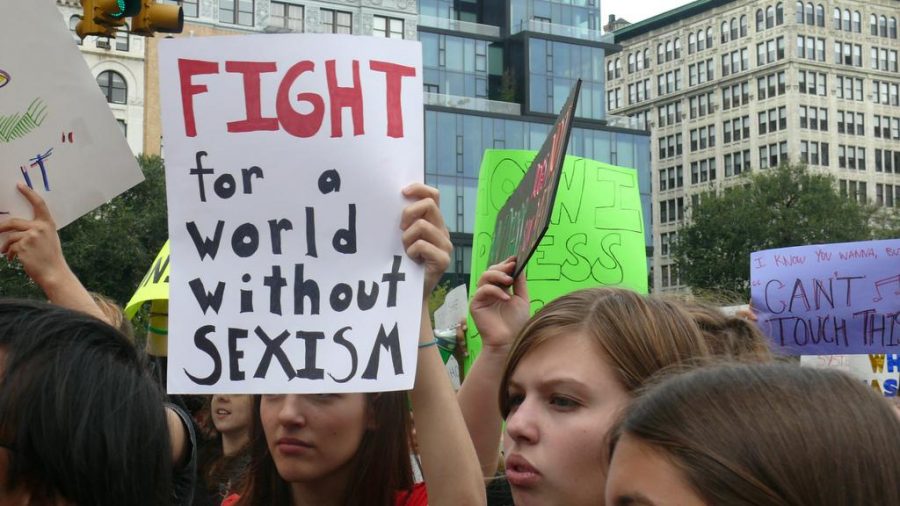 Rodenbaugh: When bragging about sexual assault is dismissed as just locker-room banter, society needs to do better
Donald Trump's mic finally worked, and in case there was any shred of doubt in your mind about the sort of misogynistic, sexist rhetoric falling out of his mouth, the Trump tapes don't leave anything to the imagination.
Within them, Trump is recorded using lewd, sexist language. At one point bragging that he enjoyed kissing women without asking for consent, later stating: "And when you're a star, they let you do it." continuing, "Grab them by the pussy. You can do anything." If that wasn't enough, when confronted with this recording in yesterday night's debate, he responded: "This is locker room talk," later adding, "it's just words, folks, it's just words."
If only rape culture was just talk. If only 1 in every 5 women weren't victims of sexual assault. If only men who bragged about victimizing women in situations where they feel safe–even cool for belittling and objectifying women didn't also turn around and later take these same attitudes they claim are just talk, and apply them to the women around them.
Women, everyday of their lives, experience sexism that is just brushed aside. As a woman, it doesn't matter what you say, there is always someone who believes you to be less credible than a man saying the same thing. Someone who is willing to interrupt and mansplain. Someone who will objectify you and make you feel small. Men that are fathers, brothers, and sons, carrying on the vicious cycle of misogyny.
Trump surrogates like Scottie Nell-Hughes would have you believe this sort of rhetoric doesn't affect women. If only Trump's recent comments weren't so chillingly familiar to so many women, including myself.
When I was 15 years old, a classmate and friend of mine, walked up to me and groped my breasts. Later on in the school year, that same boy repeatedly groped another of my classmates. When I was 16, an independent contractor working in the same office space that I worked in every weekend, consistently came in when I was completely alone in the office, to flirt with me and objectify me, once saying, "you should model for my real estate photos." He was my father's age. At 18, when I was walking down the street, holding hands with my partner, a man driving by opened his driver's seat window to yell, "show me your tits." At 21, I was told by a male family member that if it comes down to a husband and a wife making decisions in an emergency, it's the husband who will be right. "Women aren't good in a crisis," that was his justification.
These are just a few of the myriad incidents in my life that I have felt personally affected by the sort of sexist attitude so many people in our country have come to accept as normal. If this is the new normal, it shouldn't be. I refuse to accept that the very men in my life that have vowed to protect me, at several points in their lives, have participated in rape culture. I deserve better. They deserve better for themselves. The women of this nation deserve better.
It is time that everyone keep each other accountable for the sexism that we have come to accept all around us. Time for so called locker room banter to stop featuring the blatant endorsement of sexism, misogyny, sexual assault and all the things that come with it. We need a new culture, of men and women who will stand up in the face of these sorts of attitudes and say, no, I won't accept this.
Because we can't accept this. Not for any longer. We can't accept that a man running for the highest office in our country also believes he can have his way with any woman he wants. We can't accept that same man, when he says "nobody has more respect for women than I do." We can't accept that women are interrupted at a rate far higher than their male counterparts, something we witnessed first-hand in the last two presidential debates. We can't accept the argument that boys will be boys, purported by members of both the left and the right, men and women.
The Trump tapes have opened up a conversation for Americans that is long overdue. Let us not waste this opportunity by making excuses for ourselves and the people around us. Enough with the deflection of blame, enough with letting it slide. What Donald Trump said in those tapes is wrong, but the fact that so many people think this behavior is acceptable, common and fine, that's even worse.
-Mikaela Rodenbaugh
Stettner: Bait and switch, how trumpeters are using Bill Clinton as a reason to justify the Trump tapes
In the wake of the Trump tape, Donald Trump and some of his supporters seem to keep thinking that Bill Clinton and whatever actions he has been accused of has something to do with this election.
Here's a fact: Bill Clinton is not running for president. Hillary Clinton is. Her career, before and after his presidency, and her policies, are largely independent of what her partner did twenty years ago, and as a woman, I would be appalled to continue being compared to what my husband did back in the day.
I believe victims, and I believe that the allegations of rape and sexual assault against Bill Clinton need to be fully investigated. I also believe that if these awful things were proven to be true, he should be fully charged and justice should be brought.
But let's not confuse who was the perpetrator in these events. Bill and Hillary Clinton share last names, but they do not share lives. To be perfectly clear, these victims are accusing Bill Clinton, not Hillary, of their assault.
The implications of continuing to associate Secretary Clinton with the former president undermines her successes and triumphs as a woman. Politics aside, she has fought against her own adversity to make her way in a man's world when she first started her career. This association to her husband demeans her, reducing her to an immature affair decades ago or to issues that have still yet to be resolved. Whatever Bill Clinton has done, this is simply another example of how a man is not held accountable for his own actions, but instead is the woman's fault. This has been seen too many times in rape and sexual assault cases.
Not to mention, this entire media circus around who said what, or who did what, has completely detracted from real issues. An incredible amount of Sunday night's debate surrounded the recently released tapes, Trump's allegations against Clinton and the former president, and a general back and forth between the candidates of who is worse. There was little discussion of actual policy.
We have reality in front of us, real examples of sexism, judgement, and disrespect from Donald Trump. But supporters continue ignore these, or if not ignore them, blame the other side for being just as bad. The manipulation of using Bill Clinton in a last ditch effort to make an accomplished woman seem more sexist than Donald Trump is embarrassing, false in every way, and only is creating more conflict.
-Alexandra Stettner
Melton: How far have we come really? Why we cannot say that the US has reached gender equality.
I would love to sit here and tell you that the fight for equality is over, but that simply isn't the case. Sure, it is 2016 and we have the potential to have our first woman president, but the fact that her opponent has openly admitted to blatant misogyny and sexual assault gives you just a glimpse into the raging sexism that lives on in America.
Equal pay has been one of the fights on the top of the feminist agenda. Between 1979 and 2010, women have gone from getting paid 62% as much as their male counterparts to 81%. Almost 4 decades later, women have received about a 20¢ raise. Meanwhile men respond, what wage gap?
In our government women are embarrassingly under-represented. Only 104 of the 535 members of the United States Congress are women. Only 20% of United States Senate are women. Only 84 women serve in the United States House of Representatives.
Everyone loves to ignore the rape culture that is institutionalized by the way we handle sexual assault. 18% of women in the US have been raped in their lifetime. Only 12% of the 300,000 college women reported their rapes to law enforcement. That is 264,000 women who felt they had to remain silent about the injustice they experienced. This is not a statistic that should be tolerated.
I'm sick of middle-class white men promising me that "it's 2016, inequality isn't an issue." When you are receiving 20% more than me for doing the same job, when you are given 80% of the representation in the government and don't have to live everyday of your life in fear that a man will steal your power from you, you don't get to tell me that inequality isn't an issue.When one of the front runner candidates for President of the United States is given the free range to brag about his non-consensual sexual conquests, and to speak about women in such a demeaning manner on a consistent basis, you don't get to tell me not to be concerned. Until you realize the vast injustices women receive, and have been receiving since the dawn of time, you don't get to tell me not to be upset.
-Rachel Melton