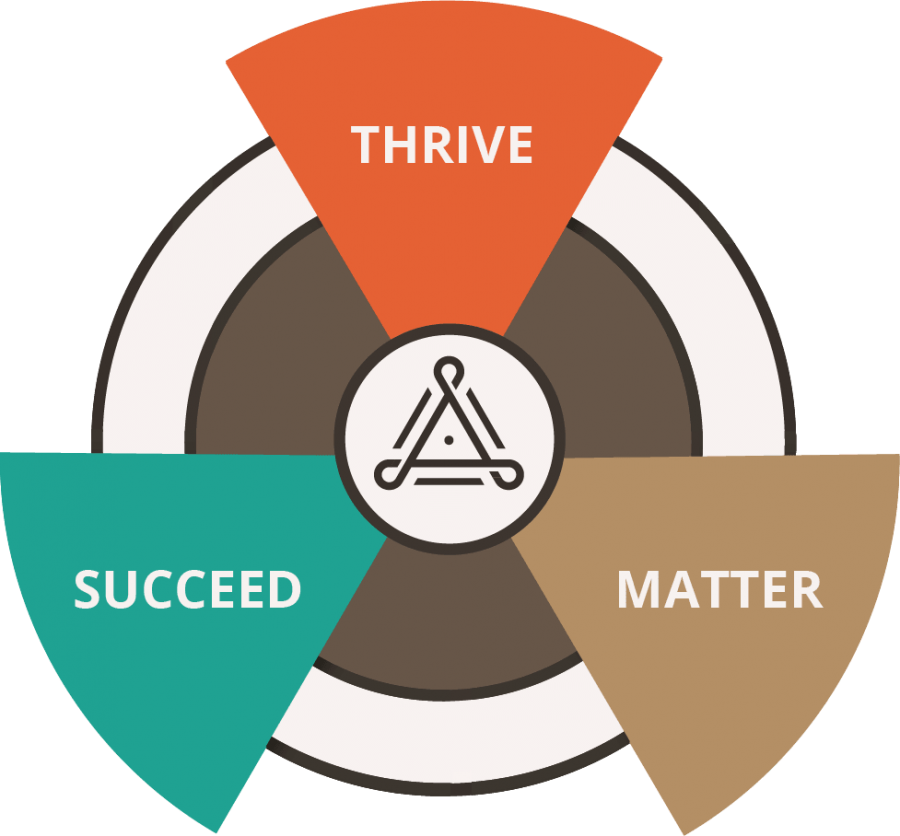 A few weeks ago president Tony Frank dropped a new online service on CSU students titled "You@CSU" with the goal of having one online resource to assist students with achieving stability and help with academics, mental health and campus involvement. My guess is the tool fulfills some university brochure requirement that displays CSU as a kind and caring university, as opposed to a corporation, which it basically is. Although the project is certainly impressive in its design and usability, the resource is slightly lacking in its helpfulness, which is kind of the point of what Grit Digital Health LLC says is "a mental fitness center with tools and resources built to match the heartbeat of student life." Set goals, view some modules and get your profile pictures ready, because You@CSU is preparing you to succeed, thrive and matter, apparently.
In order to fully understand this expensive accountability tool that CSU is now implementing to allow "individuals to make their lives and the lives of those around them healthier-grittier-worthier," we first have to know more about its roots. CSU Alum Joe Conrad has been attempting to create a platform designed to give college students help with academics, campus involvement and mental health especially. The website itself is accessed through the use of a CSU EID and password that would traditionally be used with RamWeb or other CSU based services. The aim of You@CSU is to syndicate the information already present on campus to better help students to resolve different issues that may come up. Essentially this entry of CSU into the digital healthcare scene has been a result of a lack of knowledge of resources that students have traditionally had while attending the university. On top of providing links to mental health screening through Mental Health Screening Inc and SilverCloud, there are several tests that one must take before having access to the different modules that the website raves about in its information pamphlet.
So what we have here so far is a syndication tool that looks aesthetically pleasing, and separates your test results into three different distinct areas to help students to succeed, thrive and matter in an on campus environment. This whole approach was what at first glance made me think that this tool is a complete joke and I shouldn't take the time to explore or pay attention to it. What made me initially take a negative view of this platform? When the test lead to a rating of "coastin' and cruisin'" when it came to my career choices and academic status. First of all I disagree with that rating and I dislike the designation to begin with. It seems too simplified of an approach to have someone answer a few questions and then give an incredibly arbitrary and kind of silly score about their answers. I understand that it is of the utmost importance that these little screening exams or progress exams are meant to be short and simple to avoid students from taking a ten to twenty minute exam, but it seems that saving time means sacrificing thorough results. 
Besides the 'Reality Checks' component being off-kilter in certain cases, it was kind of accurate about my personality and certain traits about myself that I didn't really have a classification for prior to the checks, so it's a work in progress thus far. Grit Digital Health should add some links to different modules on the 'View Your Results' page to add exposure to other parts of the website quickly, as those resources are easy to find in the first place, but since students are going to be hanging out on that page immediately afterward, it would be positive to add on more informational resources or links there. Also, it would be good to put a video or something else relating to each rating on the right side of the page since there's a large amount of white space there, and external links to CSU Health Network pages or elsewhere should be seamlessly integrated into the website itself so students don't have to ever leave the 'You@CSU' website, but rather be directed right on the website (HTML iframes). I'm no expert here, but that seems like a cleaner approach.
Overall, Grit Digital Health's product is certainly a beautiful example of CSS and a bunch of other great web page magic being put together to output a good looking and pretty functional product. I honestly thought of it in a negative fashion initially, but as I delved farther into You@CSU and the rest of CSU's digital health network I began to find some pretty well-set up tools. Videos, tips and presentations of different mental health and academic-related tools were presented. The equally impressive SilverCloud program is another CSU digital health tool that allows students to take self-paced, eight-week courses that help with depression, anxiety and stress related issues that one may have. The mental health screening website is also a great entry as well, which accounts for ways to recognize what is wrong and to find ways to help yourself out.
So, CSU is actually hastening in the next generation of Health IT as it is referred to for students to utilize. An article on SilverCloud's website clears up some myths about digital healthcare use, including the myth that people don't want to utilize digital services for healthcare purposes. The truth that people do want to utilize digital healthcare services is a big reason why it's so great what CSU is doing to help students to seek help with mental health issues or academics in an anonymous and secure manner. As Grit Digital Health stated on its website, students today are lacking in resilience and grit to pool through college. This was in direct reference to the Psychology Today article on the same topic. Instead of telling kids to "Buck up, this is college," a more modern and information-based approach is essential. You@CSU is a good step in that direction because when it comes to directing information at individuals, syndication is key. You@CSU and other tools on CSU's digital health network may not solve the whole resilience and grit issue with this generation, as there is a larger issue there as a whole, but it most certainly will serve as a great way to keep kids in school and better off in general. It just needs to be made more widely-known around campus by using ads, including it in orientation for new students or just by implementing a link under the "Tools" section of RamWeb. More awareness will certainly be key to its success. Either way, CSU is ushering in a new era of digital healthcare and it's making excellent strides so far.
Collegian Columnist Chad Earnest can be reached at letters@collegian.com, or on Twitter @churnest