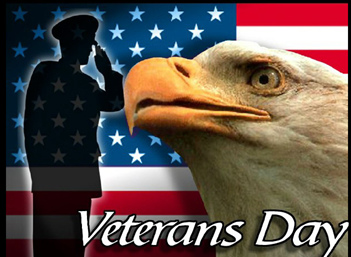 This Wednesday, November 11th, is Veteran's Day. It is important that we, as a campus community, take this day to recognize all who have served our country to protect our freedoms which we enjoy every day.
Our nation has built its pride on having the greatest military in the world. We are surrounded every day by heroes who have risked their lives to protect ours. However, it is an uncomfortable truth that veterans in today's society face crippling mental instability, homelessness and poor healthcare upon returning from active duty.
17% of the entire homeless population are veterans. In 2010, it was estimated that there were 76,000 veterans sleeping on the streets on any given night. The majority of homeless veterans are from poor disadvantaged communities, and have served in WWII, the Korean War, Vietnam, Operation Enduring Freedom and Operation Iraqi Freedom, among many others.
The number of homeless female veterans has been climbing in recent years. The number of homeless females who served was roughly 150 in 2006, in 2011, 17% of the VA's services were dedicated to helping displaced women.
Half of the homeless veteran population has some sort of mental illness. Between 11-20 percent of all veterans have post-traumatic stress disorder, an often crippling illness which severely impacts the victim and the victim's families. An average of 22 U.S. veterans commit suicide every day.
It is devastating that 1.7 million U.S. veterans do not have healthcare. Millions of other vets and their families are not eligible for VHA (Veteran's Health Administration) healthcare. According to a recent report released by the VA, the VHA's Health Eligibility Center was purported to have 889,000 health care applications in 'pending status.' Another upsetting figure from the report is the estimation that 307,000 veterans have died while waiting for healthcare since the 1980s.
Although these facts are extremely upsetting, the Fort Collins community is committed to helping service men and women get back on their feet despite the obstacles that may stand in their way.
There are an estimated 61,000 veterans in the Rocky Mountain Region. In Fort Collins, the Healing Warriors Program strives to assist veterans in the community by providing therapy to cope with PTSD and chronic pain. You can help our service members at home by donating to the Healing Warriors Program here.
CSU is also committed to helping veterans get an education. The university assists roughly 1,550 students each year in achieving their dreams and goals. Colorado State is well-known for being one of the most military-friendly schools in the country, evident by their participation in the Yellow Ribbon program, which offers qualified students 100 percent free tuition in thanks for their service.
If you are a veteran, I cannot thank you enough for what you have done for this great nation. It may seem like a thankless job at times, but without our military, we as a country would not have all the freedoms we have. If you're not, go ahead and shake a vet's  hand today,  or get involved with efforts to help homeless veterans. Happy Veteran's Day to all the vets out there, and don't forget you can eat for free at Applebee's and a bunch of other awesome places on the 11th in honor of your service.
Collegian columnist Megan Burnett can be reached at letters@collegian.com, or on Twitter @megsbcollegian.