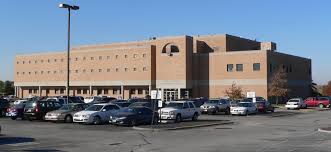 Last week, I toured the Larimer County Jail – and what I saw astounded me.
A sergeant at the jail led me into a general population pod, where the inmates live, and we walked up to where a guard was stationed, about 10 feet away from a crowd of people in orange jumpsuits. The only thing standing between us and them? A yellow line painted on the floor, signaling the inmates they must ask permission before stepping across it.
This model is called direct supervision, where guards and inmates are in the same room together, and the guards walk among the prisoners, patrolling and checking on them, and calling for backup if anything happens.
The Larimer County Jail has been using the direct supervision model since 1983, but some jails around the U.S. still use other models for inmate management. A video done by the National Institute of Corrections explains each of the three models that jails use: linear intermittent surveillance, podular remote surveillance, and podular direct supervision.
Linear surveillance was the earliest design for prisons and jails. In linear surveillance jails, cells are lined up one by one, and guards patrol the hallways in between the cells, which are blocked off by bars. 'Intermittent' means that guards observe inmates only at certain intervals, usually around 30 minutes. There is little or no interaction between guards and inmates. Since the guards are only patrolling intermittently, prisoners have ample time in which they are not monitored. 
In the 1970s, the podular remote surveillance method was developed. In podular remote surveillance jails, cells are in a circle around a pod, or main area where inmates can roam around and socialize. A guard surveys the pod from a secure room. Though the guards are watching the inmates at all times, the guards cannot see everywhere, and prisoners will take advantage of blind spots, including the bathrooms and cells. This system limits interaction between guards and inmates to an intercom.
In the 1980s, the podular direct supervision method emerged, which is sometimes referred to as the "new-generation jail". This model kept the podular layout, but removed the secure room and instead placed the guards directly in the pod, to patrol among the inmates. Guards are constantly interacting with inmates, and can see every area of the pod.
According to officers in the video, the direct supervision model significantly improves inmate behavior and strengthens the relationship between guards and inmates. The National Institute of Corrections is currently working on a program to help more counties across the country build direct supervision jails.
The primary argument against direct supervision jails is that it will increase assaults on guards, as the inmates can very easily attack. According to a study on the effectiveness of direct supervision, staff at direct supervision jails reported feeling less safe than those at indirect supervision ones. However, the same study reported that, on average, jails who adopted direct supervision saw a decrease in tension, violence, sexual assault and assaults overall. So, though the jail staff might not feel as safe when they are required to walk among the inmates, the reality is that they are actually safer that way.
When I visited the Larimer County Jail, I saw guards walking up to inmates and asking them how they were doing. I saw inmates watching TV, doing yoga and checking out books. And, I saw guards and inmates laughing together like friends.
The direct supervision model gives every inmate a fair chance to behave well, and gives them the freedom to socialize and have a life despite mistakes they may have made. It allows guards and inmates to behave as fellow human beings instead of treating one as less than the other.
Direct supervision is already common across jails in the U.S., and I believe it should be adopted by every single one of them. Let guards and inmates live and work together, and inmates have the freedom to move around and socialize. Everyone who goes to jail deserves to be treated with respect and dignity until they prove they don't deserve it.
Collegian Digital Managing Editor Caitlin Curley can be reached at news@collegian.com or on Twitter @caitlinjcurley.