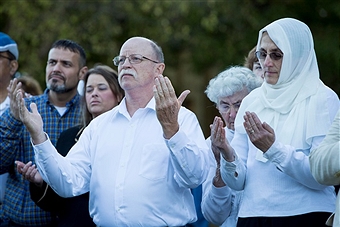 Another American citizen was beheaded by ISIS on Sunday. His name was Abdul-Rahman Kassig, also known as Peter Kassig, and he was only 26 years old.
Kassig said that he first went to the Middle East because of the sense that there's no hope in that area of the world, and that he was here to do something about it. He started doing humanitarian work in Lebanon and Turkey in 2007, after he served in Iraq as an Army Ranger. A certified emergency medical technician, he distributed medical supplies to Syrian refugees around the region, and started making regular trips to Syria to deliver medical care. It was on one of these trips that he went missing in October of last year.
It was later discovered that he was among the 23 hostages from 12 countries who have been kidnapped by ISIS. While being held, he was in the same cell as American journalists James Foley and Steven J. Sotloff, and British aid workers David Haines and Alan Henning, who have all been beheaded since August.
As we continue to see the tragedies of ISIS, let's look to the human stories behind them.
Kassig was not much older than many of us attending college, and just like us, he had a family waiting for him at home.
His parents received a letter from him his summer, where he talked about his fear of dying.
 "I am obviously pretty scared to die, but the hardest part is not knowing, wondering, hoping and wondering if I should even hope at all," he wrote. "Just know I'm with you. Every stream, every lake, every field and river. In the woods and in the hills, in all the places you showed me. I love you."
Next week, many of us will be going home to our families to celebrate Thanksgiving and being together. While you are safe in their arms, remember that life is fleeting and valuable. Tell your families you love them, and remember that not everyone can do the same.