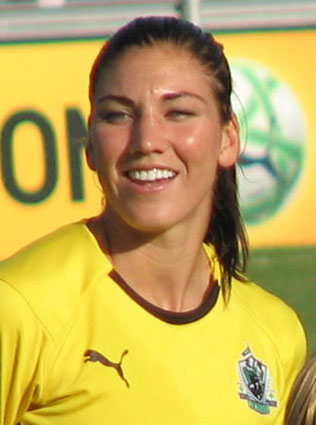 Hope Solo beat Mexico 4-0 along with the rest of the U.S. women's national team on Thursday night. Meanwhile, she has been accused of two charges of domestic-violence from an alleged assault of her half-sister and nephew last summer and awaits a trial in November. She continues to play soccer for both her pro team and the national team without any disciplinary action or recognition from fans or sponsors. As the NFL continues to struggle through their domestic-violence crisis, Solo, the equivalent in women's soccer to the NFL major players accused of the same crime, is not being penalized.
Whether or not the NFL has gone about their domestic-violence investigations and discipline in the best manner, the teams are taking a responsibility and recognizing the crimes (some) of their players. After major national and fan pressure, the NFL have disciplined players like Ray Rice, Greg Hardy, and Jonathan Dwyer. Sponsors removed support. Solo, however, continues to represent the American team and receives sponsorship from Nike, among others.
Why is no one talking about Solo and the alleged charges? Why does she continue to represent the U.S. on the field and as a role model for women soccer players?
This is a call for athletic boards to set a standard for dealing with domestic violence with their players, and not create disciplinary action simply because of widespread American public reaction. Domestic violence is wrong and should not be tolerated or accepted in professional athletics. Just because we're not talking about it, or there wasn't a video released, the double standard is not okay.