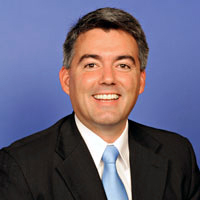 Cory Gardner, who's been in intense spotlight since entering the U.S. Senate race, recently stated that he could no longer support personhood acts, since they prohibit specific contraception methods. Because Colorado is considered a purple state, and he needs women to be on his side, many are considering this an election year ploy in the interest of gaining votes.
This is a big race, but Gardner didn't do himself any favors by switching his opinion halfway through. We would respect him more if he had come to a conclusion and had supported it earlier, but by suddenly changing his view simply because he wants people to like him is something that we cannot overlook.
This means that we, as the voting populace, need to be weary of ploys such as these. Research of candidates is necessary; this is proof that you cannot simply vote for someone because of party affiliation. We understand re-examining your views and perhaps coming to a different conclusion, but the fact that it was done in an election year and in the middle of one of the most competitive races in Senate history screams suspicion.
Do not be fooled by voter-interest ploys. Respect those that respect the voters of Colorado enough to choose an opinion and stick by it, giving us something to believe in.