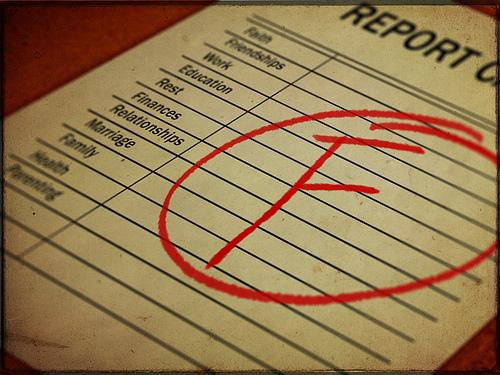 I've always been that kid who gets A's in everything. Although I do apply myself, a lot of that success came naturally. I just got it in all of my classes. Whatever parts of my brain that needed to click always did, and life was good.
Enter computer science, and things stopped clicking so well. I'd come to class, get lost in the slides, then give up and text or look at Facebook/Instagram until it was time to leave. Obviously that isn't what you should do when you're confused, but I wasn't used to being confused. At least if I didn't try, I wasn't really failing, right?
So what did I do about being confused? Nothing. My mind defaulted to the idea that if it didn't come easily, computer science wasn't for me. Still, I couldn't bring myself to quit. When some things would finally click, albeit a rare occurrence, I really enjoyed it. Despite this, I felt dumb most of the time and didn't want to continue in something I wasn't instantly amazing at. (Worst justification for quitting ever).
I earned a 68% on my first midterm, bombed a programming quiz with a 0%, and would have failed my programming assignments without A LOT of help from TAs and the professor. I made a compromise with myself to complete the course expecting a low C, and then never touch CS again.
One semester later….
I ended up with a solid B, and I registered for the next level of the course. There was no miracle or magical epiphany during which all of the lectures and assignments suddenly made perfect sense and I redeemed myself by making A's on everything. Instead, I changed my thinking.
I dropped the "perfect" straight A student mindset and told myself that it was ok to be confused, and that needing to work harder at something didn't mean I was too stupid for it. Maybe that's a really simple idea to most people, but for me, it was really tough to accept.
And accepting it changed everything. I was committed to proving I could succeed in the class. Before the final, I watched hours of YouTube videos and read tutorials on class concepts. I practiced programming until I understood every piece of code I typed. What did I make on the final? 79%.
I was so mad at myself. Really? That's the best you could do? All of that work and you didn't even get a B? My old mindset was creeping in again. I went to my professor hopelessly and asked him if it was even reasonable for me to take the next CS class if I struggled so much in the introductory one.
He checked my total grade and gave me a funny look, telling me I did fine. He asked why I was so worried, and I insisted that I would have failed the class without all the help I received and that I never understood things on my own.
He told me that it was a hard class and that most people needed a lot of help. Then he took out my final exam and went through the questions with me. After virtually every correction he would add, "but that doesn't really matter," or "we don't really care about that." It doesn't? We don't?
He was right. The things I missed were so trivial, the type of answer you smack yourself for and say, "I knew that, duh." It wasn't like the midterm where I simply had no idea what I was doing. This time I understood, but it wasn't reflected completely in my test score.
Within all of this rambling, what I'm trying to say is that if you're stuck in a perfectionist mindset and only follow through with things you're good at, you're not really going to learn much. I could get 1000 A's in classes that came naturally to me, and the fulfillment from that wouldn't compare to how good it felt to stick with CS even though I wasn't exactly a superstar at it.
Also, don't base your intelligence or skill on a test. There are so many factors (time, stress level, environment, etc.) that make in-class exams a terrible way to gauge a student's capabilities. Once you shift your focus from arbitrary assignment grades to your actual understanding of the subject, you'll feel much more confident.
Finally, if you're feeling more than just confused, it doesn't make you a loser or quitter or failure to change majors or drop a class. There's a difference between failing a test because you're a bad test taker or are having trouble understanding vs. because you tried your brains out but are just not cut out for something. My favorite quote about this is from Einstein because duh- everyone has to quote him at some point- "Everybody is a genius. But if you judge a fish by its ability to climb a tree, it will live its whole life believing that it is stupid."
Have a lovely week and embrace your inner fish fails.