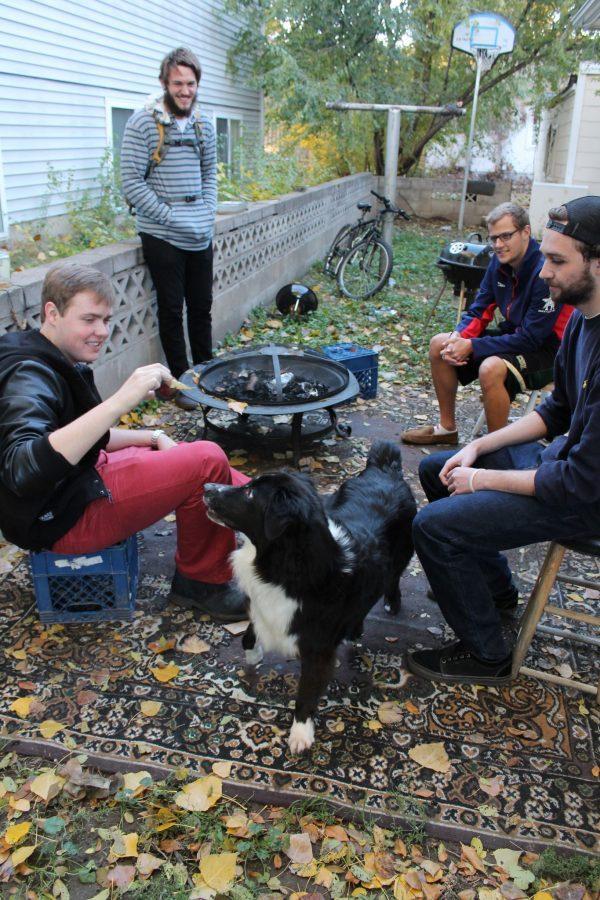 Walking into the typical college home, you might describe it as…. well…. unique. From beer lined walls to tapestries that span an entire living room, college decorations wouldn't exactly be found in Better Homes Magazine, but hey we make due with what we've got. After visiting a few student homes I noticed that what some of us might lack in interior decorating finés we make up for in sheer creativity.
At the house of Andrew Olson, our ASCSU vice president and a health and human sciences major, he and his two roommates, engineering senior Kyle Seyedian and Front Range Senior Matt Bendell, converted the front yard of their duplex rental into what they like to call the "Zen Garden."
"It's good to improvise because we don't have the money to do it the right way," Olson said.
Using a large indoor rug as the base, the three surrounded their fire pit with anything they could use as chairs, including two overturned milk crates.
Using his creativity to assist in the game of beer pong, junior psychology major Cal Boyce created a homemade suspension pong table that hangs from the garage ceiling. The acrobatic table is constructed with a large piece of plywood and ropes that Boyce and his roommates found lying around the house.
"We had just moved in a month before and we wanted to do something to celebrate," Boyce said. "We just had a bunch of stuff lying around, and just sort of made it."
Beer themed décor seems to be pretty prevalent in college homes and at the house of three engineering seniors Tanner Fretthold, Chase Munson, and Sean Morris their living room wall is a glorious dedication to their love of good beer. Stretching almost 25 feet across, the wall is composed of a myriad of finished six-pack cases.
"There are no duplicates," Morris said. "Now whenever I go to the liquor store I have to call Tanner and ask if we already have it on the wall."
Started at the beginning of the year the collection of cases has grown to three rows of over 60 different beers.
Another common theme among the typical college household is a combination of hand-me-downs or thrift store purchases. At the home of sophomore engineering major Matt Pinkham and Front Range sophomores Jake Austin and Sean Teater, their 'Poker Cave" came together after Pinkham inherited a handmade poker table from his grandfather. The "Poker Cave" is really their one car garage that they strung up with Christmas lights and filled with couches and a foosball table.
"A college house is just a bunch of kids living in a house trying to be adults," Teater said. "There's nobody to tell you what to do. We can wake up and just toss on some Bob Marley."
While college houses may not win style points for matching furniture and accents, they have their own kind of style that we can all appreciate.
College Avenue photographer Natasha Leadem can be reached at collegeavenue@collegian.com. Watch for your Holiday Gift Guide issue of College Avenue Magazine in your Collegian Weds. Dec. 11!