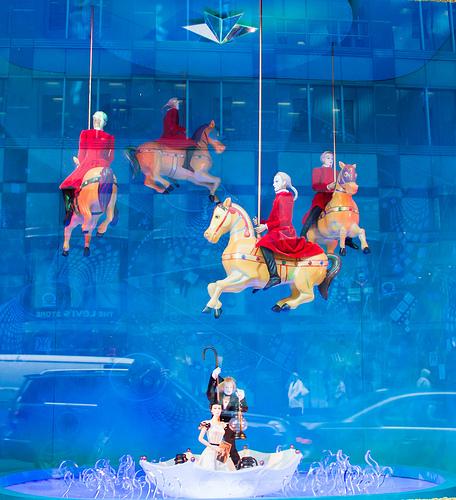 Is it just me, or does December feel like it is going by way too quickly?
With Christmas being about 12 days (or 13 depending on how you're counting), what better way to spread the spirit of the season than to share some cool holiday windows? If you are anything like me, then you love looking at holiday windows. The ones then flagship department stores have such as Bloomingdales, Tiffany's, Bergdorf Goodman, and Anthropologie are absolutely insane! I always look forward to seeing what the stores come up with this year. Let's just say that this year did not disappoint.
Here are a few of my favorite window displays:
Tiffany and Co. Isn't it just adorable?
Barney's LED display
Bloomingdales. This window is part of a series that features holiday celebrations around the world in countries such as France and Italy in addition to New York (shown above).
Bergdorf Goodman did a window display featuring different holidays throughout the year. In addition to Christmas, they did windows for Valentine's Day and Independence Day.
Anthropologie's wine bottle chandelier window display
Hope everyone is enjoying the holiday season (and is not too stressed out about finals!)