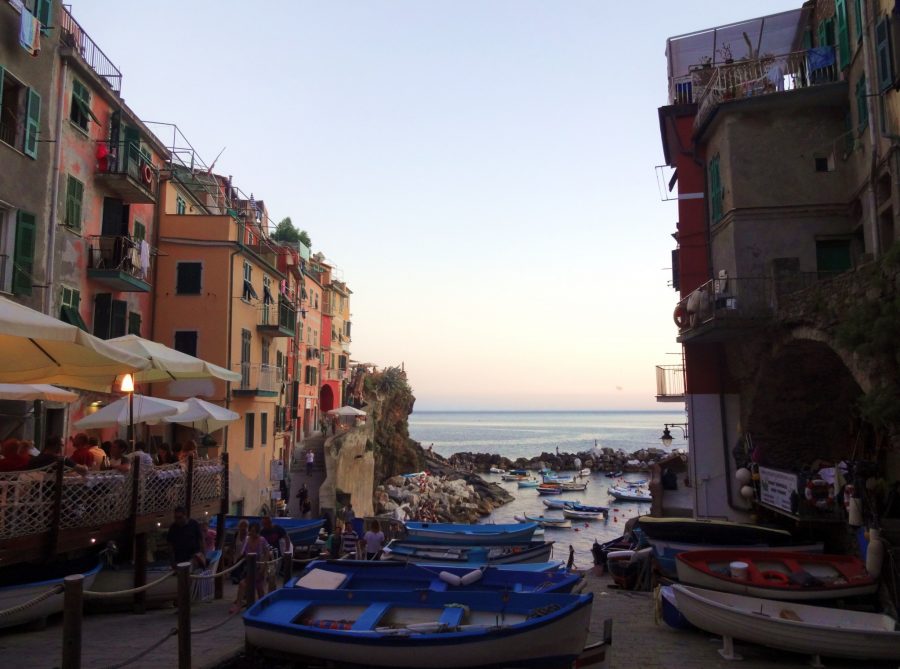 The last town I stayed at in Cinque Terre over the summer was Riomaggiore, Italy.
While my friend and I were here we stayed in a hotel called La Casa di Venere, which offers some of the most reasonably priced accommodations in town. Checking into the hotel was a hassle because the front desk manager was 45 minutes late. But after becoming more familiar with Italian culture her late arrival was not surprising. While my friend and I waited, we sat on the front stairs and ate sliced watermelon sold near the check in area.
After checking in, the woman took us on a windy, steep climb up and down stairs and through small alley ways. We finally arrived at a small black wooden door. This door had no markings associated with the hotel, and I began to think we wouldn't be able to find our way to town or back to our room. Luckily we later found a short cut.
Our private room was at the top of a steep stair case and we even had our own bathroom. This was a big shift after bunking with strangers for a week!
The room had a large, comfortable bed, and a big ,clean bathroom. These were not characteristics we were expecting for only 41 USD a night.
Riomaggiore was my favorite town in Cinque Terre. The train station is further away from the town but there seems to be smaller crowds.
A lack of white sand beaches may also be a cause for fewer tourists. However, there is a rock outcropping that juts out of the water. These rocks are perfect for lounging on, or jumping off. Tall cliffs surround the cove make for dramatic plunges and views. The water is a dark royal blue and is so clear you can see rocks 10 ft. below you.
Although the tourist crowds are smaller, Riomaggiore offers plenty of shops, and a larger variety of restaurants. They also have several bars and a larger town square which attracts more night life then Corniglia.
The sunsets from the cove at Riomaggiore also attract a lot of night time attention. In the summer there is a perfect view of the sun going down, so many people gather on the rocks with bottles of wine and toast to the end of another day.
Related articles
Cinque Terre and Italian Food

Dr. Seuss' Dream Vacation: Cinque Terre