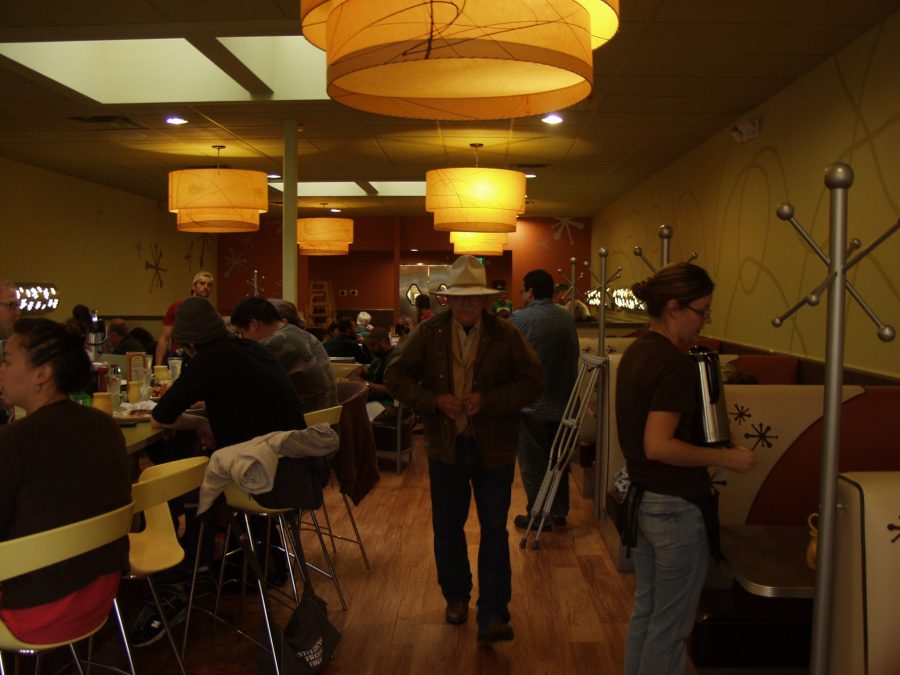 It's hip, it's hop and it's absolutely everything you could want. Snooze, an AM Eatery, has it all from "Flavors from the Hen" to "The Art of Hollandaise" to "Pancake Bliss" to "Sweet Utopia." But, that's not even the end of it, there is brunch and, well of course, hot coffee and the like!
Snooze was once again voted in as the top breakfast lounge Fort Collins has to offer. This is easily noted every Sunday of the year when people huddle by the front door chatting with close friends and sipping on steamy drinks as they wait to indulge in the savory grub or the sweet extravagance. The diner, with a modern whirl, and food that enlightens heavenly taste buds, is more than worth the wait.
Snooze manager, Jake Theoldore, shares the top five dishes that keep you coming back.
The top five dishes are proudly the Pineapple Upside Down Pancake, the Corned Beef Hash, the Breakfast Pot Pie, the Havana Benedict, a brand new classic, and, lastly, the Blueberry Danish Pancake.
Ranging from savory to sweet, Snooze does a wonderful job of catering to everyone's favorite breakfast dishes.
The Pineapple Upside Down Pancake is a little bit of island and a little bit of homestead in your mouth. The pineapple creates a sweet "citrus bite," while the pancake provides a fluffy substance similar to how one may imagine a cloud to taste: light and magical. Manager Theoldore says, "It's a true delight for your mouth."
The opposite side of the spectrum is the ever-famous, and especially Snooze-made-unique, Corned Beef Hash. This creation of locally-made corned beef is crisp on the outside and juicy on the inside. Each bite leaves you wanting more. Topped with eggs and caramelized peppers and onions with a side of toast or tortilla your mouth will be fully satisfied with every bite. It is said to be addictive.
Pie for breakfast? Well, yes they make that too. It is a light, croissant-like bread, topped with signature Snooze gravy and an egg however you want it. It has been a favorite since day one and continues to bring the customers in.
A new addition to the menu, which is quickly moving up the ladder, is The Havana Benedict. It has the saltiness of ham, the juicy texture of pulled pork, the creaminess of swiss cheese and homemade Dijon hollandaise sauce, finished with the crunch of house pickles.
Fifth on the list is what Denmark children dream about. The Blueberry Danish Pancake is exactly what it says it is, a blueberry danish in pancake form. It's incredible, sweet and heaven in your mouth.
With every customer in mind, Snooze brings families, friends and acquaintances together over breakfast creations that are mouth-watering twists off of the traditional breakfast plates.
Theoldore explains the goal of Snooze, "You feel, simply put, at home. To come to Snooze is an experience of Snooze, the Happy Day's meets the Jetson's Theme, Culinary Genius of Classic Cuisine, servers that will give you true focus to make an exceptional experience and always a mouth left happy."
So, roll out of bed, hop in line, sip a hot cup of coffee and let your mouth water a bit. Snooze is the right place to start any day.
College Avenue reporter Josephine Bush can be reached at collegeavenue@collegian.com. Watch for the Best of CSU issue of College Avenue on racks, Oct. 23!