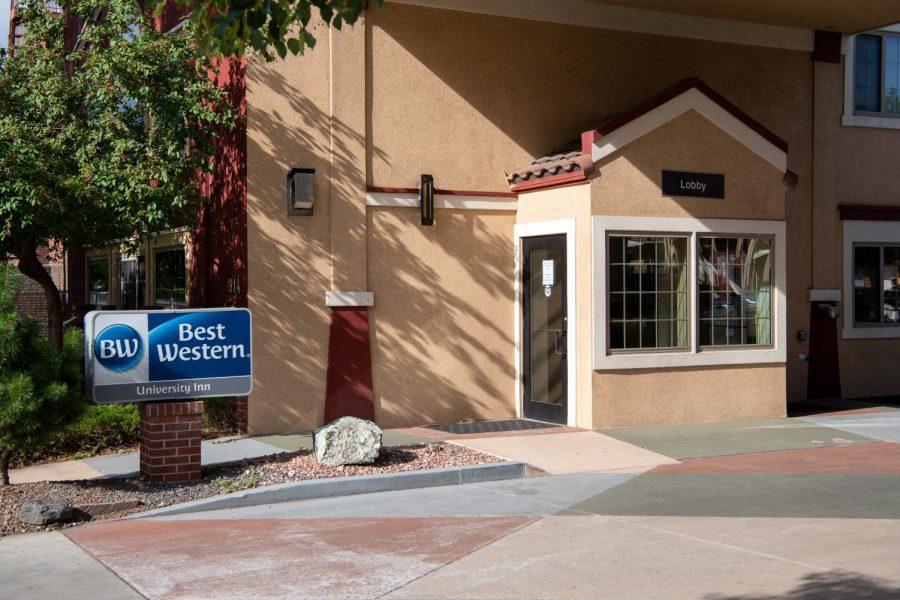 Garrett Mogel
Editor's Note: This is a follow-up story to The Collegian's piece on students living in the Best Western University Inn. To read more about the temporary living situation, go here.
For most college students, the transition to college means moving into a dorm room and living on their own for the first time. Excitedly meeting your roommate, decorating your space and being close to campus are just a few of the perks of living in on-campus housing.
While most first-year Colorado State University students are experiencing just this, 400-500 CSU students are living in temporary housing, consisting of the Best Western University Inn, Westfall Hall before it closes for window renovations, converted lounge spaces and university-sponsored apartments usually reserved for students after their first year. Each space and situation is considerably different than a dorm room. 
According to Nick Sweeton, associate executive director for CSU Housing & Dining Services, a variety of factors contributed to the high number of students placed in temporary housing this fall. Sweeton said the university was unprepared for a lower-than-usual melt rate, meaning fewer students canceled their plans to attend the university than anticipated based on data from previous years.
While there is an option for students to request exemption from the on-campus living requirement, Sweeton said fewer students took advantage of this option than in past years.
"We interpret this as a good sign; students want to come to CSU and live on campus," Sweeton said.
In addition, Westfall Hall, one of two 12-story, 400-student capacity residence hall towers located in the northwest corner of main campus, will be unavailable for the 2022-23 academic year due to extensive window renovations beginning in October.
"The only way we could make up that money would be to charge students more rent, and we just don't want to do that, so we are proceeding with our plan to have Westfall offline starting Oct. 1," Sweeton said.
In October 2019, the CSU System Board of Governors approved $130 million toward phase one of additional on-campus housing that has since been postponed. The former site of Aylesworth Hall was to be converted into Meridian Village: three separate residence halls with 1,100 beds total. Today, the plot of land is being used as additional on-campus parking.
"The staff support is there, CSUPD support is there — it's just across the street from campus versus right on campus." -Nick Sweeton, CSU Housing & Dining Services associate executive director
Sweeton said plans to continue building Meridian Village or other on-campus housing are not happening anytime soon.
"The financial impact of the pandemic was pretty significant, so our finances are not in the same space that they were at that point," Sweeton said.
However, CSU is monitoring future enrollment projections to determine future housing needs. To combat a housing crisis like this in the future, Sweeton said the university will continue to study data, including new data from this year, and apply it to future years.
"I don't know if it's just a post-pandemic reality or just a new generation of students coming in where more of them are going to want to live on campus and want that traditional residential experience," Sweeton said.
As for the students in temporary housing, Sweeton said they fall into two categories of applicants: late applicants who received a later self-assign date or those invited to self-assign who never engaged.
He also said students placed in temporary on-campus housing reside in one of two areas: converted lounge spaces or overflow emergency spaces, like those found in Allison Hall and Newsom Hall. While the temporary spaces differ in location from a typical dorm room, each area offers similar dorm room furnishings, like clothing storage, beds and a lockable door for added safety and security, Sweeton said.
For students residing in the Best Western University Inn, the university is adding to their safety and security through the CSU police, who will frequently make their presence known on hotel grounds, Sweeton said. The hotel will also not book rooms for outside community members until no CSU students reside on the property.
"From a safety and security perspective, it's similar to being in a residence hall," Sweeton said. "The staff support is there, CSUPD support is there — it's just across the street from campus versus right on campus."
Sweeton said his role in Housing & Dining Services is to ensure the program is "doing the best (it) can to serve and support students and help them be successful at CSU." 
This also means extending additional support to those in temporary housing who need living accommodations or modifications, and Sweeton said there are spaces for students with different needs and abilities. 
"We work closely with (Student Diversity Programs and Services) offices and other resources on campus to ensure that the students are supported in the way they need to be supported and that their chances of success are just as great in a temp space as they would be in a permanent space," he said.
For any students with unmet needs, Sweeton said he hopes students will express their concerns to staff while utilizing campus resources.  
"Reach out and let us know," Sweeton said. "We truly want to meet the needs and help students be successful."
Reach Portia Cook at news@collegian.com or on Twitter @csucollegian.