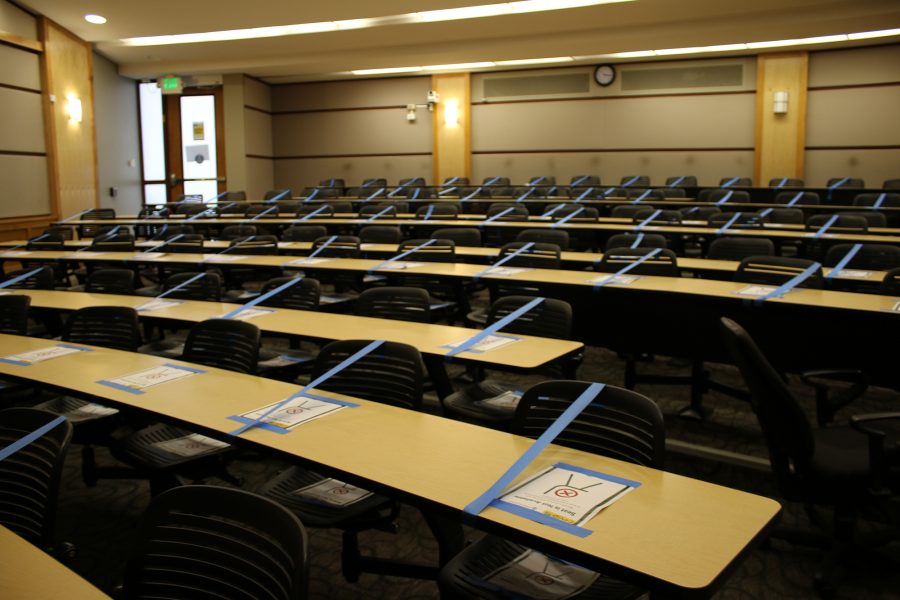 Going into week four of the semester, many students still have lingering concerns about the ongoing COVID-19 pandemic. One such question is whether classes will be moved online like they were in the spring semester.  
As of now, the Colorado State University Pandemic Preparedness Team is recommending that the community follow the current public health guidelines. Provost and Executive Vice President for the University Mary Pedersen explained that CSU is "following the plan guided by local public health."
Students learn skills for working online in a variety of ways. The ability to navigate in that online space, … I wouldn't discount that secondary and deep opportunity for students." -Provost and Executive Vice President Mary Pedersen
Pedersen stated that there are a variety of factors that the University is currently considering in its COVID-19 response plan. These factors include the speed at which COVID-19 tests are being processed and their availability.
Since mid-August, CSU has completed over 10,000 COVID-19 tests. These tests have had a 0.3% positivity rate, according to the executive director of the CSU Health Network, Lori Lynn. This means that overall there have been many tests conducted, but the number of cases is still very low.
"The numbers make case numbers very hard to compare," Lynn said. 
Since the spring semester, the Pandemic Preparedness Team has been extensively preparing for the fall semester, according to Pedersen, but the University "simply didn't know enough."
Planning for the fall semester began shortly after the spring semester, starting with the formation of the Pandemic Preparedness Team. 
Many things have changed since the spring semester, including CSU's expansion of its capacity to do contact tracing in order to help isolate cases.
It's a management issue, according to Lynn. There are many different factors to consider, including contact tracing, public health guidelines and local case numbers. 
As long as cases remain relatively low and the Larimer County hospitals are able to manage any COVID-19 hospitalizations, it remains unlikely that there will be a shift to remote learning prior to fall break, according to Lynn and Pedersen.
Still, there are other factors that have to be considered when crafting CSU's response to the pandemic.
"If we had an explosion or acceleration of cases in the county, (a shutdown) might not be related to our campus numbers at all," Lynn said.
The Pandemic Preparedness Team is in contact with local public health officials to ensure a safe environment both at CSU and throughout the rest of Larimer County.
The team meets two to three times a day to discuss the ongoing situation and also meets on Fridays to do scenario planning, Pedersen said.
The faculty have been preparing for any scenario. Since the spring, Pedersen said that the faculty have undergone extensive trainings to address what would happen if campus was shut down and classes were moved online.
"We ramped up training for our faculty and our teaching and learning centers," Pedersen said. "(We) spent more money than we would've if it was a normal semester."
In fact, some faculty have seen remote learning as a unique challenge that could be more effective than regular, on-campus and in-person learning.
Dean of the College of Health and Human Sciences Lise Youngblade said that CSU has had "a commitment to online learning for a long time." She said that this type of learning has practicality and allows the faculty to reach students better. 
"Students learn skills for working online in a variety of ways," Pedersen said. "The ability to navigate in that online space, … I wouldn't discount that secondary and deep opportunity for students."
Lily Wolfmeier can be reached at news@collegian.com or on Twitter @LilyWolfmeier.