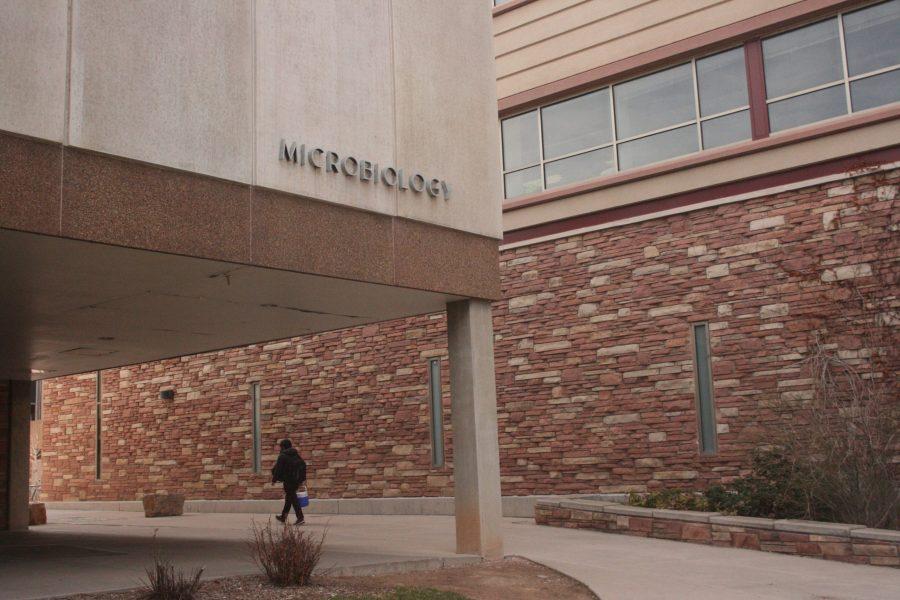 For a team of Colorado State University researchers, an exciting development has been made with the creation of new technology — a small wire, a quarter of the size of a human hair, that can detect incredibly small amounts of antibodies in human blood. 
The development was made by professors Chuck Henry, David Dandy and Brian Geiss, along with a team of other researchers at CSU.
The idea behind the research, Geiss said, was to develop new technology that would detect very small amounts of antibodies in a patient's blood sample. Upon infection by a virus, bacteria or other organism, antibodies will be generated to fight infection.
The enzyme-linked immunosorbent assay, or ELISA, is the current method to detect antibodies in the patient's blood, Geiss said. However, the ELISA has very low sensitivity and is only effective at detecting large amounts of antibodies, which is not useful in catching an infection in its early stages.
"We wanted to be able to create a system where we could detect these antibodies earlier so that we could tell a patient that they are infected so they can seek supportive care, even before they are sick," Geiss said.
The wire, Geiss said, is fairly simple. A fine gold wire is charged, similar to a battery, and coated with a solution of proteins from a virus. When interacting with human blood, the antibodies will bind or "stick" to viral proteins on the wire, increasing the mass of the wire, which is then electronically measured.
On top of this, the wire is very inexpensive to craft, ranging anywhere from 50 cents to a dollar per piece, Geiss said.
"We did this initially with purified antibodies, either against Zika or Chikungunya virus, and we originally found that we could detect very very low amounts of antibodies, down to 10 antibody molecules in a sample, which is extremely sensitive," Geiss said. "The ELISA, in comparison, can't detect below a billion without special modification."
In the future, the team will expand the wire's capabilities to detect bacterial specific antibodies, autoimmune diseases and more.
Lei Wang, who recently received her doctorate from the School of Biomedical Engineering, said she worked with the professors to develop the wire.
"I was a Ph.D. student and this paper is the last part of my dissertation," Wang said. "In the future, I hope this device could provide a low-cost but accurate way for early infection detection."
Geiss also said he hopes to see this implemented in medical facilities around the world. A big goal for the team is to make a device that is sensitive, robust but also extremely inexpensive, especially in areas of the world plagued by diseases.
"If we can develop a device that can take a very small blood sample, about the size of a drop from a finger prick, adding it to the device, and telling the patient that we see particles that are specific to a virus, we can try to tailor treatment appropriately," Geiss said. "I think that will be powerful because it is extremely sensitive, very effective and very inexpensive."
Delaney Allen can be reached at news@collegian.com or on Twitter @DelaneyAllen0.