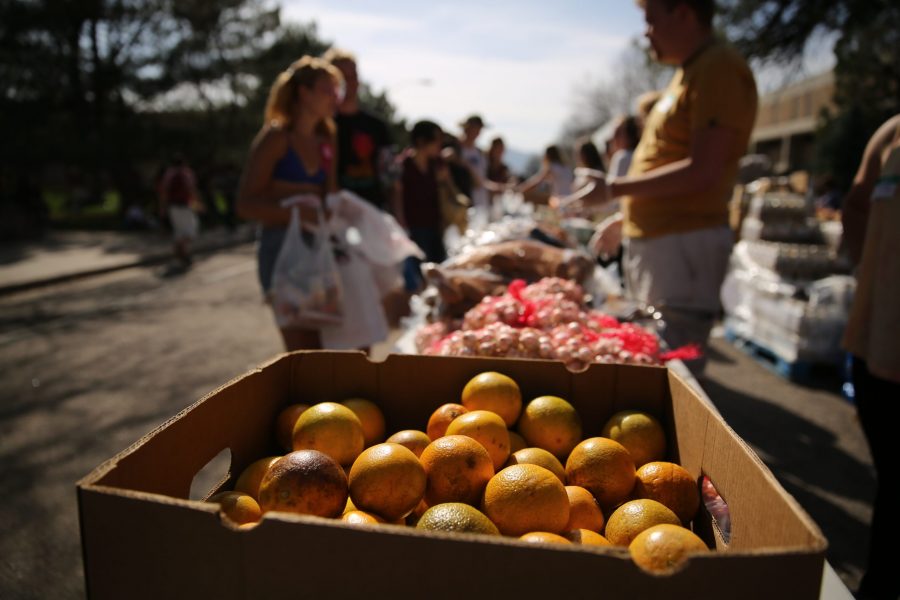 Forrest Czarnecki
After the Associated Students of Colorado State University discovered $800,000 in their budget, a group of social work students saw their chance to help with food insecurity.
It's ridiculous that people on our campus are spending so much money on their fees and they're not able to afford food."
Taylor Lofgren, student for School of Social Work
Alexis Kilgore, Arianna Pike, Amy Sumerfield, Taylor Lofgren and Joshua Segura are five social work majors currently working to petition ASCSU to fund the University's meal swipe program for students facing food insecurity.
Pike said the conversation began as a social action project in one of their classes, where the group started discussing food insecure students and the community in the University, as well as what food insecurity looks like on campus.
"We began talking about certain aspects of how we can combat it," Pike said. "When we were thinking about petition and education of the problem on campus, we found the newspaper that said ASCSU has rollover of $800,000. We were like, 'Boom, that's it. We're gonna work on that.'"
Pike said the goal is to reallocate some of that money to help the programs on campus. Of the Rams Against Hunger programs, meal swipes are the primary priority.
Currently, there are 279 students on the waitlist for the University's meal swipe program. Since it costs $600 per student, it would cost $180,000 to help all the students on the waitlist, Pike said.
"But we're not asking for ASCSU to take all the students off the waitlist. Even $90,000 would get half the students," Pike said. "Really, we'd be asking for as much money as they'd be willing to allocate towards this, but it's also knowing that our waitlist has 279 students on there, and it would cost $180,000 to get everyone off."
Kilgore said the main mission is to rally other students around the issue and gain support from students who are experiencing the problem.
According to the group's petition, three out of 10 students face food insecurity while at the University.
According to the petition, "ASCSU has found hundreds of thousands in unspent student fees. Looking to provide e-bikes and unnecessary research on our walkways on campus, we challenge ASCSU to better allocate these unspent funds to a growing and problematic issue that three of 10 students deal with while attending CSU."
The petition also states that since ASCSU is the controlling entity for student fees, a simple solution would be to better fund and expand the current resources that already exist on campus, as well as educate students about programs like the mobile food bank and the Rams Against Hunger meal swipe program.
"A lot of people don't know the food insecurity on campus is as prevalent as it is," Kilgore said. "It's not something you can tell by looking at your peers. It's something people experience individually, so it tends to get overlooked."
A lot of the group's goals also focus on awareness, Segura said.
"No one really knows who's food insecure unless you look at the line for the mobile food pantry," Segura said. "A lot of people may wonder what it is, but unless they're asking or advocating for themselves, they won't really know. A lot of this is to bring this up as a problem and highlight it for the whole campus."
Kilgore said they're hoping to expand resources, but part of their campaign is educating individuals on what the available resources are. As one approach, the group has created flyers about what resources there are and where they are available.
"Our other approach was to create the petition so we can get people behind us and take that and write a letter to ASCSU and say 'Hey, we know you have this plethora of money, and we have a lot of students who need some support,'" Kilgore said.
Lofgren agreed, saying that if ASCSU has extra money, then it should go towards making sure people can eat, especially since the money comes from student fees.
"It's ridiculous that people on our campus are spending so much money on their fees and they're not able to afford food," Lofgren said.
Segura said that it seems like support will definitely grow in the coming weeks as the group continues pursuing this.
Kilgore said that when it comes to support, people aren't typically against their campaign to fight food insecurity, they are just unaware of the issue. 
"That's why we took the educational approach, and now that's why we're petitioning to ASCSU," Kilgore said. "We don't want to blame them for not choosing to spend the money on that originally; it's the fact that it's a really hidden problem."
Kilgore said that she hopes people become more supportive as they gain increased awareness of the issue.
Currently, the petition has a goal for 200 signatures and is available online.
Charlotte Lang can be reached at news@collegian.com or on Twitter @ChartrickWrites.