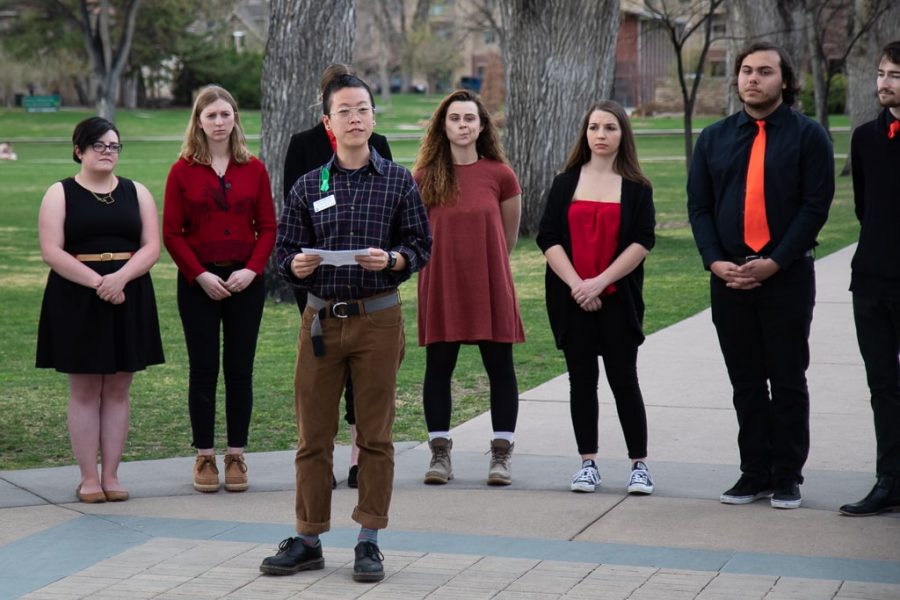 Students, faculty, staff and family members gathered Tuesday to pay tribute to and grieve for members of the Colorado State University campus who passed away this past year as a part of the annual event, Rams Remember Rams.
Below is a list of names that were remembered during the ceremony.
Bogusz Bienkiewicz, Paul Robert Block, Milo Dean Bohlender, Marlin Bolan, Thomas Harry Bradbury, Earle D. Bruce, Sandy Joyce Brug, Jack L. Chaffee, Arthur Corey, Dale F. Dodrill, Cynthia Ann Duncan, Neil Bryson Ericson, Anna Maria Fagerlie, Michael Golinski, Jane Gauger Graham, Stephen J. Gunther, Alfred "Fritz" Haas, Iris Saruwatari Handa, Peter F. Haynes, Andrew Gerard Jaffee, Doreen Elaine Jordan, Carl J.C. Jorgensen, John Michael Karayannis, Adeline Kyoko Kano, Alliya Chaterjee King, Walter Alford Kuemmerlin, Jr, Al Lavan, Arvin Irving Lovaas, Max Kearns Lowdermilk, Mary Virginia Dettor Lowdermilk, David Charles Lueker, Mohammed "Hans" Hassan Mayan, Marlo Rex Meakins, Larry Gene Miller, William Dwain Miller, Kimberly Larkey-Molcsan, Gary Edwin Moody, Dorcas Murray, Phillip "Flip" Naumburg, Samnang "Sam" Thary O'Brien, Kevin Ann Oltjenbruns, Ian Michael Orme, George Wayne Peak, Gerry Pederson, Brian Joseph Perri, Garrett Wilson Ray, Ted Lawrence Roselius, Janet Sue Rothe, Olin W. Ruff, Don Rutledge, Louis William Sanchez, Eugene Smith, Jean Leone Steinhoff, James Tanner, David C. Van Metre, Michael Adan Von Sprecken, Qinxi Tan, Paul James Wilbur
The event lasted 30 minutes and started with Mainstreet A capella singing the CSU alma mater song. CSU president, Tony Frank, gave a small speech before Blanche M. Hughes, Vice President for Student Affairs, and Rick Miranda, Provost and Executive Vice President, read the names of those who passed.
"The greatness of Colorado State University resides in the hearts and minds of its people and today we honor the members of our campus community who have passed away this year," Frank said. "Students, faculty, staff, former employees and retirees. They graced us by their presence and they live on in our memory."  
Hughes then asked the crowd to turn towards the Oval for a moment of silence and the playing of Taps.
"Colorado State University it better because they were with us and we will continue to hold their memories close," Hughes said.
The crowd then walked to the center of the oval to listen to closing remarks from Atlas Tanudjaja from the CSU spiritual care team.
"Notice the people around you," Tanudjaja said. "Know that there is not an empty space between you and them. Every square inch of space is filled with particles that are connecting you; you are not alone."
The ceremony ended with Mainstreet A capella singing "Somewhere Over the Rainbow." Members of the spiritual care team were also available to talk to anyone who needed to after the ceremony.
Flowers, green ribbons and candles were provided for the grieving and Tanudjaja made sure to express the importance that nobody is alone in their grief.
"We are here to acknowledge the continued impact those we have lost have on our lives, in this moment and beyond," Tanudjaja said. "The way they live their lives and the way they shape our lives continue to make CSU and the wider community what it is. We are not alone; we are participants in each other's lives."
Ceci Taylor can be reached at news@collegian.com or on Twitter @cecelia_twt