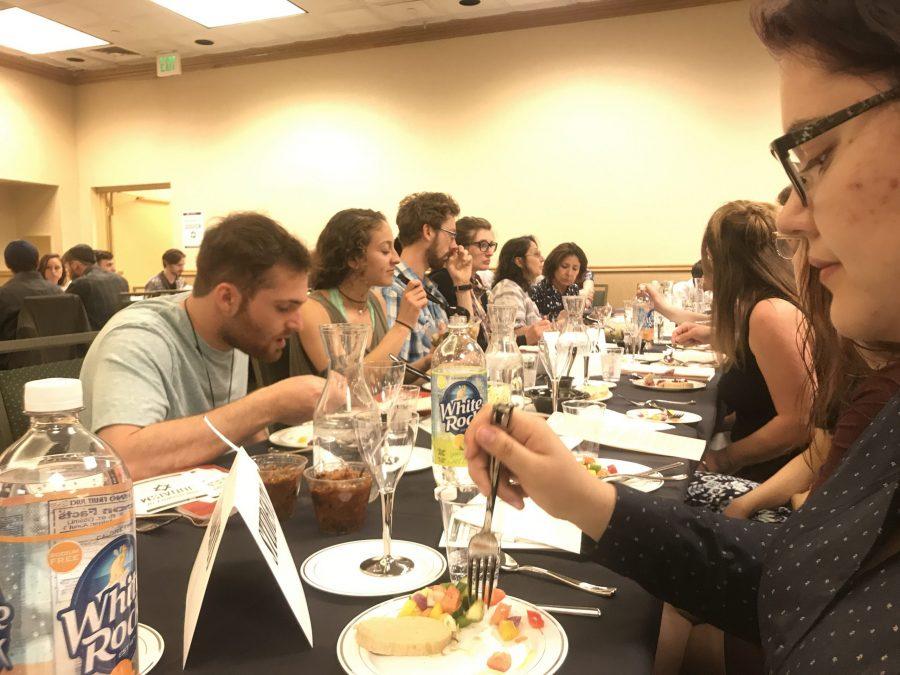 Colorado State University's Jewish organization Chabad hosted their 14th annual Passover Seder celebration Friday.
The event, which was co-sponsored by the Associated Students of Colorado State University, Residence Hall Association and the Lory Student Center, combined culture, tradition, and fun to put on a successful Seder celebration.
The event was open to everyone, regardless of religious affiliation, and celebrated the exodus of the Jewish people from Egypt when they were granted freedom and were no longer slaves.
Rabbi Yerachmiel Gorelik said the event is about more than just celebrating Jewish history, however.
"We also celebrate our own exodus, our own freedom from the things that enslave us, if you like, the things that prohibit us from reaching our full potential," Gorelik said.
The event started with the first of the 15 steps of the Passover Seder, Kadesh, where a blessing is made over a cup of wine. The purpose is to create a new space so that the journey towards freedom can begin. The other 14 steps followed; Gorelik said each of the 15 steps represents an exercise for personal liberation.
15 steps of Passover Seder
Kadesh, U'rchatz, Karpas, Yachatz, Maggid, Rachtzah, Motzie, Matzah, Maror, Korech, Schulchan Orech, Tzafun, Beirach, Hallel, Nirtzah
Participants also got to assemble their own Seder plates. Filled with shank bone (zeroa), egg (beitzah), bitter herbs (maror), vegetable (karpas) and a sweet paste called haroset, each food item is eaten throughout the different steps and each symbolizes something different.
Throughout the event, participants enjoyed singing both traditional Passover songs, such as "Dayenu" and contemporary Passover songs, such as "A Passover Tune" (to the tune of "My Favorite Things" from The Sound of Music). Skits were also performed throughout the event to explain Passover themes in a fun and engaging way.
"We make the event a lot of fun, a lot of meaning," Gorelik said.
Sarah Convissar, president of Chabad, said that hosting Passover Seder is important because it brings the Jewish community together during such an important holiday. Convissar also said that the event has always been open to everyone, regardless of religious affiliation.
"We're all very inclusive," Convissar said, "our goal is to make sure everyone's comfortable."
Participants also got to enjoy a kosher meal with classic Jewish foods such as matzo ball soup, roast chicken and potato kugel.
Rachel Sipes, a CSU graduate student, said she decided to attend the event despite being of the Catholic faith.
"It was really neat to be able to observe the event and see how these traditions are related to my own faith," Sipes said. "I just love seeing people come together."
During the event, Gorelik expressed the importance of finding self-liberation and freedom as one goes through the 15 steps of Passover Seder.
"Try and get into the moment," Gorelik said. "Try to think of all the things that are really challenging you in life or holding you back and really try to free yourself of them so you…find true liberation and true joy and happiness."
Gorelik said that it's important that CSU puts on this event for the Jewish students who don't have the opportunity to go home and celebrate with family.
'We're very thankful to the University and the LSC staff for supporting us and allowing the Jewish community to come together," Gorelik said.
Ceci Taylor can be reached at news@collegian.com or on Twitter @cecelia_twt.