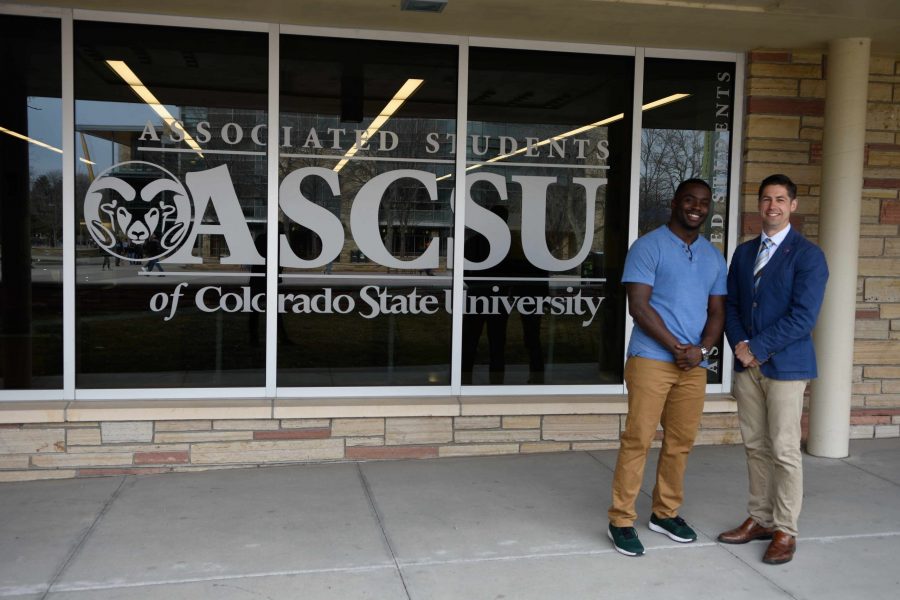 Editor's note: Josh Johnson is a member of Rocky Mountain Student Media Corporation's Board of Directors. RMSMC is the parent company of The Collegian, but the Board of Directors does not oversee content of The Collegian or make editorial decisions of The Collegian.
With an excess of experience under their belt from serving in the military prior to attending Colorado State University, Josh Johnson and Joshua Griffin, campaigning as J24U, are committed to making the student body's voice heard.
"We are bringing a leadership into the university level … where we can provide clear guidance for the student fees and bring in a new level of interaction with the student body through transparent government," Johnson said.
Josh Johnson, presidential candidate
Johnson is a junior psychology major and Air Force veteran. Currently a senator for the Adult Learner and Veteran Services office within the Associated Students of Colorado State University, Johnson is also a president of the Student Veterans Organization and a board director for Rocky Mountain Student Media Corporation.
Johnson believes he is prepared for his potential presidency, explaining that his time in the Air Force and ASCSU Senate has helped him learn the necessary skills to lead.
"This experience of me encouraging (students) with resources around the University and being their trusted source of information and helping them through things is the same area where we can bring the same leadership that (Griffin) served with the cadets and I bring with the adult learners community, but now on a bigger scale within ASCSU," Johnson said.
Joshua Griffin, vice presidential candidate
Griffin spent 12 years with the Army's special operations units and plays safety for CSU football as number 24. He is also a senior cadet at the Army Reserve Officers' Training Corps.
Controlling money is one of the responsibilities of a vice president, according to Griffin. In his last position, Griffin said he managed $225 million with zero loss of accountability. On a fiscal and interpersonal level, Griffin believes his campaign's knowledge and experience brings a new perspective to ASCSU's executive branch.
"I think our experiences will actually translate well into ASCSU," Griffin said. "I can speak for both of us; we have spent a great deal of our lives serving our country, so we want to do that here again at CSU."
Their platform
J24U places unity, sustainability and transparency at the forefront of their campaign, addressing issues of campus connectedness, increasing composting and the reduction of paper, and finally acting on what the student body wants through a more direct line of communication.
Unity is the first measure J24U wants to tackle. Griffin said there is division among the student body, noting that there are two sides and neither work together because no one wants to have an open dialogue.
"Give (students) a new tradition to CSU that everybody can rally around together as Rams united, with campus connectedness as the focal point," Johnson said. "(And) to carry that out, a spirit week that gets everyone excited." 
Hoping to introduce more composting bins and a reduction of paper use on campus, J24U is looking to contribute to a larger sustainability effort on campus.
"We know that CSU values their sustainability mission," Johnson said. "With that, there are more things we can do. Because right now, CSU is number four in the nation for sustainability according to Princeton Review, but we can be number one."
While Johnson said the University is ranked fourth by the Princeton Review for sustainability, the Princeton Review actually ranks CSU as sixth place. 
Griffin has worked closely with another student to develop an app (presently only available for Apple products) that allows students to interact with student government.
"There will be a direct link for the ASCSU to where we have legislation and other things on a docket," Griffin said. "We'll have polls so if I can say, 'Hey! We have $200,000 to do X, Y, Z, what would you prefer?' Then, we will set a poll and then the students will tell us what they want."
Both desire to create a new vision for transparency within student government where students have a say in the legislature before Senate votes on bills rather than having funds allocated to policies the student body has no knowledge of.
"Vote for you," Johnson said, "because we're here for service."
Laura Studley can be reached at news@collegian.com or on Twitter @laurastudley_.