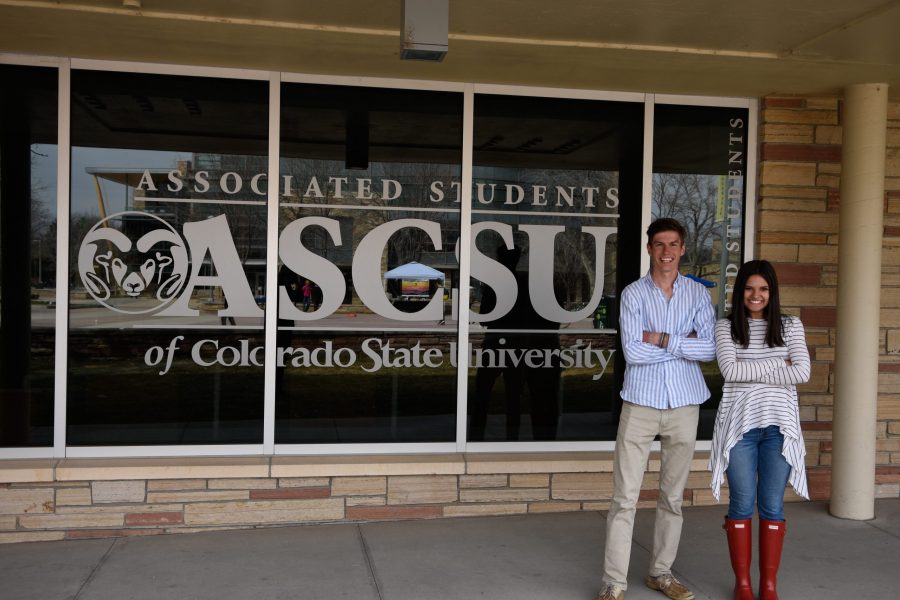 "Parking over politics" — That's the motto for Ben Amundson and Alexandra Farias, who are the youngest candidates running for president and vice president of the Associated Students of Colorado State University this election season.
"We don't consider our campaign overtly political," Amundson said. "We think there are serious issues that students face and we need to address those issues, but we do not believe in taking a left or right approach. We think of taking the students' stance on every issue."
Ben Amundson, presidential candidate  
Amundson, a sophomore studying agricultural business, currently serves as the Speaker of the Senate and said that his experience as speaker could help him increase inclusion within the executive branch.
Amundson said the reasoning behind their campaign was something that started with an idea.
"I think it starts with an idea (of), 'I would do something different,' and it turns into a belief or maybe even a passion of yours," Amundson said. "We are just trying to turn those beliefs and passions into reality, that is our goal."
Amundson said that one of their passions as a campaign is food insecurity, so much so that Amundson said they donated their campaign money to the Food Bank of Larimer County. Because of this donation, Amundson said the campaign could not afford color printing for their flyers.
Alexandra Farias, vice presidential candidate
Farias, a sophomore studying finance with a planned certificate in computer information systems, serves as the vice chair on the Student Fee Review Board. Farias said her experience with SFRB has taught her how to handle budgets and has put her down the road to learning more about them. She also serves as the vice president of the Gamma Phi Beta sorority, which she said has taught her about issues such as inclusion.
"We want to make everyone feel welcome and feel comfortable in the ASCSU office," Farias said. "It is not a closed-off group and we do not want to present it that way."
While running on different issues, Farias hopes to enhance inclusivity in ASCSU and across the campus.
"I really just want to make sure everyone's voice is heard and increase student inclusion as much as possible within ASCSU and CSU in general," Farias said.
Their platform 
The Amundson-Farias platform runs on several campus-related issues, including U+2, the term for the Fort Collins housing ordinance that prevents more than three unrelated people from living in a single residence.
With U+2, Amundson and Farias said they hope to reform the policy to allow more people to live in houses with the appropriate number of rooms. For example, Amundson said, houses with four or five bedrooms should be permitted to house four or five people.
One of the bigger issues on their platform is campus parking, especially making parking smoother and easier for those that park on campus, leading to a drop in permit costs.
"We think there are a lot of solutions to parking that are sustainable," Amundson said. "We can teach freshmen to take the bus their freshman year, so by their senior year, they are still taking the bus. This opens up spots and ultimately will lower the prices if you look at the supply and demand of it."
They also hope to reform the Grill the Buffs event from a "grab-and-go style event" to a much larger spirit event.
"We see it as everyone on the west lawn of the (Lory Student Center), live music, every fraternity, every sorority, student orgs, resident halls out there, everyone having a giant pep rally the day before we play the Buffs," Amundson said.
Within ASCSU, Amundson and Farias also have plans to try and improve the inclusivity between the campus and the organization, as well as issues such as marketing of opportunities. Farias said that she wants to make sure everyone on campus knows about the opportunities that are available and how to apply for things and seek out opportunities and resources.
"We are ready to serve our students no matter what happens," Farias said.
Austin Fleskes can be reached at news@collegian.com or on Twitter @Austinfleskes07.