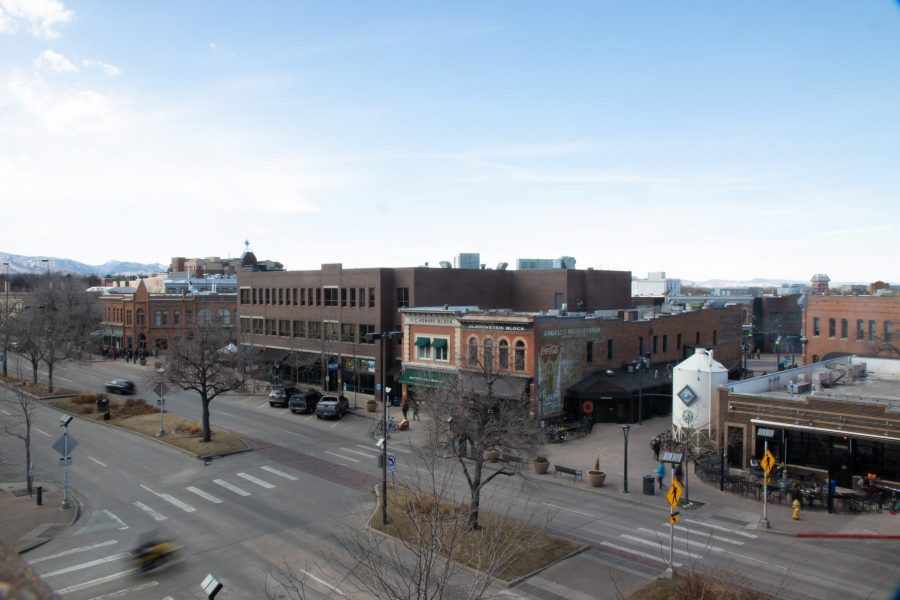 With current District 2 Councilmember Ray Martinez's second term ending, four candidates are running for his former seat on City Council.
Adam Eggleston, Susan Holmes, Noah Hutchison and Julie Pignataro are all running for their first term in City Council. Ballots must be mailed out by March 28 or put in a ballot drop box by election day April 2. See more about where they stand on in the infographic at the bottom of the article.
Adam Eggleston
Eggleston, a realtor who has lived in Fort Collins since he was 7 years old, is running on a platform of affordable and attainable housing as well as renewable energy initiatives. 
Eggleston said affordable housing and attainable housing are two different issues that need to be solved separately. Eggleston defined affordable housing as for people who are looking for a place for the short term and attainable housing for individuals looking for a place to settle down.
"So you can't put the cost of the affordable housing side all on the attainable side, with fees and taxes," Eggleston said. "You have to have different goals, so people can get to that affordable housing and stair-step their way into attainable housing."
Eggleston also sees Fort Collins as a future green innovation hub, looking at the city's economic growth and renewable energy goals. While Eggleston doesn't think residents should have to pay the cost of transition, he supports innovation.
"I think the City is doing a very good job in moving us along as far as we really can, and I think the City should keep doing that," Eggleston said. "But I don't think we should be on the bleeding edge of that technology because it's really costly and I think we lose reliability of what people come to expect."
Eggleston is also vocal on needing more water storage than the Halligan Reservoir could offer, reminding residents that Fort Collins is expected to expand by 70,000 people in 20 years.
Susan Holmes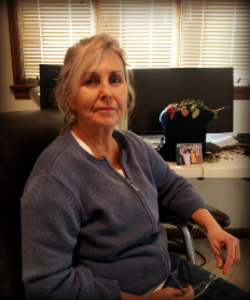 Holmes is running because her son was shot by a Colorado State University police officer July 2017 and aims to end police violence and corruption in Fort Collins. 
Holmes' plan to end police violence includes promoting police transparency through mandating open records, mandating a de-escalation use of force policy, embedding mental health crisis personnel, requiring less than lethal weapons and ending officer-created jeopardy.
In her effort, Holmes has drafted legislation, called the "Jeremy Holmes Act," to mandate that unredacted body camera footage from an officer-involved homicide should be released within five days of an incident.
"There should be no police investigating another police officer, police shouldn't be investigating police," Holmes said. "And that's why that video should be released immediately to the public so we can have oversight, instead of the police, especially in a homicide."
Fort Collins Police Services already have a less lethal control devices and techniques section in their policy handbook, but Holmes said it's based on the discretion of the officer, and how to respond to each type situation should be written out.
Holmes also claims there is a lot of corruption in Fort Collins and states that she'll work to combat that. Beyond her claims of corruption in police forces, the Susan Holmes Campaign wrote in a press release that Joyce McConnell, the finalist for CSU's next president, sits on the Board of Directors of Antero Resources Corporation, an oil and gas company based in Denver.
Noah Hutchison
Hutchison, a pastor and business consultant, is running for city council to serve the community. His platform is centered around balancing everything and focuses on hearing everybody's voices, economic growth coupled with environmental health and public safety.
One of the aspects that Hutchison said stands out about his campaign is its balance. Rather than focusing on one issue, he wants to look for common sense solutions to Fort Collins' issues. To accomplish this, Hutchison said he wants to hear as many people as he can.
"I want to do extra work to hear what other people think," Hutchison said. "Maybe the more important piece is I don't want to do just what Noah thinks is best, I really want to do what the people think is best to make decisions for them."
Hutchison also wants to focus on economic development, supporting small and big businesses in balance to keep the economy healthy in Fort Collins, and helping maintain natural areas.
"There's a reason I got the chamber of commerce's endorsement, and that's because I believe in businesses and I think they're putting money back into the economy that's developing our natural areas, securing them, and help them be what they are," Hutchison said.
Hutchison said he values public safety and the municipal structures that help protect it. He promises to keep the quality of life in Fort Collins great and supports the Keep Fort Collins Great Tax.
Julie Pignataro
Pignataro, a CSU alumna and United States Department of Agriculture software program manager, is running on a platform of smart growth and affordable housing in order to provide others and her son the opportunities she had living in Fort Collins. 
Pignataro defines smart growth, a central part of her platform, as looking at the issues the city faces as interconnected: with creating affordable housing, the City also needs to consider related aspects of daily life such as alternative transportation options for these residents to get to the places they work.
"I'm thinking more about the big picture," Pignataro said. "You can't look at all these things in a vacuum or a silo. . . . You have to think about the web of all these decisions."
Pignataro spoke about her employees and coworkers, who drive to Fort Collins daily for work but can't afford to live in Fort Collins or avoid living here due to the high housing costs. This is part of her focus with wanting to provide more affordable housing.
"Things have changed so much in 20 years, just with how expensive school is to how much these houses are worth," Pignataro said. "The people who work here can't afford to live here, and that's a huge problem. . . . To me, it's all connected, and you can't look at one thing without looking at how it affects something else."
In addition to her platform focusing on smart growth, Pignataro said she's an environmentalist and supports a healthy Poudre River, improved air quality and renewable energy.
On the Issues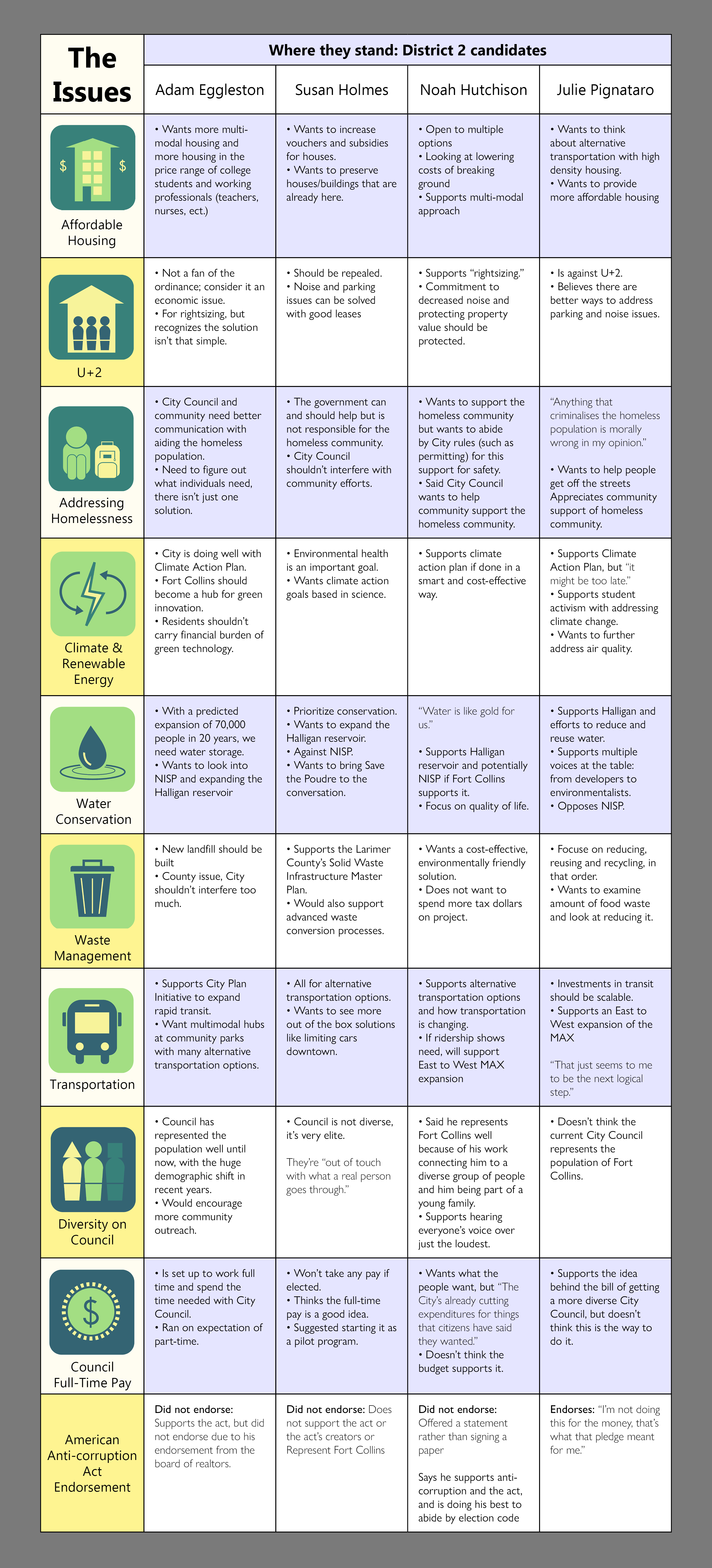 Julia Trowbridge can be reached at news@collegian.com or on twitter @chapin_jules.