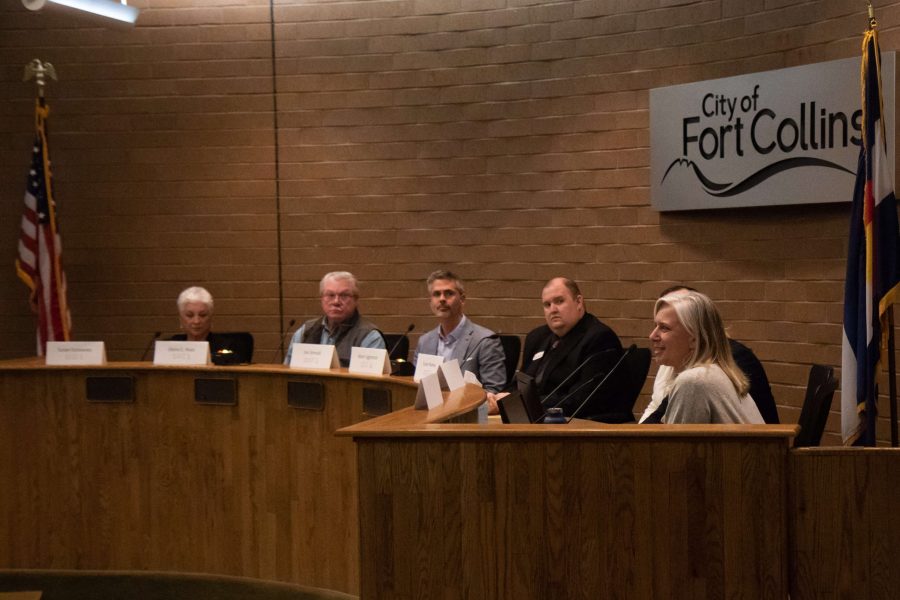 The League of Women Voters of Larimer County hosted a candidate forum with the 13 candidates running for mayor and councilmember positions. Discussion topics ranged from U+2, the environment, diversity and more.
The candidates were put into two panels, with the first panel having mayoral candidates and candidates for Districts 4 and 6, and the second panel having candidates for Districts 1 and 2.
Keeping, modifying or rejecting U+2
Moderators asked the first panel a question about reviewing housing ordinances. Mayoral candidate Wade Troxell and others spoke about U+2, the housing ordinance which prevents more than three unrelated people living in a residence. While Mayoral candidates Troxell and Michael Pruznick and District 4 candidate Kristin Stephens said they would look at changing the ordinance in some parts of the city, District 6 candidate Lori Brunswig opposed the idea of changing the ordinance.
"I am strongly in favor of keeping U+2," Brunswig said, "Here we have a big problem, and I think the more people there are, it's exponentially problematic for parking, disruptions, (and) noise, and I will fight to keep that in place."
On the other hand, District 6 candidates Emily Gorgol and Fred Kirsch empathized with working families and college students who might have difficulties making ends meet due to Fort Collins' affordable housing issues.
"My personal feelings of U+2 are it's discriminatory by nature: four related people can live together but four unrelated people can't, that's discrimination," Kirsch said. "And I think that you will find that there are other policies that we can implement that will be more effective in protecting our neighborhoods."
Water conservation and energy efficiency issues
Both panels agreed that combatting climate change, water conservation and energy efficiency were important issues that local government should put effort into.
District 1 candidate Glenn Haas and District 2 candidate Adam Eggleston said that they would support incentives over regulations for energy efficiency and water conservation, and most candidates agreed that there are multiple solutions to these issues.
"I think that water conservation isn't just a local effort, it's a regional effort, so we need to work across communities to address this issue," Gorgol said. "It's not a matter of if, but when we have our next drought, and so looking at water storage should be a huge issue."
Some candidates, like Brunswig and Kirsch, opposed the idea of reservoirs while other candidates, like District 1 candidate Susan Gutowsky, District 2 candidates Noah Hutchison and Eggleston would support expanding the Halligan Reservoir. District 1 candidate Joe Somodi suggested looking into using grey water and Eggleston was the only candidate who said he'd look into the viability of the Northern Integrated Supply Project.
 Who's running?
Mayor:
Michael Pruznick
Wade Troxell (current)
District 1:
Susan Gutowsky (current) 
Glenn Haas
Joe Somodi
District 2:
Adam Eggleston
Susan Holmes
Noah Hutchison
Julie Pignataro
District 4:
Kristin Stephens (current)
District 6:
Lori Brunswig
Emily Gorgol
Fred Kirsch
Independent ethics committee
Each panel was also asked if they thought an independent ethics committee needed to be created to oversee City Council. Pruznick stated the most recent ethics complaint was filed in 1995 but supported the notion if Fort Collins residents felt it was necessary.
District 2 councilmember candidate Susan Holmes, who is running on a platform of ending police violence due to her son's death in 2017, disagreed. Holmes was removed by police officers from a City Council meeting Feb. 19 for objecting to funding for a police regional training campus.
"Let me tell you, there are serious (ethical) issues with government employees in this City because I have encountered them, I am still encountering them," Holmes said. "I've fought a battle from the moment my son was killed to get transparency about what was happening with him (and) I could not get unredacted body camera footage . . . and an ethics commission I would definitely support."
Diversity in local government participation
Candidates were asked about how they would promote diversity and inclusion, both within government officials and general resident participation. All candidates supported making sure everyone's voices were heard, with Troxell highlighting that inclusivity is an important value of the Fort Collins community, and most candidates supported the City's current actions to include diversity.
Most candidates also felt that the City could do more to reach out to underrepresented communities.
"I think this is one area where the city is doing good and they're trying to do better," Pruznick said. "I would certainly encourage us to just keep on trucking on that and keep on learning and not take the complaints as a problem, but as an opportunity to move forward."
Gutowksy said she'd invite "people from all walks" to participate in local government, adding that diversity in local government participation should also include the LGBTQ community and people with disabilities.
Managing economic growth of Fort Collins
The second panel was asked about what the City's role should be in job development and income inequality. District 2 candidate Julie Pignataro said that underemployment needed to be tackled and people who work in Fort Collins shouldn't have to commute from out of town. Holmes agreed with needing to address the housing gap.
While Eggleston and Gutowsky spoke about the educated populations from Fort Collins' schools, Somoli said attracting good businesses would help combat income inequality. Haas advocated for decreasing the sales tax revenue as a way to increase the minimum wage.
"At the end of the day, the City's role is not pinpointed in a box," Hutchison said. "It's continually changing when it comes to where we were 10 years ago, where we are right now, and where we'll be in 10 years. So practically, the city definitely has a role in all of these things."
Collegian reporter Julia Trowbridge can be reached at news@collegian.com or on twitter @chapin_jules.