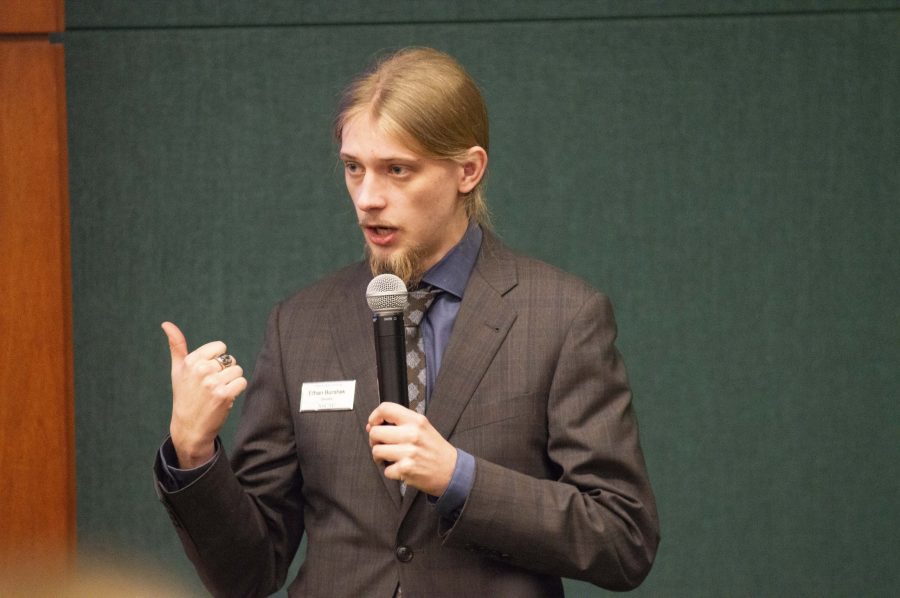 Editor's Note: Connor Cheadle and Abby Vander Graaff both are employed as columnists for the opinion section of The Collegian.
Colorado's recent tobacco ban and the ethics of consenting endorsement were both discussed at the Associated Students of Colorado State University Senate session Wednesday night.
Senate response to smoking ban 
Former Colorado Gov. John Hickenlooper signed an executive order in November that banned all vaping and tobacco use on CSU and state property.
Wednesday night, Sen. Ethan Burshek presented a resolution opposing the ban and supporting the establishment of designated smoking areas on campus on the basis of the law being non-inclusive.
"Addiction, especially substance addiction, is a recognized chronic illness," Burshek said. "Someone who is addicted to a substance has essentially created what amounts to a mental illness… whereby they cannot interact with the world in the same way without that substance."
According to the resolution, the best action would be to set up smoking zones around campus with an area around them of about 10 feet, a distance where secondhand smoke would be "negligible," Burshek said. Examples of possible designated areas included the Oval or the Monfort Quad.
Reports about "safe" distances from secondhand smoke vary widely, ranging from just six-and-a-half feet to more than 30 feet, according to Time and the National Institute of Health respectively.
The director of the office of policy and compliance told The Collegian last week that the University currently has no set plan to enforce the ban, but will make those decisions in the coming weeks.
Consent ethics in Darwin Day resolution 
Questions were raised about endorsements on Sen. Connor Cheadle's Darwin Day resolution that would support recognizing Evolutionary Science Day as an observed CSU holiday. The resolution was originally meant to support Darwin Day, which was Tuesday, but the name was changed after concerns were raised about the appropriateness of celebrating Darwin.
In total, there were 65 names listed as endorsing the resolution, including at least one name written twice and at least two people who graduated from CSU. The names were pulled from the rosters of two anthropology classes taught by adjunct professor Kimberly Nichols, one last semester where the class explicitly endorsed the resolution and one this semester where they did not.
Abby Vander Graaff, one of the students listed on the endorsements who said she didn't know the resolution existed, told the Senate how it felt.
"I personally did not explicitly give my consent to have my name on the (resolution)," Vander Graaff said. "I feel like my trust was violated as a student and I was misrepresented."
At least two emails were sent to students in the class that said they could opt out of endorsing the bill, but Vander Graaff was not sure how effective that was.
"I didn't see it, so it's probable that other students didn't, and I just think there is probably some confusion about the ethics of doing that," Vander Graaff said.
After this was brought up, various senators also questioned the ethics of people having to opt-out of endorsing legislation, instead of choosing to opt-in.
"From my perspective, I sense that this has been a forgery," Sen. Jaquikeyah Fields said. "I don't think that it matters whether or not there was an email blast sent out, you should get consent to add someone's name on a bill before putting it on there."
The resolution was tabled and will be voted on next week.
Stuart Smith can be reached at news@collegian.com or on Twitter @stuartsmithnews