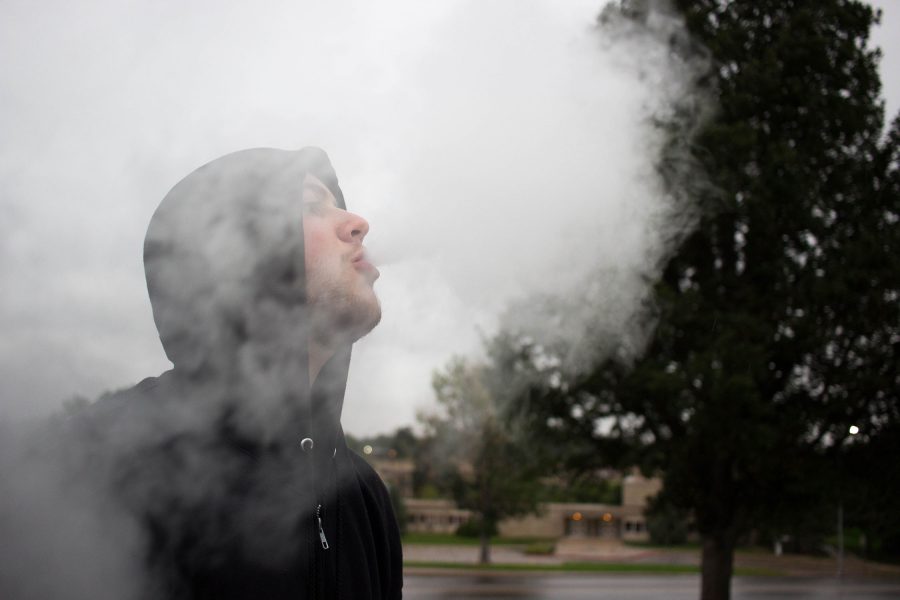 Juuls are officially too cool for school.
Vaping and using any tobacco products were outlawed on state-owned property, including on the Colorado State University campus, after former Gov. John Hickenlooper signed an executive order in November.
Because the ban on tobacco and vape was so sudden, CSU is still developing a plan as to how they will enforce the new rules, wrote Bob Schur, director of the Office of Policy and Compliance, in an email to The Collegian.
"The University has used winter break to work on implementing the order within our community, and the University is still working on addressing some details of how the tobacco-free plans will be implemented," Schur wrote.
Schur added the new rules do not say that staff and students can no longer use tobacco or vape products, but that they can not be used on any campus location. These include the Fort Collins campuses and any satellite offices run by the school like the Forest Service, Extension and Agricultural Experiment Station offices and grounds, according to a December email from Vice President for University Operations Lynn Johnson.
If a student sees someone vaping, with or without nicotine, or using tobacco products, including chew, on campus, Schur wrote that they ought to politely remind them of the new law and can also report them to Environmental Health Services.
The University does not yet know how they will punish students and staff who are caught once or repeatedly using tobacco on campus.
"The University plans to make decisions about how single or repeated offenses within the next several weeks," Schur wrote. "Once those details will be in place, the University will communicate with students, faculty and staff through SOURCE, email messages, signs at the perimeters of campus, social media and other means."
In fall 2018, 30 percent of incoming CSU students reported vaping before arriving on campus, and Schur wrote that fewer people understand the danger of vaping than of smoking traditional cigarettes. The Center for Disease Control reports that a Juul pod, which is a popular vaping device among young people, can contain 20 times the nicotine as a regular cigarette. Colorado also has the highest rate of teen vaping in the nation.
Studies have shown that nicotine, which is found in cigarettes and many vape devices, is particularly harmful to young people.
"Nicotine is known to be highly addictive and negatively affects the developing brain of youth and young adults more than older adults," wrote Schur, referencing the 2016 CDC and Surgeon General's Report E-Cigarette Use Among Youth. "Use can prime the brain for use of other addictive substances, reduced impulse control, mood disorders and deficits in attention and cognition."
He also wrote that second-hand exposure to cigarette smoke has severe health implications for non-smokers.
More information on the campus tobacco policies can be found at tobaccofree.colostate.edu. Health plans available through the University, for both staff and students, include assistance for quitting tobacco
Ravyn Cullor can be reached at news@collegian.com or on Twitter @RCullor99.