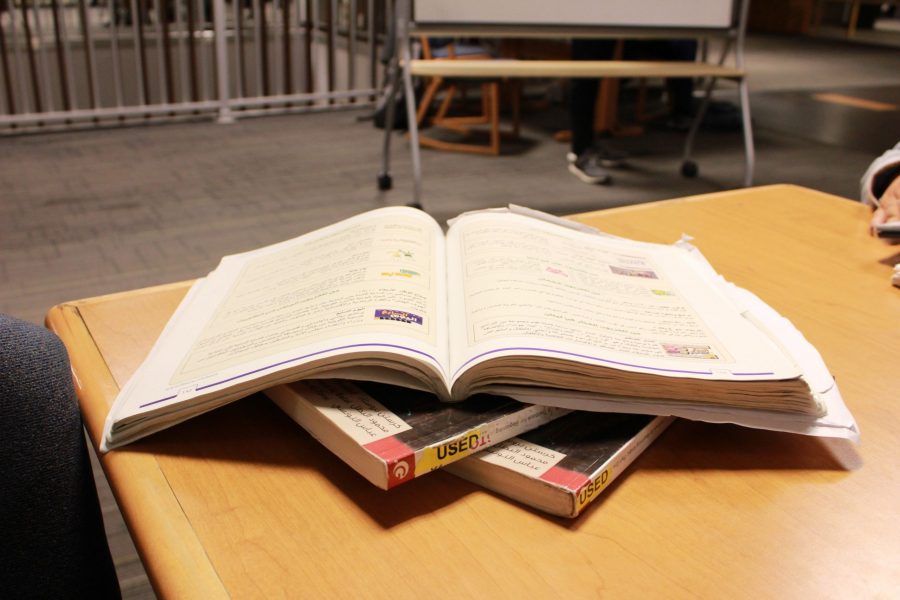 For Colorado State University students, textbook culture means a lot of staring down price tags and making sure the online homework systems don't crash the night an assignment is due. 
So much more happens before the books end up on our required lists. This is the story of the textbook.
The Creation
Michelle Stanley, flute professor in the music department, capped off her 14 years of teaching music appreciation by writing a textbook for the very same course. Years later, her book, "Music Appreciation: Successful Listening in All Music," is a required e-text for all students taking an MU-100 class, CSU's Music Appreciation course.
For MU-100, individual professors do not get to choose the textbooks, Stanley said. In fact, when she first started teaching at CSU, she was assigned which MU-100 book to use.
That did not bother her at all, she said. It was not until a textbook representative approached her multiple times that Stanley would actually think of writing her own book.
"I had an idea of a dream textbook that I wanted to use for Music Appreciation that was not just classical music but encompassed jazz, popular music, folk, music, and cultural music," Stanley said.
At the time, she could not find any books like that. And while Stanley said she had never really dreamed of writing a textbook, a publisher convinced her she could do it. Over the course of three years, she put together a text which she hoped would give students a more comprehensive view of music.
Stanley has not taught the class since the book came out nor did she have any input on the book's selection, she said. The text was determined by the department chair.
For Stanley, she said it made sense to write her own text because on top of her years of experience, she wanted to teach the things that were exciting her students but that she wasn't seeing in other texts at the time. 
With her own book, Stanley said she had complete free reign over the content. Because it is online, she is able to regularly update it with little hassle, even incorporating student and instructor feedback. She especially likes how music and videos can be put directly inside of the text.
Some professors might dislike their textbooks because they are none out there which fit the idea of their course, Stanley said. Some professors will even "build" their own texts by binding together other texts and pieces in an attempt to cover the material they want.
"I don't think any faculty member started their academic career thinking, 'I'm going to write a textbook,' because it's so much work," Stanley said. "But sometimes you're just so passionate about (the subject), that you just want to write it so that you can teach it the way you want to teach it."
The Selection
Mike Mansfield, a professor in the history department, has at least a dozen different textbooks sitting in his office. Most of them were given to him unsolicited from the textbook publishers, in the hopes he will choose their texts for his class.
In Mansfield's email inbox, there are even more advertisements for different books. If he wanted, he could probably request a sample book to test for free. This, Mansfield said, is quite normal in the textbook industry.
"It's ironic because students need books and (they) have to pay for them," Mansfield said. "Professors have plenty of books, and they throw them at us. Isn't that the way it goes?"
Mansfield teaches several classes, including the introductory course U.S. History since 1877 (HIST-151), a well-populated course as it qualifies for All-University Core Curriculum historical perspectives credit.
In the process of choosing his books for HIST-151, Mansfield considered a variety of factors, partially based on his own experiences. Having gotten his degree in library science, he still remembers buying very expensive textbooks, due to the specialized nature of the field only to never use them in class.
"That irritated me to no end," Mansfield said.
His three required texts for HIST 151 try to avoid causing those same problems for his students. Mansfield made sure the books are integrated with the rest of the course content, so students are tested and write essays based on the book material. 
He tried to maximize the books' affordability for the students. The texts range from $15 to $73.50 on the CSU Bookstore website, but are available elsewhere. In general, Mansfield avoids texts over $100 as he calls them "prohibitively expensive." Most importantly, he wanted to show students there are different historical points of view in the limited time he had with them.
In some of his other courses, Mansfield said he uses free digital texts or mixes them with required books. He has had this book pattern for about 10 years but refines his choices each semester.
Overall, CSU does textbooks pretty well, Mansfield said. At previous universities he has taught at, pricey, unappealing textbooks would be forced on him and his students to the detriment of all involved.
"It was almost like a high school except the students had to buy the book," Mansfield said.
At CSU, Mansfield said he has had free reign to choose really whatever text he wants for all his courses. All he has to do is submit his book request at the end of each semester to place his orders with the bookstore, and he is good to go.
However, the process does vary by department and by class. For large, multi-section classes, some departments will decide the books using committees or sometimes the department head will decide. This is less often the case if an instructor is the only one designing the class.
For courses with dynamic subjects, professors must keep up to date with the changing literature, sometimes meaning finding new texts each year, Mansfield said. Even for a history course where the facts don't really change, Mansfield will still spend some time reviewing changing editions and pages.
When it comes to professors assigning their own textbooks, CSU refers to its policy directive, wrote Daniel Bush, vice provost for faculty affairs in an email to The Collegian. It is not in the category of "official" policies which are vetted by many administrative units at the university. 
Since a professor assigning textbooks they wrote could be considered a conflict of interest, professors who intend to do so must report their choice to the chair of their department, according to a document Bush provided. The chairs should then consider the following criteria to determine if the textbook choice is appropriate:
Is the faculty member a recognized expert/authority in the field?
Will the text be used heavily in class as opposed to just a small section?
Are new editions being required frequently (annually)? If so, are the new editions driven by updated content or the desire to drive more purchases?
Are others using this text widely? Is the publisher well-known, and was the text peer reviewed? 
In most cases, professors are allowed to assign their own textbooks, according to the document. It is not against the rules to profit off of assigning your own textbook, especially since CSU holds its faculty as "internationally recognized experts that are well positioned to elucidate the most recent scholarship in their field." It only becomes a concern when "abuse of this potential is the driving force for assigning the text."
"(As) with all potential COIs, it is the university's responsibility to make sure textbook adaptation is driven by scholarly outcomes and student learning, not profit," the document reads.
Ultimately, it is about choosing a text to fit the course the professor wants to teach.
"You try to select books that will be interesting and let a student realize where you're trying to go," Mansfield said.
The Purchase
Kurt Kaiser, assistant director of textbooks at the CSU Bookstore, is going through a very busy few weeks.
With the start of the spring semester, Kaiser and the rest of the bookstore team will be putting textbooks in the hands of thousands of students.
Once professors have decided their books for the next semester, they send in requests to whoever is in charge of textbook coordination in the department, said Sharon Van Gorder, administrative assistant for the history department. The requests include books, ebooks, online content, or materials for custom course packets. 
The CSU Bookstore gets requests from about 6,000 courses which need new materials each semester, Kaiser said. They will consequently order between 2,700 and 3,500 unique titles, the number of each title varies by class. From the fall 2017 semester to the summer 2018 semester, the bookstore sold about 125,000 total books. The bulk of these sales come within the first two weeks of each semester.
The store decides how many of each course text to order using an inventory management system which keeps track of maximum versus actual enrollments and number of books purchased from the University store. That historical data can reach as far back as 2008 for some courses. 
Purchase rates vary from 5 percent to 100 percent, depending on the course and the book. The store will take an average of the books bought and buy slightly more than that so as not to run out, Kaiser said. For new courses without any data, the bookstore will buy close to the class capacity number of books. 
"In a perfect world, there would only be one textbook left on the shelves, because that means everyone bought a book and no one left without one," Kaiser said.
It doesn't happen often but that's the goal.
The bookstore buys their books from used book companies, publishers and distributors depending on the type of book and if it is new or out of print. 
Prices are set by the publishers. In the cases where the professor or department has not negotiated with the textbook publishers already, the bookstore will work with them to try and get the lowest prices possible, Kaiser said.
This is particularly evident with the store's use of Verba and expanding inclusive access. Currently, many online textbooks require online access codes which students have to buy from the bookstore as either part of the print book or as a piece of very expensive cardstock.
Using inclusive access takes away the access code. Students get an email which allows them to opt-in to the bookstore's program and have the e-text charged to their RamWeb account. They then have access to the text through Canvas.
This saves on shipping fees, stocking fees, and the bookstore negotiates lower prices overall, Kaiser said, making this a major money saver for students. This semester, they are slated to have saved students over $2 million from inclusive access alone.
"It's just disrupted the entire supply chain (of textbooks) which is a lot of fun," Kaiser said.
It also fits into the larger scheme of the bookstore's goals which is to promote student academic success. Inclusive access allows students to have their course material on the very first day of class with ease, Kaiser said.
Even if students aren't purchasing from the CSU store, they still help students know exactly which version of a book they need through comparison shopping and their online information. 
"I stock shelves: that's all I do," Kaiser said. "And if we can help students do things in other ways, that's what we want to do."
Samantha Ye can be reached at news@collegian.com or on Twitter @samxye4.