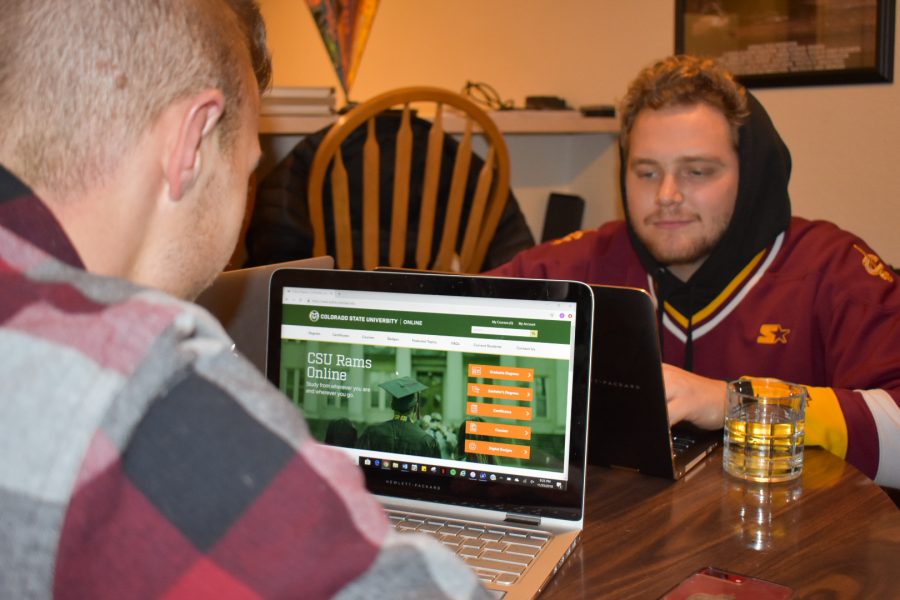 Colorado State University Online has been breaking their own records at a comfortable pace, just the way they like it.
Over the last 10 years, the University division has more than doubled their gross revenue while also growing their course offerings and student audience. 
CSU Online, formally known as the Division of Continuing Education, runs the operations for the University's online programs and courses from campus. Unlike CSU-Global Campus, the University's purely online branch, CSU Online is embedded within the main campus.
They currently offer 1,105 credit courses, 337 noncredit courses and 10 free online courses from all eight colleges and nearly all departments and special academic units. Courses are designed to maintain the integrity of campus programs, Senior Director Amy Smith wrote in an email to The Collegian.
"For us, we are in every school and every department, part of the fiber of campus," Smith said at the October Board of Governors meeting. "That's who we ultimately serve and our ultimate mission."
Students can get everything from a graduate degree to a set of digital badges to demonstrate their experience with a skill through CSU Online. They currently offer eight undergraduate degrees, 11 undergraduate minors and 34 graduate certificates, among a collection of other programs. The largest offering is in the 38 master's degrees, partly since the online environment attracts a very different student population.
Out of the unit's 10,791 students last year, only 2,046 students were on-campus. Forty-four percent of CSU Online credit students were between the ages of 25 and 34, and 58 percent were located outside of Colorado in the last school year.
"Online students have different demographics, motivations and needs than students on campus," Smith wrote. "They are often balancing full-time jobs and families while seeking career advancement."
These mostly adult, working students select their programs quickly and rely on internet searches to find institutions offering the programs they are looking for, Smith wrote. Students tend to be price-sensitive since location is not a barrier but will pay more for perceived quality.
In the last three years, the University has added 33 certificates, 10 degrees and four minors. CSU Online's largest increases come from undergraduate degree students and graduate certificate students, Smith wrote. This is in part due to demand for more flexible options to complete a bachelor's degree and shorter, specific and career-relevant education programs such as non-credit or credit certificates.
[visualizer id="216286″]
Revenue-wise, CSU Online grew the most from 2006 to 2012, averaging a 19 percent increase each year, with growth almost every year since. The 2018 fiscal year brought in the highest gross revenue yet of $39.8 million, a six percent increase from the previous year.
Nearly $25 million of that went back into funding the colleges and departments which provide the courses. Revenue also covers the division's operating expenses, program management, student services, infrastructure maintenance and other improvements.
The largest amount of $9 million, or 38 percent of the total, went to the College of Business. Distributions to other colleges were to Health and Human Science at 19 percent, Liberal Arts at 14 percent and Natural Sciences at 11 percent. Natural Resources and Engineering received 6 and 5 percent, respectively. 
"We consider this a proud tradition," Smith said to the Board of Governors. "This is a way we partner with (colleges) and help them create revenue to feed their visions and missions."
"For us, we are in every school and every department, part of the fiber of campus. That's who we ultimately serve and our ultimate mission." Amy Smith, Senior Director of Continuing Education – Administration.
Percent of total revenue distributed to colleges has plateaued in recent years as CSU Online has developed their noncredit offerings. This includes building their partnerships with businesses to provide specialized professional training and an increase in hobby courses like gardening. Noncredit offerings range from an ergonomics certificate to digital badges on living mindfully to single classes.
The roots of CSU Online began in 1967 with the Center for Continuing Education. That year, Lionel V. Baldwin, former Dean of Engineering, established the University's first distance learning program. Of course, back then the distance courses were just tapes of the classroom lectures engineering students could view at their convenience.
Now, with the CCE evolved into CSU Online, students of all programs can participate in classes through online video chats, podcasts and digital texts, online practice problems and more of the classic video lectures.
And CSU Online's role may only grow more prevalent. Nationally, the number of higher education students enrolled in at least one distance education course is growing faster in recent years while overall higher education enrollment is falling, according to a recent study by Babson Survey Research Group. Demand for online learning is increasing, and CSU Online's steady but significant expansion is there to make use of it.
"The face of higher education is changing and CSU Online helps to keep CSU competitive by staying abreast of trends and connecting faculty and administrators to innovative ways to keep our offerings relevant to today's students and students of the future," Smith wrote.
Samantha Ye can be reached at news@collegian.com or on Twitter @samxye4.