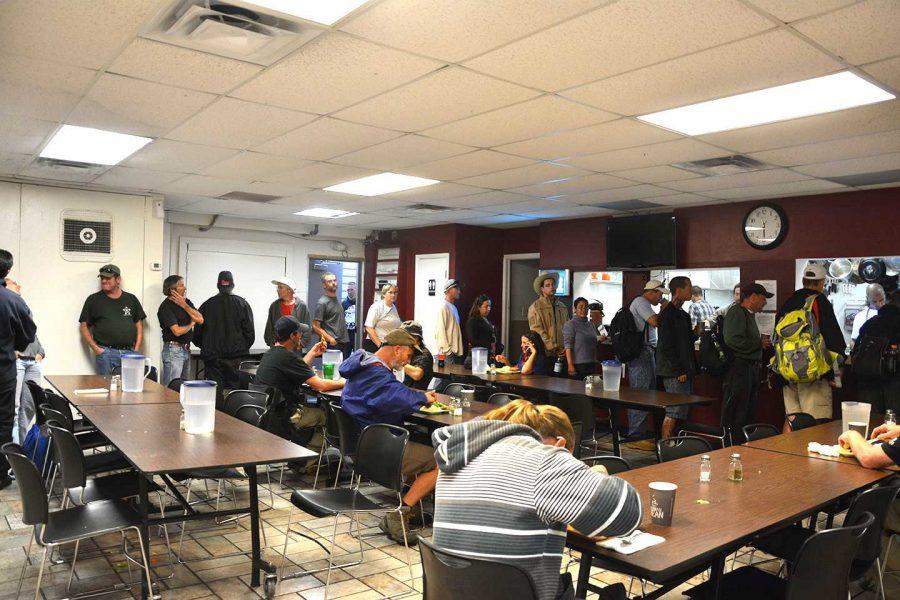 Editor's note: Rory Plunkett is an Opinion columnist for The Collegian. 
The newly-minted student organization Eliminate Hunger Locally starts with cans of food and hopes to end with eliminating homelessness.
EHL began its first Cansgiving food drive Monday and will run through Friday. The event encourages people to clean out their pantries and donate unwanted or unnecessary food products to allow hungry people in the local community to enjoy "the wholesome and positive benefits of Thanksgiving," according to the flyers.
"We have a ton of people in the community of (Colorado State University), and I think that we can really make a difference in people's lives by coming together…and donating some food to those in need," said Mason Braginetz, EHL financial officer.  
Cansgiving:
When: Nov. 12-16
What: Canned and nonperishable food collection drive
Why: All donations to go to Fort Collins Rescue Mission to help feed homeless individuals this Thanksgiving
Food collection bins are located by the Study Lounge in Clark A and next to the College of Liberal Arts office and Department of Journalism & Media Communications office in Clark C. Aside from cans, EHL also accepts other non-perishables including stuffing mix and oatmeal.
Collection Bin Locations:
Clark A – Study Lounge
Clark C – College of Liberal Arts office
Clark C – Journalism & Media Communications office
Unlike Cans Around the Oval which donates to the Food Bank for Larimer County, all Cansgiving donations will go directly to the Fort Collins Rescue Mission. Overall, EHL has a stronger focus on the homeless population of Fort Collins and providing for them, Braginetz said. With the City's population growth, cost of living is only going up and, despite City efforts, that can make it a struggle to find a place for the homeless population.
Braginetz works across the street from the Rescue Mission where he sees hunger daily.
"It's pretty obvious that this is happening," Braginetz said. "And seeing that, knowing that you can make a difference, it just kind of motivates you to get something going."
Although ideally, every person experiencing homelessness should eventually have a home, putting some food in the bellies is a good place to start, Braginetz said. Canned goods, especially, are an inexpensive, common and nonperishable item good for fulfilling that goal.
Cansgiving and EHL started as a senior communication capstone project for Braginetz and organization president Rory Plunkett.
The project was only recently solidified as a student organization. It now includes faculty advisor Katie Knobloch, a communication studies professor, and has a couple of student members, including the two founders, Braginetz said.
"To engage in the community of CSU in its entirety, you've really got to go through a couple of hoops," Braginetz said. "You've got to be serious about it."
The organization is out to prove it is serious with this first Cansgiving, EHL's main event.
Braginetz said, although it is starting smaller this year, they hope by talking to professors, flyers and other promotions, they can still get the word out. They do not have any numerical goals and appreciate whatever donations they can get.
This first Cansgiving will serve as a bit of a trial run, Braginetz said, and they will be able to evaluate the marketing and improve upon it next year.
Of course, Braginetz and Plunkett may not be here the following Thanksgiving. So, a major goal of EHL right now is ensuring the organization will live on and the event can become established enough to be annual.
"It would be sad if this was just kind of a one-time thing," Braginetz said.
As far as this school-year goes, EHL may be looking at other ways to help the homeless population after November, Braginetz said. The organization is considering if they want to do more food donations or collect clothing, though nothing is decided yet.
"Cansgiving is a great foundation to build on," Braginetz said. "And, I think Rory and I would both really like to see this expand into something greater that ultimately ends homelessness in Fort Collins."
Samantha Ye can be reached at news@collegian.com or on Twitter @samxye4.