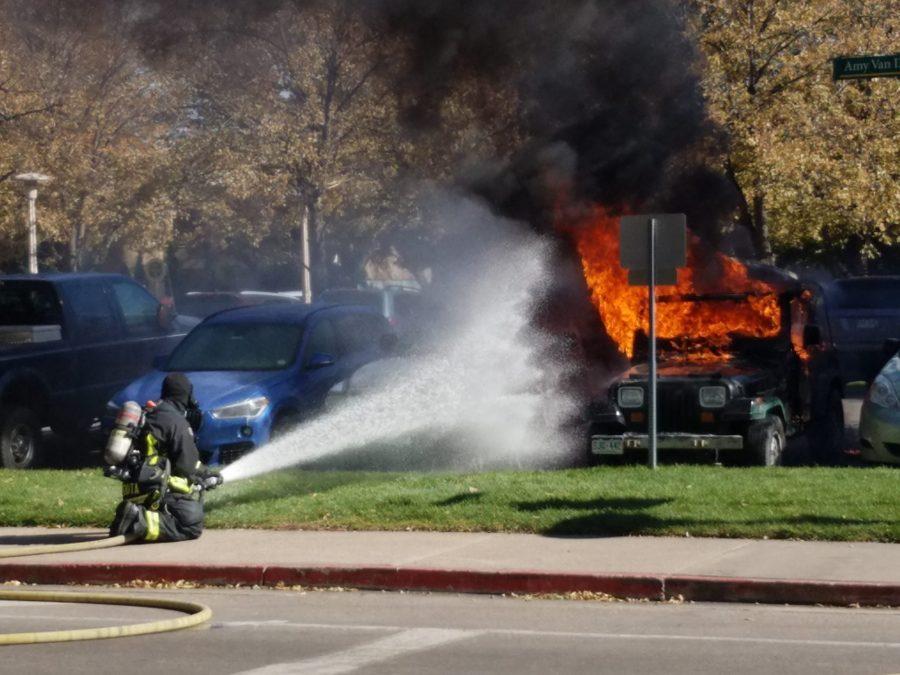 A Jeep parked near the Colorado State University Administration Building caught fire Monday, resulting in visible smoke across campus and damage to multiple other vehicles.
At 12:22 p.m., CSU Police Services received a call that a small fire had erupted in the passenger compartment of the jeep before bursting into flames in a parking lot at the intersection of University Avenue and Amy Van Dyken Way.
Engine three of the Poudre Fire Authority was dispatched and arrived on the scene, eventually dousing the flames at 12:33 p.m. 
CSUPD w @poudrefire responding to vehicle fire on Amy Van Dyken Way south of Admin Bldg. No one in vehicle. Please avoid the area. #CSUPD @ColoradoStateU
— CSU Police & Safety (@CSUPoliceSafety) October 22, 2018
The fire ultimately affected three vehicles: the jeep itself and two neighboring cars on either side. 
Timeline of the Fire, courtesy of Poudre Fire Authority
12:22 p.m.: Call is received 
12:22 p.m.: Dispatch sent to scene 
12:33 p.m.: Fire is fully put out
12:34 p.m.: Engine 3 clears scene
4:04 p.m.: Investigators finish clear 
Mark Swihart, a member of PFA and one of the investigators at the incident, said that a pickup truck parked on the passenger side of the jeep was heavily damaged, and a van parked on the driver's side was lightly damaged.
No injuries were reported from the fire as none of the owners were present. 
At this time, the cause of the fire has not been released. 
"The investigation is still underway," Swihart said. "We know where the origin was because we had a bystander see the fire. Other than that, we are still investigating." 
This is a developing story. The Collegian will update this story with more information as it becomes available. 
Austin Fleskes can be reached at news@collegian.com or on Twitter @Austinfleskes07.