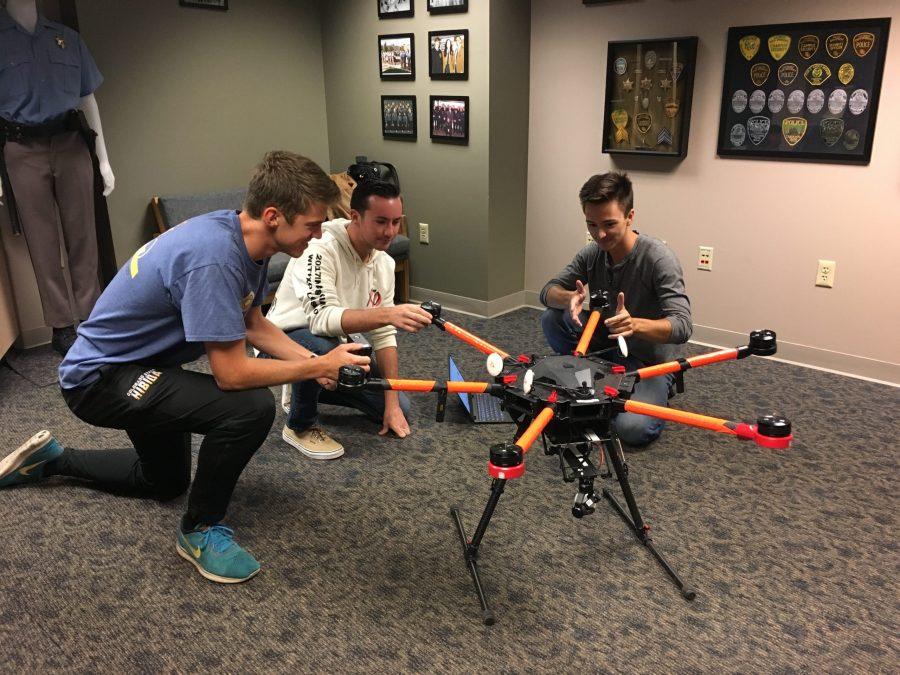 Colorado State University now offers a way for researchers to get their work off of paper and into the sky as the University welcomes its new drone center.
The CSU Drone Center, hosted by the Vice President for Research Office, officially launched Aug. 1 with a focus on drone-enabled research and education for those interested in drones.
When you bring in that ability to go up, you bring up a whole other option for research."
Sgt. Christopher Robertson, CSU Police Department
The center, which does not yet have a complete physical establishment, is planning to have one location for people to check out a drone or do training by the end of the month. At the Center, researchers will be able to use drones in their work lawfully and safely under the policies that are created.
Currently, according to the Center's website, approval from the Office of Risk Management & Insurance are required prior to flying a drone on campus. CSU Police Department Sgt. Christopher Robertson, who is the first coordinator of the Drone Center, said that those requiring assistance with this can go to the Center for help with gaining permission.
The idea for the Center began when Wade Troxell, associate professor of mechanical engineering and mayor of Fort Collins, asked the College of Engineering's Associate Dean for Research Sonia Kreidenweis to survey the CSU community's interest in drones.
"He was seeing an unmet need and he was right," Kreidenweis said. "From my initial inquiries, I created a listserv that currently has over 60 members from CSU and our local community, including scientists from the (US Department of Agriculture) and (US Geological Survey.)"
Kreidenweis said she began meeting with these members and learned about the drone-based research topics they were interested in, as well as the barriers to getting started with the research. Such barriers included expense of equipment, a need for qualified pilots and a need for expert advice in designing research and interpreting data.
"Based on their feedback, I concluded that we needed a Drone Center to provide these services to campus and formed a steering committee who were also committed to starting such a center," Kreidenweis said. "We are convinced that once people have help getting started using drones and seeing how drones can enable new research, this will open up new opportunities and drone-enabled research at CSU will expand rapidly."
Kreidenweis said she's been grateful to the Office of the Vice President for Research for providing support to the Center and for jointly funding a grant with the Walter Scott Jr. College of Engineering to purchase the Center's first five drones.
Services offered by the CSU Drone Center:
Consultation: Assist in selecting or lending aircraft, navigating FAA regulations and rules, advising on flight locations and more
Resources: A small fleet of aircraft and sensors, primarily aircraft DJI Matrice 600 Pros.
Piloting: The CSU Drone Center maintains a roster of certified and trained sUAS Pilots
Training: The Center offers basic UAS flight training on multi-rotor aircraft.
She also said she's grateful to Robertson, who agreed to serve as the first coordinator for the Center.
Robertson's experience with drones extends to his work with the Larimer County Unmanned Aircraft System Team. He also helped form a drone program at the CSUPD, which is used for intelligence and planning services.
Robertson said he's been mainly working on the creation of the center itself so far, as well as networking and researching what's happening on campus in regards to drones. He's also been fulfilling requests for presentations with aircraft.
"The biggest short-term goal we have right now is finishing our physical establishment of the center," Robertson said. "We want to get the Center ready for people to come out and actually use it at a physical location. Basically, having one space by the end of the month."
For long-term goals, Robertson said the Center is looking at collaboration and coordination with external and internal research with the University. 
One example Robertson gave of potential drone-enabled research is to look at pollution or thermal imaging, as these are areas that drones have made more accessible.
"Drone technology has steadily been increasing in the past ten to five years," Robertson said. "Technology is just moving forward in leaps and bounds. The biggest piece that the drone center is focusing on is the drone enabled research piece."
Robertson said drones have granted researchers access to a "fourth dimension" of allowing people to go about 400 feet up in the air.
"The average day person isn't used to having access to that capability," Robertson said. "When you bring in that ability to go up, you bring up a whole other option for research."
Shawn Wahlmeier, a senior journalism and communications major who runs a youtube channel based on drones called "How to Wreck a Drone," considers the Center to be a forward-thinking idea on CSU's part.
"I think the drone center is really high speed. The world of drones a couple years ago was in its infancy especially on the commercial market," Wahlmeier said. "CSU is very forward thinking in realizing the usefulness of the drone platform."
Charlotte Lang can be reached at news@collegian.com or on Twitter @ChartrickWrites.