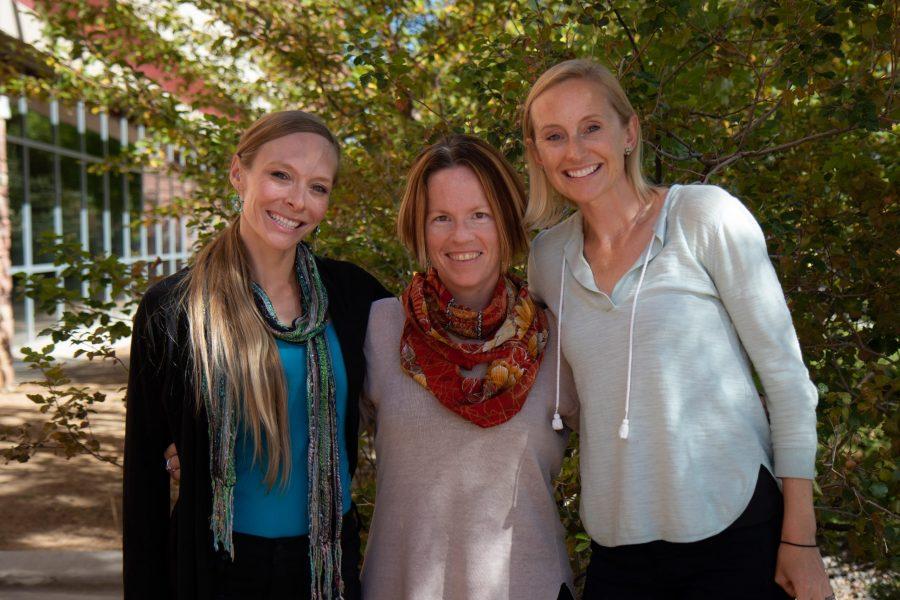 Everyone hates cycling tickets. However, they're an essential part of teaching students about cycling laws and keeping students safe, said Joy Childress from the Colorado State University Police Department. 
CSU Moves, currently in its pilot stage, is an online module with six animated videos designed to inform incoming students about transportation options, safety and legalities. The project has been in progress for around three years and won a grant of $44,500 for the Fort Collins Innovation Challenge in 2017.
"I have been on campus for 15 years, and in that time I have had a lot of requests from students… (for) something like alcohol (education) but in the transportation realm, most specifically focusing on bicycles," Childress said. "People who were coming in and getting bicycle tickets that didn't realize there were laws associated with riding their bike were really interested in some kind of online module."
One of the main goals for CSU Moves was to make it unique and interesting for students to learn about transportation options and laws, said Erika Benti, the project manager. 
Although the team doesn't think they have accomplished their entertainment goal quite yet, they hope to turn the videos and modules into a game, said Jamie Gaskill-Fox, the city liaison for CSU Moves.
"One of the big challenges that you encounter when doing this type of education is that it's boring," Gaskill-Fox said. "It's boring stuff, so how do you make it fun? Once we get the funding that we need to build it out fully, it will be a fun, unexpected way to learn about transportation."
The idea was first discussed three years ago when Gaskill-Fox was looking for better ways to discuss bike laws in the city. A graduate student working with her put together a rough version that was taken to Student Affairs to get their approval on the idea. Then, the team had to look into options for funding, when the Innovate Fort Collins Challenge came up, Gaskill-Fox said.
Before the videos were even made, the CSU Moves team spent time researching Generation Z and how to best keep student attention with things like focus groups and creative services, Benti said. The group decided to create a play on a nature documentary and keep the videos at around 90 seconds in an online module with information on transportation options, safety and legalities.
Project members:
Erika Benti: Active Transportation Professional- Students, CSU project manager
Christina Berg, MPH: Director of Health Education and Prevention Services, CSU Academic Research and Evaluation Support
Joy Childress: Supervisor, Traffic and Bicycle Education Enforcement Program, CSUPD
Kelly McKenna: Associate Director, Center for the Analytics of Learning and Teaching and Assistant Professor, CSU Academic Research and Evaluation Lead
Aaron Fodge: Alternative Transportation Manager, CSU TDM and Focus Group Support
Jamie Gaskill-Fox: FC Bikes Program Specialist, City of Fort Collins
Over the past year, CSU Moves created the online module on campus and is currently in its pilot stage with a set group of freshman students taking the module. The group will then send out surveys on how well students receive the module and analyze the data to improve the delivery of the information.
"We were trying to have a sample of students before they actually got to campus and another group doing it after to compare when the best time is," Benti said. "We struggled a little bit with our sample size in that first group that I mentioned because 'how do you reach students before they're on campus?'"
For future funding and outreach on the product, the CSU Moves team may look to next year's Fort Collins Innovation Challenge, but really want to collaborate with other universities and get more minds involved, Benti said.
"The videos themselves are intentionally not 'CSU Rams' everything, it could be other places," Benti said. "Our group is pretty connected with other universities and transportation services at other universities. We know that a lot of other universities have been wanting to do something like this too, but it's very resource intensive and it takes a lot of creativity and time."
Eventually, the group wants a version of the project where the information is available to the community, Gaskill-Fox said 
"A lot of this stuff is being taught anyways," Gaskill-Fox said. "It's just being taught a little differently, but we definitely would like to get this information out to the community at large. We all need to be understanding the same things about transportation, no matter where we are in the community, on or off campus."
Collegian reporter Julia Trowbridge can be reached at news@collegian.com or on twitter @chapin_jules.