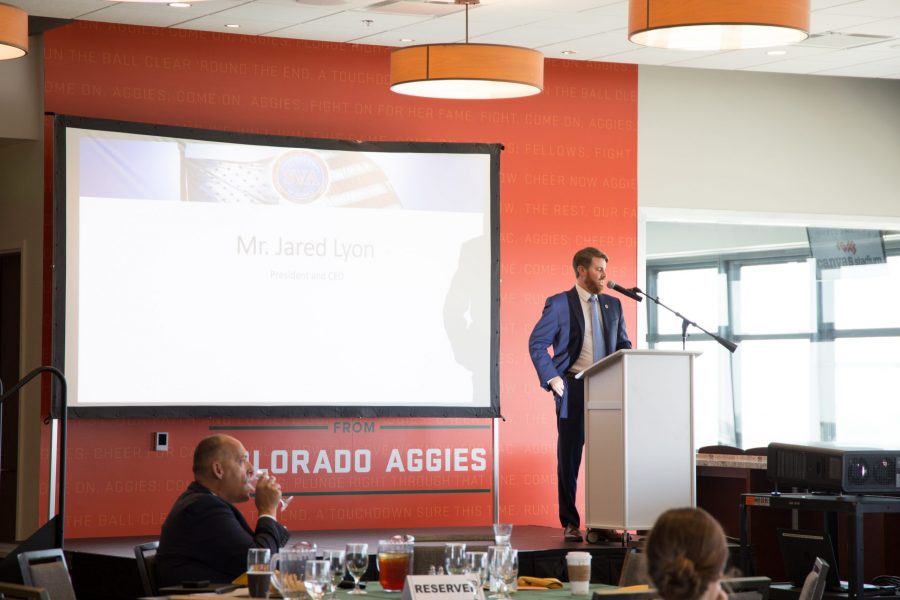 The Colorado State University Veterans Symposium set out to challenge post-9/11 perceptions and structures of veteran resources by emphasizing the values which veterans bring to higher education, the workplace and the community on Sept. 7.
The symposium, held at Canvas Stadium, featured speakers and breakout sessions focused on the ideas of leadership and value in the millennial generation of veterans, particularly in the realm of higher education. A number of the speakers called this group of veterans the "Next Greatest Generation."
Jared Lyon, president of Student Veterans of America, 2018 Presidential Leadership Scholar and U.S. Navy veteran, said the perception of veterans in higher education is wrong.
Lyon said around half of civilians, educators, employers and even veterans do not believe that veterans complete an associate or bachelor's degree. In reality, the success rate of students veterans who graduate with an associate or bachelor degree is 72 percent, Lyon said. The national average is 67 percent.
"Student veterans are outperforming traditional students," Lyon said.
While there is a perception that student veterans succeed at such a high rate because they are not in academically rigorous programs, the top three areas of study for student veterans are business, science, technology, engineering, mathematics and human health sciences, Lyon said.
Marc Barker, director of Adult Learner and Veteran Services, said he was part of the development of the deficit-based model of veterans resources after the passage of the post-9/11 Veterans Educational Assistance Act of 2008 and admitted that the approach was wrong.
"We were talking about the strain on resources, we were talking about PTSD and we were talking about all of the negative things we were going to have to see and do to prepare for this influx of student veterans," Barker said. "Student veterans crushed it despite us failing." 
The Adult Learner and Veterans Resource Center now prefers a model of focusing on strengths of veterans, instead of perceived challenges, called their values-based model. The center also structures resources and services available to student veterans around these strengths, something CSU President Tony Frank echoed in his speech at the symposium. 
"We think we've crossed the first step on that bridge," Frank said. "That is, making the transition from thinking about veterans as a special population that may have certain challenges associated with it to moving to a view that says, 'These are individuals with enormous potential.'"
The symposium's speakers looked to the work ahead for veterans and veteran-support by discussing the power of leadership developed by veterans during their time of service and how that leadership can be applied to their civilian lives. 
Lt. Gen. James Dickinson, a CSU alumnus, spoke about the strengths of the millennial generation of veterans, citing their leadership training, bravery, loyalty, self-discipline and ability to follow direction and accept criticism. 
"Student veterans are good for CSU because they have so much to offer," Dickinson said. "Veterans have the potential to make it to the top."
Betty Moseley Brown, chief of The Veterans Experience Office and president of the Women Marines Association, also spoke about different theories on leadership, the leadership skills she learned from her time in the Marines and the role of leadership for women veterans.
"In the military, we are all equal … but when we come out into the civilian world, we are still making 82 cents on the dollar, and women of color are 59 cents on the dollar," Moseley Brown said. "It's a big shift for females who have been the pilots, the astronauts, the commanders. It's up to all of us to change that because we can't do it by ourselves."
Student veterans are good for CSU because they have so much to offer. Veterans have the potential to make it to the top." James Dickinson, Lt. Gen. and Colorado State University alumnus.
The event had around 100 veteran and community participants, including State Senator John Kefalas and City Councilmember Kristin Stephens. 
"Helping veterans transition from military life to civilian life is very important," Kefalas said. "They're our neighbors and they've sacrificed their families, so we owe it to them."
Community members and leaders were encouraged by speakers to integrate the value-based model into other resources for veterans. 
Stephens said she wanted to use the information she learned at the symposium to inform her work as a city councilor and an employee at CSU.
"I want to make sure we are employing veterans and valuing the strengths they are bringing," Stephens said.
Lyon thanked CSU for their value-based work for the student veteran community. But Frank said there is more the University must do to support student veterans.
"We are proud of our accomplishments, but we think we've barely scratched the surface," Frank said. "There is a tremendous amount of need out there, a tremendous amount of demand, and there is more that all of us in higher education should be doing."
Collegian reporter Ravyn Cullor can be reached at news@collegian.com or on Twitter @RCullor99.