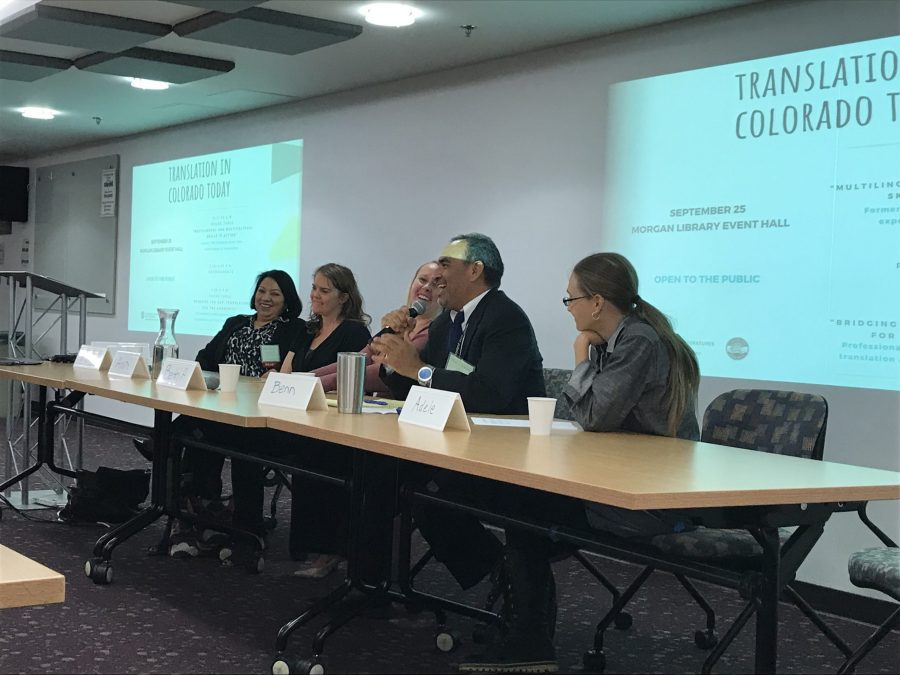 When thinking of translating services, many may default to the simplistic word-by-word dictionary translations of Google Translate. Despite sometimes being overlooked, the real-world field has far more to offer, as encapsulated by the day-long symposium on the subject.
"International Translation Day 2018: Translation in Colorado Today" is the first such translation symposium hosted jointly by the Office of Language Access for the Colorado Judicial Branch and the Languages, Literatures and Cultures Department of Colorado State University.
The event featured training and workshops and two discussion roundtables, connecting professionals with trainees and clients.
Event co-organizer Silvia Gallego said this is a topic which needs more awareness, not just in general but specifically at CSU and with the local communities or immigration organizations.
"Hopefully we have more of those (community) attendees at future events because I really think that it's very important for them to know that there are people working to try and improve their situations, working to have better translation services and to help them in their daily lives," Gallego said.
At CSU, a large number of students have families who do not speak English well or at all, and a lack of campus translation services hinders their ability to understand the University system, Gallego said. There has been a recent push for more professional campus translation services.
In the community as a whole, many people in need of those services may not realize the extent they are already available, Gallego said.
"If they know more about this reality, they will also be more able to ask for those services and advocate (for) themselves," Gallego said. "And they can…tell people they should be having these professional interpreting/translating services."
On the last event of the day, four translation/interpretation professionals discussed the growing, changing dynamics of the field and how their work can bridge cultural gaps.
There's a growing awareness for the need for interpreters and translators, and there's a growing acceptance and appreciation of bilingualism and multilingualism and seeing that as a positive reality,"-Adele Lonas, volunteer translator
The panelists were Ann Michels, healthcare interpreter; Benn Rocha, managing court interpreter; Adele Lonas, volunteer translator and interpreter for Alianza Norco and Fuerza Latina; and Rosa Aguilar, former Language Services Coordinator for Aurora Public Schools.
The diversity of professionals demonstrated the need for interpreters in everything from medical to judicial to educational fields.
While that makes for some distinct differences in how the interpreting is done—Lonas, for example, has some flexibility to be an advocate for her clients while Michels and Rocha are strictly limited to direct interpretations—all four agreed the field is growing for the better.
"There's a growing awareness for the need for interpreters and translators, and there's a growing acceptance and appreciation of bilingualism and multilingualism and seeing that as a positive reality," Lonas said.
This includes institutions requiring or issuing official certifications before hiring translators and making those services more accessible, particularly in the judicial system.
However, that also demands a growing awareness of how social capital and literacy, particularly of immigrants, can affect the effectiveness of interpretations and the interpreter's role, Lonas said.
In areas where more outreach is still needed for translation, Rochas said forums like the symposium are important to finding unmet gaps of community need, and CSU working toward obtaining a graduate certificate program for translation and interpretation is an important step.
From a community end, Lonas said showing appreciation of other languages on campus would inspire more interest in the topic. Allowing different languages to just be without the need to translate into English would encourage greater acceptance and awareness.
It is also about awareness of those languages in the community.
"If you build it, they will come," said Beth Angel, event co-organizer. "(That's) in the sense of: you can sit there and pretend you don't have a Mandarin community…but the minute you add Mandarin to signs and provide those services, a Mandarin speaker's going to come."
Spanish, Vietnamese and Mandarin are common languages always in need of translators, the panelists said. The judicial system is seeing a growing number of Ethiopian, other African languages and languages from the Middle East as well, Angel said. And, of course, there will always be less common languages which need translating such as Marshallese.
As far as getting started, the panelists advised budding translators to start with community volunteering and going through training to gain confidence before approaching institutions such as hospitals who are always in need of translators. And, above all, remember to keep it professional.
"You have to have a very clear boundary between your compassion and the professional ethics and integrity," Lonas said. "Because you can very easily feel for the person you're interpreting for but you're not going to do any service for that person if you're not maintaining a clear concept and idea of…those professional ethics."
Samantha Ye can be reached at news@collegian.com or on Twitter @samxye4.