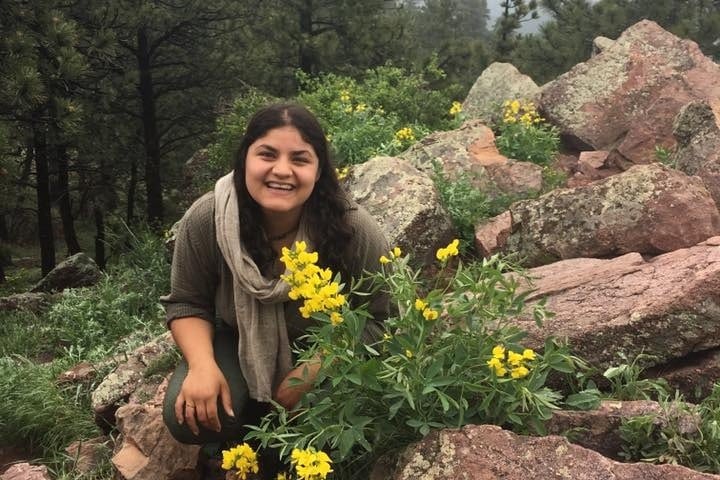 The original donation goal for the victim of a hit-and-run incident has almost doubled since it was created less than two weeks ago. 
Griselda Landa-Posas, a senior undergraduate student at Colorado State University and Native American Cultural Center employee, was riding her bike to work Aug. 23 when a vehicle hit her from behind at approximately 6:30 a.m. and drove off, leaving her with serious injuries to her femur and hip bones.
Landa-Posas's friend and NACC representative to the Associated Students of Colorado State University Milena Castaneda started a GoFundMe campaign in which over $8,000 of the $10,000 goal has been reached.
"When I heard about the hit-and-run, I was devastated," Castaneda wrote in an email to The Collegian. "The fact that someone left her there on the side of the road like that makes my blood boil. I couldn't imagine what she had gone through, but most importantly that we almost lost her."
When Castaneda first started the GoFundMe campaign, the original goal of $5,000 was raised in two days, prompting her to raise the goal amount to $10,000, she said. The NACC office also has a donation box set up alongside the other SDPS offices.
"I have seen support from students, staff and families from all over," Castaneda wrote. "Through this horrendous situation we have been able to show Griselda the unconditional love and support that people she has met and made an impact on … It shows that we stand true to a statement CSU lives by: Rams take care of Rams."
After 12 days of being in the hospital and having undergone five surgeries, Landa-Posas was moved to a rehabilitation center last night, and she begins rehabilitation today.
"It's been a very slow and painful process, but I think at the same time I feel very fortunate because this accident has made me very appreciative of all the good people in my life," Landa-Posas said. "Just knowing that I have so many beautiful people in my life makes me so grateful."
Landa-Posas explained how the stress of paying for her operations became a burden since the incident occurred, saying that her nurses told her she would wake up during her operations stressing about payments.
But, the money that has been raised by Castaneda's GoFundMe campaign has alleviated this financial burden.
Landa-Posas, who is currently studying fish, wildlife and conservation biology and ethnic studies at CSU, said she looks forward to moving back into her Fort Collins apartment after finishing rehabilitation.
"She is a bright light in our office, and what I've heard from other students is how they have missed her smile, laughter and overall positivity while she's been out these past two weeks," Tiffani Kelly, assistant director at NACC, wrote in an email to The Collegian. "She has a way of authentically engaging with almost anyone on a personal level because she truly cares about people and the power of community."
At this time, the person who hit Landa-Posas has not been identified. Landa-Posas said she would like to see this person come forward so that he or she, as well as Landa-Posas, can move forward and heal.
"I can't hold a grudge against the person who did this to me," Landa-Posas said. "I don't have any resentment, and there's never been a day when I've wished that person bad. We're all humans, we all make mistakes."
Anyone who would like to donate and contribute to the GoFundMe campaign can visit this link. 
Matt Bailey can be reached at news@collegian.com or on Twitter @mattbailey760.