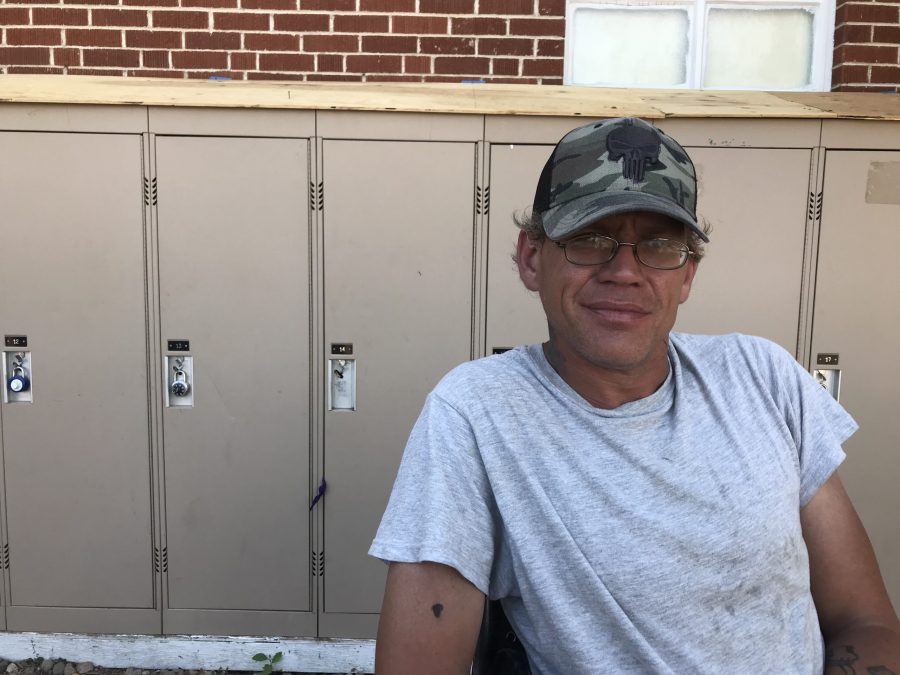 The 24/7 locker program has opened its doors to Fort Collins' homeless, but with an appeal pending, the program faces another hurdle in the coming weeks.
The first six locker recipients moved into their temporary lockers at the Fort Collins Mennonite Fellowship Sept. 14, and more than a dozen more are coming.
The lockers' residential location and unsupervised accessibility have been the source of months of debate, dominating at least two City Council meetings, a lawsuit threat and one emotionally-charged Planning and Zoning Board meeting. The program still faces an appeal from church neighbors, but the project has not stalled for it.
"It's been a long journey and we're finally here and we're doing what we promised we'd do," church pastor Steve Ramer said. "It always feels good when you can fulfill your promises."
After the City rejected funding for the lockers in February, the church raised $9,700 to fund it themselves. In July, the P&Z Board approved their locker operations without major restrictions, allowing the project to move forward. But that decision was soon appealed by nearly 50 residents in the nearby neighborhoods, according to the Coloradoan.
The Library Park residents who filed the appeal alleged the board did not consider the full safety implications of the program and that lack of connection to other services would institutionalize the homeless into the neighborhood.
Fort Collins City Councilmembers will decide if the appeal has any validity Oct. 9 during a council work session, Ramer said, but they will first visit the church Oct. 2 to learn about the locker program.   
Ramer and Locker Manager Michael Ranieri said they were hopeful City Council would find no reason to overturn the decision of the P&Z Board.
Installed on the outside of the FCMF building, the lockers stand on a wooden base with a wooden rain cover and are monitored 24/7 by a security camera with a live feed straight to Ranieri and a backup log of all the camera footage. Adding the camera was the only operating guideline the P&Z Board required for their approval.
Initial proposals for the program included an awning for the lockers which has not yet been installed. Additionally, there is a floodlight over the lockers.
Locker guests can access their belongings through a combination lock 24 hours a day, all seven days of the week, for the duration of their three-month stay.
Of the six initial recipients, two are pregnant women and all are considered members of the congregation, Locker Manager Michael Ranieri said. 
Based on the current number of applications and interested patrons, Ranieri said he expects all 11 functional lockers to be filled within the next few weeks. The current goal is to have 20 lockers total, but the church has not yet bought them all and has a total of 13 lockers at this time.
One of the current occupants is Kris Johnson, also known as "The Madd Hatter."
These guys have been a real godsend.Now I got a place, now I don't have to worry about carrying everything I own on a wheelchair."-Kris "The Madd Hatter" Johnson, locker recipient
Johnson is a veteran with mental disabilities who was hit by a truck last month, leaving him with a broken foot and temporarily wheelchair-bound.
When he arrived at FCMF for the first time the night of Sept. 14, Johnson said he was in a seriously dark spot in his life. But once there, he was able to get a shower, a hot meal and met Ranieri who told him about the locker program.
He received a locker that first night and now has a secure place to store his belongings, mostly clothing, blankets and hygienic products, basically a "downsized" version of a house, Johnson said.
"These guys have been a real godsend," Johnson said. "Now I got a place, now I don't have to worry about carrying everything I own on a wheelchair."
In the almost eight months he has been in Fort Collins, Johnson has been robbed four times, losing almost all of his belongings—including most of his clothing, his social security card and prescription painkillers for his foot.
Having locker security and flexible accessibility for his belongings was like getting an entire toolbox of support, Johnson said.
"It's really awesome to see people that are using (the lockers), how much it is actually helping them and how much it helps them to rest a little bit easier, knowing their stuff is secure," Ranieri said.
I think it feels like a safer place for people who need lockers now. They know that we actually care about them and that we're actually fighting for them."-Michael Ranieri, locker manager
To receive a locker, guests must first submit an application form consisting of questions to determine locker necessity and homeless situation, Ranieri said. Guests provide some form of contact information and sign a contract about adhering to locker guidelines such as no weapons or drugs in the lockers.
Finally, they are interviewed by a church staff member, in this case, Ranieri. It is important to get to know and talk to someone before giving them storage, Ranieri said, and he knew all of the current locker guests in part from their attendance at church events.
While functionally, the church has not changed, the lockers have made a noticeable impact, Ranieri said.
"I think it feels like a safer place for people who need lockers now," Ranieri said. "They know that we actually care about them and that we're actually fighting for them … And so everyone's super happy about it."
Editor's note: A previous version of this article stated that the church expects to fill all 20 lockers. The church currently only has funding for 13 lockers.
Samantha Ye can be reached at news@collegian.com or on Twitter @samxye4.