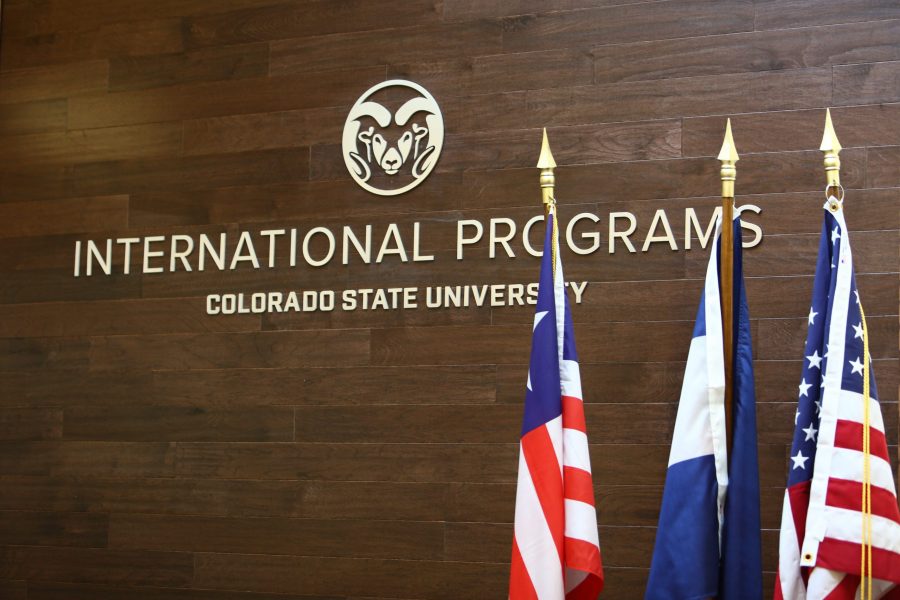 Kathleen Fairfax, the current assistant vice president for International Affairs at South Dakota State University, will succeed Jim Cooney as the vice provost for International Affairs at Colorado State University starting later this August.
CSU Provost and Executive Vice President Rick Miranda ultimately chose Fairfax in June after a national search chaired by Dean John Hayes from the Warner College of Natural Resources. 
"Colorado State is considered to be a real leader in the field of international education, so it was a position that a lot of people were interested in," Fairfax said. "I heard about it from a number of different places, from professional listers, from organizations and from friends and colleagues."
For this position, Miranda said there were scores of applicants, with about ten semifinalists who were interviewed by video and four finalists who were brought to campus for face-to-face interviews. The position ultimately reports to Miranda.
The hiring process involved candidates meeting with Miranda, and giving a public presentation, Miranda wrote in an email to The Collegian.
"Dr. Fairfax had very positive evaluations from the participants in the process, as well as strong support from the search committee," Miranda wrote.
Fairfax, a Louisville, Kentucky native who has worked at SDSU for the past seven years, has held similar positions at other institutions that were similar to the vice provost position she will be taking up at CSU.
"Kathleen Fairfax began her career in international work with the United States Department of State. She turned to universities at Arizona State and is also very active in her national organizations.
Fairfax obtained her bachelor's degree in political science and Spanish from DePauw University, and her master's degree in political science and international relations from Indiana University, according to SOURCE.
She has worked in the field of international relations for 25 to 30 years, at institutions such as Michigan State University, Purdue University, Southwestern University in Texas and DePauw University.
Fairfax has also been active in professional organizations, including the Council on International Education and the Forum on Education Abroad.
"I'm pretty used to the big public and land-grant universities," Fairfax said. "Those are what I call home, and that's why Colorado State was very appealing to me. It's exactly the kind of institution I like and that I'm comfortable with. I believe in its mission, and it also has a lot of interesting things going on in terms of international education."
Fairfax said her current responsibilities at SDSU, which is a smaller institution with a less-established international program than CSU, cover international student affairs, student services, international student recruitment and marketing, study abroad programs, international agreements and partnerships and joint programs such as 2+2, amongst other areas of responsibility.
Fairfax also currently supervises the "English as a Second Language" programs at SDSU, a role she will not have at CSU since ESL is provided by INTO CSU, an organization that is partnered with CSU for English training and international student recruitment. 
However, these areas will still cross over into Fairfax's responsibilities at CSU. As vice provost for International Affairs, Fairfax will lead the Office of International Programs and advise the Provost and President on matters that affect international relationships at CSU, which are extensive, Miranda wrote.
Another role of the vice provost for International Affairs is to be available to all other leaders on campus who may need to interface with the Office of International Programs, Miranda wrote.
"We have many international scholars visiting each year; many faculty, staff, and students collaborating and visiting abroad constantly; and many international students who need assistance with both formal elements of transitioning here (e.g. visas) and informal advice and support," Miranda wrote.
More specifically, Fairfax said her roles at CSU will include supervising the International Student and Scholars Services Unit, international faculty, study abroad of all types, CSU's relationship on the academic side of Semester at Sea, partnerships and joint programs and overseeing the Confucius Institute and the Office of China Programs, amongst other roles.
Oversight of the Todos Santos community will also fall into Fairfax's portfolio as well, Fairfax said. She will oversee how the community is used and what it will be used for. 
"One thing that's different about CSU that I haven't had before, although I've always wanted, is that there's an office called the Office of International Initiatives, which is basically Colorado State's special projects area to take on various initiatives of international nature," Fairfax said. "Most universities don't have sufficient resources to staff a unit like that."
Once Fairfax arrives at CSU, Cooney, who has served as Vice Provost for International Affairs at CSU for 12 years, will step down from his current position and take up a yearlong part-time role to help Miranda with several projects related to international affairs.
"I think any time you make a change in a career, there's always things you're sad to see that you have to leave, and there's exciting things that you go into, and that's certainly the case here," Fairfax said.
Fairfax expressed her excitement over moving to Fort Collins, explaining that although she loves SDSU, Brookings, South Dakota, where the university is located, doesn't offer outdoor activities she enjoys such as hiking and kayaking, activities that will be right in her backyard in Fort Collins.
Fairfax said she'll miss the teams she was involved with at SDSU, specifically the international affairs team, which she said was a small group that she worked well with and made progress with.
After spending seven years at SDSU, Fairfax said she felt like she made her impact and is ready to move on to CSU, an institution she said has so much going on in the international affairs arena.
"The administration is very internationally-minded and interested in seeing CSU move forward, and that's a great environment to work in," Fairfax said. "You're much more likely to get approval of new ideas and move forward on new initiatives when you have an administration that's interested in the growth of the international area. That really excites me about Colorado State."
Collegian reporter Matthew Bailey can be reached at news@collegian.com or on Twitter @mattnes1999.