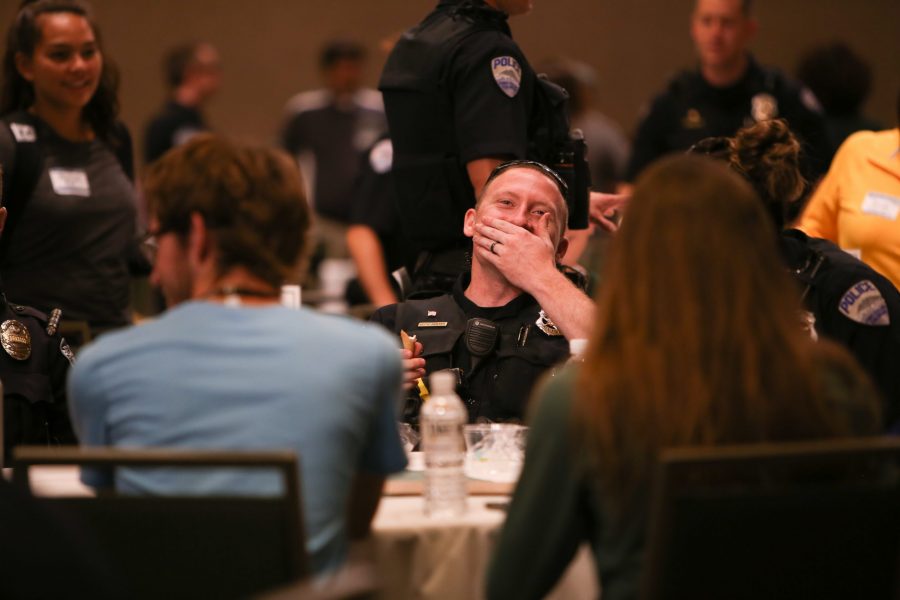 Local residents answering their doors might not have been expecting a surprise visit from local police officers, but it's this visit that led to the kind of communication the City yearns for.
Colorado State University and the City of Fort Collins hosted their 18th annual Community Welcome on the evening of Aug. 22. Hosted by Off-Campus Life, this event focused on communication and engagement within the community.
Roughly 200 volunteers filled Ballroom C of the Lory Student Center at 5:00 p.m. to prepare for an evening of visiting approximately 2,000 homes. Volunteers were made up of CSU administration, students, long-term residents, city representatives and council members. They also included members of the Associated Students of Colorado State University, as well as the CSU Police Department and the City of Fort Collins Police Department.
In teams, these volunteers targeted local neighborhoods of student and non-student residents of Fort Collins.
Notable attendees included Mayor Wade Troxell as well as Tony Frank, president and chancellor of CSU.
Troxell took the stage first, reminding volunteers of why Community Welcome is, as he said, one of his favorite days of the year.
"This is where we engage with our community in a way that's positive for our community," Troxell said. He went on to describe the community's overall goal to let every student know they're important residents. He hopes to encourage students and other long-term residents to get out and meet each other because, as he said, the strength of the community rests on everyone within it.
Police, students get together to walk Neighborhoods and educate Neighbors about student life and being neighborly pic.twitter.com/jkakuxonfs
— Ray Martinez (@raymartinez31) August 23, 2018
Frank echoed this feeling and focused his speech on communication.
"When people start to communicate, we can start to build understandings. We can start to build trust and we can start to understand commonalities that unite us despite differences," Frank said. "We're not talking about long-term residents or students; we're talking about people who, for a moment in time, share this community and call it home."
We're not talking about long-term residents or students; we're talking about people who, for a moment in time, share this community and call it home."
Dr. Tony Frank
Marketing manager for Off-Campus Life, Kiaran Stewart, explained the event as a chance for student and non-students, along with Fort Collins police officers and those who work for the city, to meet the community. The goal, according to Stewart, was to educate the community about ordinances and programs available to them.
"It will end up being really cool to see how this impacts the people we reach out to," Stewart said. "Having all these different groups come together to reach out to the community will really help education. Overall, I'm just really excited to see what it turns into."
After receiving instructions and check-ins from Lindsay Mason, assistant director of off-campus life, the teams of volunteers traveled to assigned neighborhoods and locations. Each team was supplied with a bag of handouts based on speaking points emphasizing the importance of being a neighbor.
Materials passed out by community members to Fort Collins neighborhoods:
Art of Neighboring Brochure: A brochure for neighbors to answer questions about themselves and share with others
Campus and Community Brochure: The equivalent of fifteen mini brochures, listing ordinances and programs
Campus West Connection Space: Information on the shared spaced between the city of Fort Collins and CSU
Home Game Magnets: Magnets informing neighbors about CSU home game dates
For two hours, the volunteer teams visited approximately 2,000 homes in order to welcome and inform neighbors within the community.
Director of Off-Campus Life Jeannie Ortega said she had been part of Community Welcome since the beginning and spoke of the event's start.
"We were seeing students concentrated in certain areas and certain issues happening in those areas," Ortega said. "The idea came about that 'let's address those.' And what's an effective way of addressing these issues? Having conversations. One on one. Making connections and opening the line of communication is what's key."
Collegian reporter Charlotte Lang can be reached at news@collegian.com or on Twitter @ChartrickWrites.