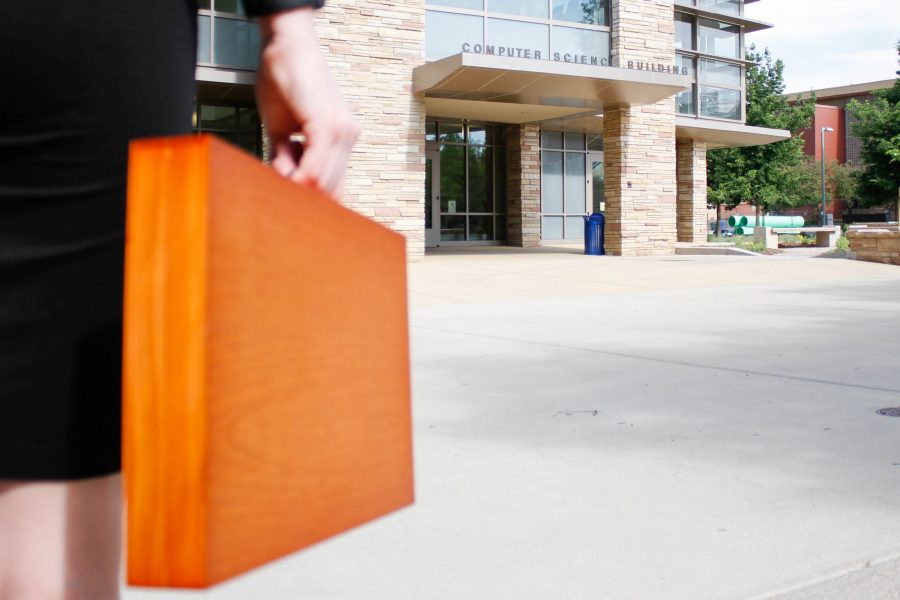 Former Colorado State University computer science professor Christina Boucher testified that she was sexually harassed by another professor and retaliated against by the University in court Aug. 24.
"What happened at CSU, I wouldn't wish on my worst enemy," Boucher said. "It destroyed me."
Boucher, who is suing CSU for retaliation after she reported a claim of sexual harassment, testified that computer science professor Asa Ben-Hur sexually harassed her multiple times between 2012 and 2015. She said Ben-Hur would often "stare at (her) chest" and "brush up against her."
Ben-Hur denied the allegations of sexual harassment in court Aug. 22.
The following day in testimony, Janice Nerger, dean of the College of Natural Sciences, said that Ben-Hur's actions were unintentional.
"Asa is very uncomfortable in social settings," Nerger said. "Dr. Ben-Hur is sort of known for not making eye contact."
But, according to Boucher, that is not the case. 
"I definitely know what sexual harassment is," Boucher said. "My belief was that I was being sexually harassed."
She is seeking unspecified damages for emotional distress.
Boucher testified that Ben-Hur's actions "affected pretty much every part of (her) life." She claimed to have problems with even the basic aspects of daily life: getting up to shower, and taking care of herself and her son.
Key points in the trial:
Christina Boucher filed a lawsuit against CSU on June 15, 2017, claiming she faced retaliation after reporting professor Asa Ben-Hur sexually harassed her.
The harassment is said to have started during summer 2012 before Boucher started working at CSU, during her initial interview.
On Oct. 28, 2014, Boucher reported to Computer Science Department Chair Darrell Whitley that Ben-Hur would stare at her chest and backside in a sexual manner.
Boucher alleged that her tenure was affected after she reported the harassment. According to court documents, she received a negative evaluation from the tenure and promotions committee, which Ben-Hur sat on.
CSU disputed Boucher's claims and asked a judge to rule that the case has no merit May 28, 2018.
Boucher's lawyers filed a response on June 11, claiming that there is a culture of gender discrimination at CSU.
On June 25, Larimer County District Court Judge Stephen Jouard denied CSU's request for summary judgment.
"To this day it's very difficult to think about," Boucher said. "It's very difficult to come back to Fort Collins."
Her plan was to earn tenure and stay at CSU, which was a major part of the reason why Boucher – who now works as an assistant professor at the University of Florida – didn't initially report the harassment to the Office of Equal Opportunity.
"I felt like if I had made a report (about) (Ben-Hur), it would have caused more of a rift," Boucher testified. She said that going to the OEO would have put her in a "worse position."
Boucher testified that she did, however, discuss the harassment with Darrell Whitley, who served as chair of the computer sciences department until 2017.
Whitley and Boucher said Whitley did not immediately report Boucher's claim to the OEO.
An exhibit presented by the plaintiff's council showed that Whitley should have reported the claim. 
A PowerPoint training program, known in the case as Exhibit 84, for CSU Department heads and chairs dated Sept. 1, 2011 had a slide that read: "Once you become aware of a (sexual harassment) claim, immediately report the claim to the OEO."
Whitley did not attend this 2011 training session for department chairs. He claimed to have done it "maybe five or ten times at CSU." Whitley said that the last time he had this training was in 2009 while teaching in Spain; it was completed online.
After reporting the complaints of sexual harassment to Nerger and Whitley, Boucher claimed she was denied tenure and forced to resign. She testified that her bad third-year review was retaliation from the university for speaking up.
According to The Coloradoan, Boucher said, "A bad third-year review from the department chair is pretty career ending. It would have made getting tenure at CSU pretty hard, if not impossible."
Nerger and Whitley said that her performance review was unrelated to the situation involving Ben-Hur. Rather, it reflected Boucher's actions and performance.
Among other actions, Nerger and Whitley alleged that Boucher was frequently absent from class throughout the Spring semester of 2015, that she was unresponsive to emails, and that she refused to allow biology students into her section of CS548: Bioinformatics Algorithms.
Boucher refuted the third claim in testimony. The last time she taught CS548, 50 percent of the class was made up of life sciences students, Boucher said.
Boucher will finish her testimony on Monday, Aug. 27. 
Blake O'Brien can be reached at news@collegian.com or on Twitter @BtweetsOB.