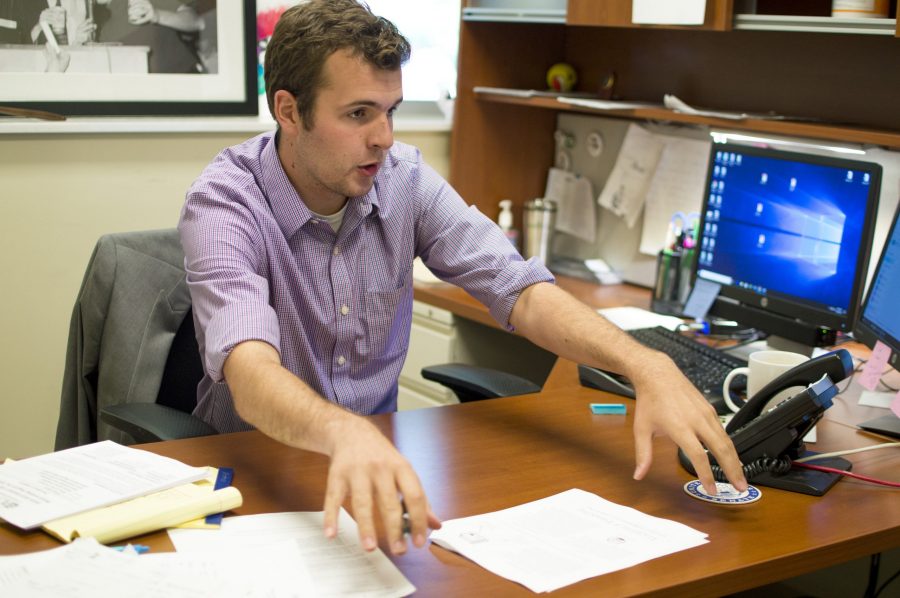 With the new semester's syllabus week now over, the Associated Students of Colorado State University President is working towards his goals for the 2018-2019 school year.
Tristan Syron, the president of ASCSU, laid out to The Collegian what his administration plans to make progress on.
"(ASCSU Vice President) Kevin (Sullivan) and I are 100% focused on external goals," Syron said. First up: tailgating.
On-campus tailgating started last year with the inaugural season of Canvas Stadium. Syron wants to make it more popular, and doesn't hold back in his criticism of its past failures.
Syron estimates that the tailgates at each of last year's gamedays only reached about 25% capacity, and wrote in a weekly report that last year's student tailgates were a failure.
"Our goal was to redo it, so we started off with a new marketing approach," Syron said. "We completely restructured how we did that. We got probably a thousand flyers out on the plaza, made some videos about it. I think it was good stuff."
Another battle the Syron-Sullivan Administration is fighting is replacing U+2 with Me+3.
The effort will begin with a study on U+2 that ASCSU commissioned last year.
Originally, Syron said, the survey was going to be done during the summer, but has been moved to September 6.
"The survey was supposed to go out in July," Syron said. "I talked to Tony Frank and we successfully negotiated (it) to be moved to September, that way students would all be in town to fill out the survey."
Canvassers will descend on neighborhoods and ask Fort Collins residents about their thoughts on U+2 next week.
ASCSU will be promoting the adoption of Me+3, which Syron believes will be better for all involved.
He said that letting students pack more people into living spaces will create space for more non-students to live in the area as well.
"You're actually concentrating the parties into less," Syron said. "And you're helping out the market by letting community members have (a larger share in the rental market)."
Another campaign promise that Syron intends to pursue is reforming the parking system on campus.
Syron called the parking meters in the LSC and Morgan Library parking lots "unethical advertising."
"They're on between 7 a.m. and 4 p.m., at $1.75 (an hour)," Syron said, adding that the meters made "about 12 grand off of about 3000 people between 4 p.m. and 7 a.m.," when parking is not enforced.
The parking signs around the lots say that parking is only enforced during the day, but Syron thinks the small print is not enough.
"They did say they would resign it, that way we can really emphasize that it's free (after 4 p.m.)," he said. Ideally for Syron, the machines would be turned off when parking permits aren't being enforced.
There is also a new CSU parking app that tells where open parking is available in the parking garages on campus. Currently, it can't count surface-level parking lots, but Syron hopes that by the time he leaves that either the groundwork will be starting or is already done to where students can see available parking in the Library and the LSC.
Syron is also considering eliminating freshman parking on campus.
"Almost every other university in the country doesn't allow (it)," he said.
With the reduced congestion from freshmen cars parked on campus, more parking spots would be opened up for commuters with the possibility of lowered parking costs.
"We're still looking into it and getting all the numbers, but (it) seems like we're moving away from that," Syron said. "I don't think they're going to do it but I'm still fighting for it."
The first ASCSU Senate meeting will be held Aug. 29 in the ASCSU Senate chambers at 6:30 p.m.
Stuart Smith can be reached at news@collegian.com or on Twitter @stuartsmithnews