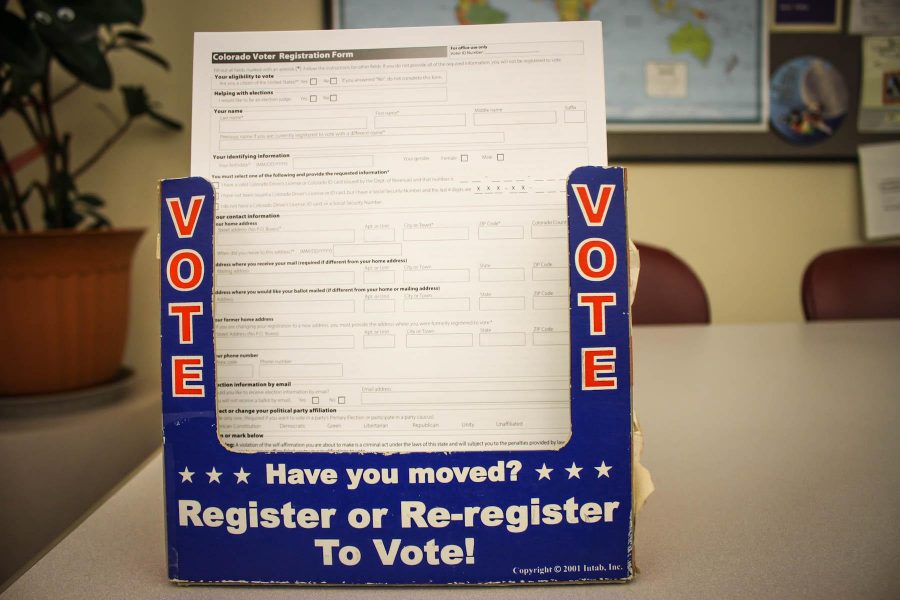 Larimer County voters will see five contested races for federal, state and local seats in the June 26 primary election, the first primary to allow unaffiliated voters to participate.
The Colorado governor's race now has eight candidates running, with the Republican and Democratic parties each putting up four. The secretary of state position will also be contested on both sides, while the Democratic party will be deciding their candidate for state attorney general.
At a local level, Democrats have two options for house representative in District 2, which encompasses Larimer County. The Republican party has put forth two candidates for a Larimer County commissioner seat.
How to Vote
For the first time, major parties must allow Colorado's nearly 1.2 million unaffiliated voters, the state's largest segment of active voters, to vote in their primaries due to Proposition 108 passing in the 2016 election. There are more than 84,000 unaffiliated voters in Larimer County, according to State records.
Unaffiliated voters who did not request a specific party's ballot by the deadline will receive ballots for both the Democrat and Republican party. However, those who want their vote to be counted must vote using only one of the ballots. Voting on both, even if they are for different seats, will result in the ballots being thrown out.
The party primary someone votes in will also be public record to ensure there is no double voting. The voter, however, will remain unaffiliated.
Party-affiliated voters will still only receive their party's ballot.
Mail-in ballots must be received by the county clerk's office by 7 p.m. on election night. If you do not mail in the ballots by June 18, the clerk's office recommends dropping it off in-person at one of the ballot drop box locations to ensure it will be delivered on time.
The following drop box locations will accept ballots 24 hours a day until 7 p.m. on election night:
Larimer County Courthouse, 200 W. Oak St, Fort Collins
Loveland Vehicle Licensing Branch Office, 205 E. 6th St, Loveland
Estes Park Vehicle Licensing Branch Office, 1601 Brodie Ave., Estes Park
Additional locations can be found on the Larimer County website.
Those who still need to register to vote may do so on the Colorado Secretary of State website.
Governor 
Democrats
Mike Johnston
Focus: Johnston has proposed increased funding to education and infrastructure by repealing the "worst" parts of TABOR or the Taxpayer Bill of Rights in the Colorado Constitution. His #4NoMore gun safety plan outlines a ban on high capacity magazines, bump stocks and implementing universal background checks for every firearm purchase, according to his campaign website.
Cary Kennedy
Focus: In her campaign announcement, Kennedy spotlighted public education reform as one of her reasons for running and has promised to make education Colorado's number one priority with increased funding and teacher pay. Her campaign website includes issues such as increased gun control for gun violence prevention, accessible and affordable healthcare through a public option and affordability in the face of growth.
Donna Lynne
Focus: According to her campaign website, Lynne plans to make insurance more affordable by potentially allowing employees of school districts, local governments and small businesses to join the health plan offered to state employees. Her campaign also highlights protecting the environment and moving to clean energy through strengthening the Colorado Oil and Gas Conservation Commission and advancing "an aggressive clean transportation agenda."
Jared Polis
Focus: Polis' campaign website emphasizes providing quality education for students, specifically universal, free, full-day preschool and kindergarten through state funding. He is also the only candidate to support universal single-payer health care or Medicare for All. His website states such a system would increase health care options and accessibility while taking administrative burden off of small businesses. 
Republicans
Greg Lopez
Focus: In a gubernatorial candidate forum in March, Lopez emphasized ensuring state actions represent both urban and rural priorities. Lopez's campaign website emphasizes public education, 2nd-amendment rights and civil liberties as being priorities to the candidate. Additionally, he advocates for Public Employees Retirement System (PERA) reform and the rights of small businesses. 
Victor Mitchell
Focus: In a visit to Colorado State University, Mitchell said there would be no public college tuition increases while he is governor. He also advocates for cutting business regulations, setting up primary care "health-wagon clinics" and complete transparency on the allocation of cannabis revenue, according to his campaign website.
Doug Robinson
Focus: In an interview with CPR, Robinson said the single biggest problem facing the state right now is roads. He would fund the state's neglected infrastructure through bonds, since he does not support a tax increase at this time. His campaign website also states he would ensure those who use marijuana recreationally are not buying from the medical marketplace and would use increased revenue to educate kids on the dangers of cannabis.
Walker Stapleton
Focus: In a question and answer session with the Arvada Press, Stapleton said his two major goals as governor would include prioritizing transportation and affordable housing, making their development more streamlined in order to reduce costs. According to his campaign website, he opposes sanctuary cities and will defend the second amendment by repealing the "misguided 2013 gun control laws" and will allow teachers to carry firearms for protection.
State Treasurer 
Republicans
Justin Everett: A state representative since 2013, the Jefferson County native promotes small government and fiscal conservatism, according to his campaign website. 
Polly Lawrence: Lawrence has been a Republican member of the Colorado House of Representatives since 2013, and according to her campaign website she plans to reform PERA and move to a multi-year budget.
Brian Watson: The real estate CEO has positioned himself as a Colorado business leader with significant financial experience and has pledged not to take a salary from the government if elected, according to his campaign website. 
Democrats
Bernard Douthit: An experienced businessman with no prior time spent in public office, Douthit hopes to work with legislature to streamline the tax filing process and create a Colorado public bank to help local businesses, according to his campaign website. 
Dave Young: Young has worked as a teacher, a state representative and a member of the Joint Budget Committee in Colorado government and proposed funding for education and reforming TABOR, according to his campaign website. 
Attorney General 
Democrats
Joe Salazar: Elected to the Colorado House of Representatives in 2012, Salazar has experience practicing civil rights and constitutional law in Colorado as well as policy making, according to his campaign website.
Phil Weiser: Under Barack Obama, Weiser worked as Deputy Assistant Attorney General in the Justice Department's Antitrust Division and later participated in policy initiatives as senior advisor for technology and innovation to the National Economic Council Director, according to his campaign website. 
Republican
George Brauchler: The only Republican candidate, Brauchler is currently a District Attorney representing the 18th Judicial District. 
House Representative for District 2
Democrats
Joe Neguse: According to his campaign website, his stances include fighting for a clean DREAM Act, banning fracking on all Federal public lands, and encouraging states to pass "Red Flag" laws to prevent people deemed at risk to themselves or others from accessing firearms. 
Mark Williams: His campaign website includes issues such as removing big money out of political campaigns, ending the war on drugs, and supporting Medicaid for All. 
Republican
Peter Yu: The only Republican candidate, Yu's campaign website states that he is an experienced business executive who hopes to curb government spending.
Larimer County Commissioner for District 1
Republicans
Sean Dougherty: Dougherty, now a real estate agent, has spent a significant portion of his 19 years in Larimer County on community involvement including chairing the Larimer County Planning Commission and spending 16 years as a member of the Fort Collins Chamber of Commerce, according to his campaign website. 
Chalon Kintzley: the 4th generation Larimer County native campaign page states he is "not a politician." With his pilot's license and local business, Kintzley pledges to find solutions and do work with long-term goals and effects in mind.
Democrat
John Kefalas: The only Democratic candidate, Kefalas is currently a state senator for District 14 which includes Fort Collins.
Collegian reporter Samantha Ye can be reached at news@collegian.com or on Twitter @samxye4.