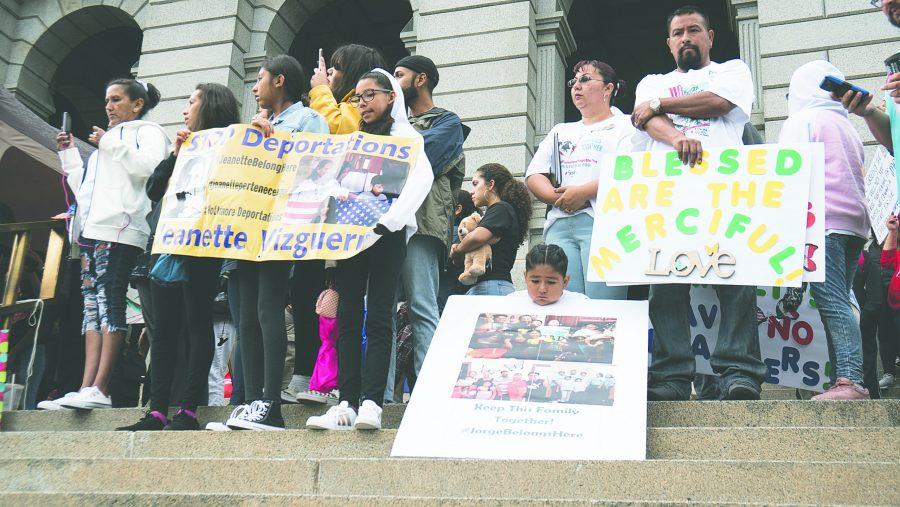 More than 1,100 marchers gathered at the Denver Capitol building on June 24 for the Save the Children Now rally, protesting against family separations at the U.S. border, child detainment facilitates and immigration policy.   
Organized by The Resistance 5280, the event also functioned as a toy drive intended for children that have been separated from their parents.
The rain and thunderstorms did not deter those from attending, and many attendees came prepared for the wet afternoon. 
Rebecca Zimmerman, one of the event organizers with The Resistance 5280, said the event and rally were organized in a week and a half.
"We are extremely happy to see everyone come together around this event, especially some mainstream political figures along with individual families," Zimmerman said. "The goal of the rally is to get everyone motivated and energized to start changing laws and policies that are separating parents and children, and supporting families."
There were 10 confirmed speakers and performers at the rally as well as a few additional volunteers. All of the speakers emphasized the same message: Families belong together.
Speakers included Rev. Timothy Tyler, Colorado congressional candidate Saira Rao, U.S. Rep. Diana DeGette, state Rep. Leslie Harod, founder of the Metro Denver Sanctuary Coalition and community activist Jeanette Vizguerra, state Rep. Joe Salazar and Rep. Mike Johnston.
Additional speakers included students and families who were personally affected from the zero tolerance immigration policies, as well as a performance from Aztlan Aztec dancers.
The rally kicked off at 2 p.m. with Tyler giving an opening prayer and leading the crowd in the song "We Shall Overcome." The rally was followed by a march that looped around Colfax Avenue and Lincoln Boulevard to continue down 16th Street Mall.
Colorado resident Liz Stalnaker, who attended the rally with her family and children, said they attended because they understand the value in keeping families together.
"It's important our family stands and supports other families," Stalnaker said. "I want the people going through this and being affected to know they are not alone, and that folks in our city want to help."
DeGette, spoke following her congressional opponent Rao.  
"What the GOP is doing is wrong, un-American and it needs to be stopped," DeGette said. "What is going on is inhuman by any standard, and it needs to end today." 
DeGette was interrupted mid-way through by chants to "defund ice" from the crowd.
"We need to stop and defund the rogue activities being done by rogue agencies like ICE," DeGette responded. 
Harris made a surprise appearance as an unconfirmed speaker during the rally.
"I am not surprised this government is taking families apart. It has happened so often in this country," Harris said. "(The) easiest way to dehumanize people is to tell them their children don't matter."
Political organizer Mateo Lozano, an immigrant advocate who had joined Vizguerra during her speech as a translator, walked through groups of attendees and registered them to vote. 
"Younger people need to start mobilizing and becoming leaders in their community," Lozano said. "One way to do this is to register to vote, and another way is to be active in movements that mean something to you. Find your passion and organizations that want to make change."
Johnston took the stage at the end of the rally to speak to the crowd.
"Families deserve to be together, that's why we stand and march today. We must not let families be divided in this country," Johnston said. "This is not about re-establishing our greatness; it is about reserving our goodness."
Collegian reporter Jayla Hodge can be reached at news@collegian.com or on Twitter @Jaylahodge.