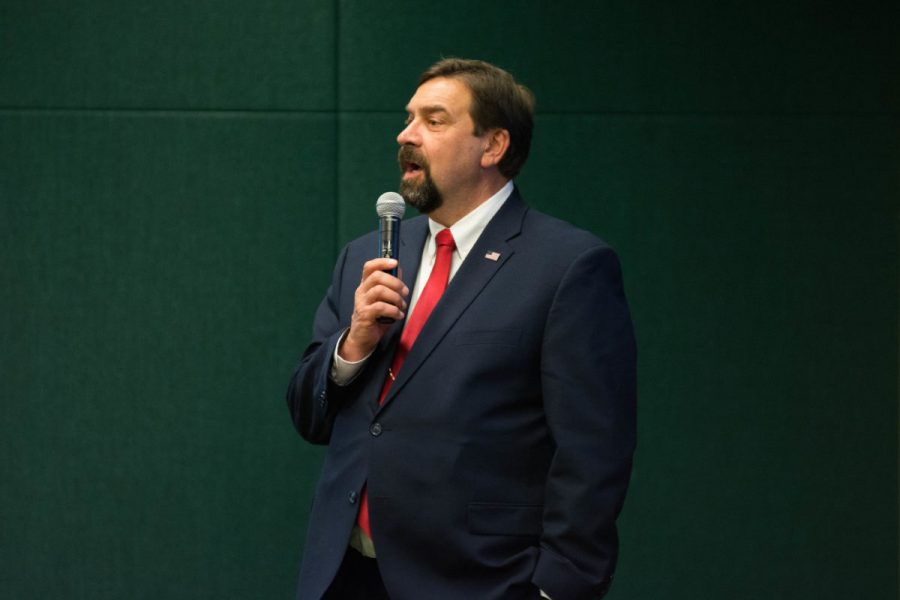 Colorado State University president Tony Frank addressed the admissions tour incident in a mass email to CSU students and faculty on Friday afternoon.
Frank explained right away that in keeping with the University policy of being "wide open and transparent about issues like this," the information of the incident has been shared campus-wide. 
"The tour incident and its implications have troubled and angered many of us on campus as well as many of our alumni and people with no connection to CSU," Frank wrote. "The emotions have ranged from sadness to frustration to anger, all flowing from a reservoir of sympathy created by imagining ourselves or our children in this situation."  
Frank explained that the "resounding theme" expressed to his office has been that many want to ensure that the University is reaching out to the two prospective students, and in so doing what can be done to make things right. Frank added that this is "absolutely the University's goal." 
Frank wrote that the current goal is to speak with the family and, at a minimum, reimburse their expenses, as well as offer another opportunity to visit campus as VIP guests.
However, the University has tried to reach out to the family via social media and have been unsuccessful. 
Frank also wrote that he and colleagues have seen the body cam footage of the incident and shared the report that was published Friday. 
The email also explains that the University administration has been meeting to discuss potential changes to how campus tours are managed, including a badge or lanyard system for tour guests. 
"We have developed a new protocol by which CSUPD will make tour guides aware if they ever need to interact with a tour participant," Frank wrote. "VP (Leslie) Taylor and her staff also will be working with our student tour guides, who do an outstanding job in a very difficult role, to incorporate new language into their introductions so that anyone with questions or concerns views the tour guide as the first point of contact."
Frank explained that while these are small steps, they reflect the concern and commitment shared by the admissions team, CSUPD and the University administration. 
Frank went on to discuss his thoughts on the event itself, beginning by stating that he is worried about the "big strides" that need to be made on campus and within the University's culture. 
"The very idea that someone – anyone – might 'look' like they don't belong on a CSU Admissions tour is anathema," Frank wrote. "People of all races, gender identities, orientations, cultures, religions, heritages, and appearances belong here."
Frank went on to explain that CSU is committed to provide access to an exceptional education to everyone with the talent and motivation to earn a degree. 
In closing the email, Frank discussed the "battle of hate within our communities," including several examples. 
"There is no place for hate at Colorado State University, and we will not be silent when we see it," Frank wrote, adding the question "Where do we go from here?" 
Frank asked if the community and the University are willing to push themselves into "uncomfortable places in order to see the reality of what people experience" as well as how one could help perpetrate incidents such as these, via action or inaction. 
Frank finished his email with a hope to return next semester remembering these questions and these challenges. 
"It is my hope that each of us returns with a commitment to be a little kinder, a little better, to work a little harder at seeing each other's point of view and to use our voice," Frank wrote. "Not always to agree, but always to defend each other and to oppose hate."
Collegian reporter Austin Fleskes can be reached at news@collegian.com or on Twitter @Austinfleskes07.