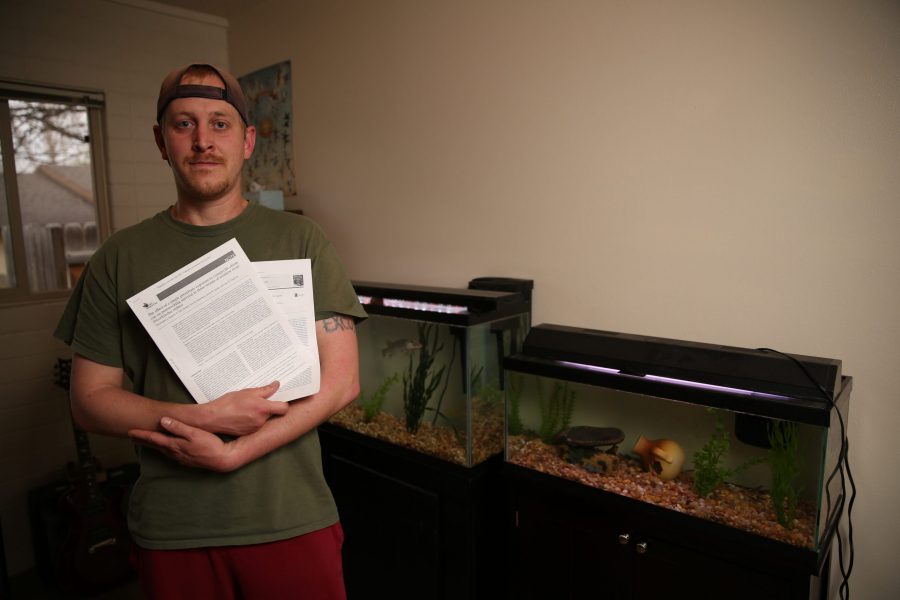 Editor's note: A previous version of "Seven CSU students named awardees in highly competitive Graduate Research Fellowship Program" published on April 25 had  three inaccuracies. Kathleen Wendt is majoring in human development and family studies and was incorrectly stated as health and human sciences. A portion of Wendt's quote claiming she came from "poverty" has been removed. Doug Coatsworth has been corrected to reflect his status as a PhD recipient. We have changed these errors to reflect the correct information. 
Seven Colorado State University graduate and undergraduate students were awardees of the National Science Foundation's 2018 Graduate Research Fellowship Program, a highly competitive national program that financially supports primarily STEM graduate research.
"The purpose of the program is to provide support for early career graduate students who have demonstrated an ability to make a significant contribution to their field," said Mary Swanson, associate director of the Office for Undergraduate Research and Artistry and the Office for Scholarship and Fellowship Advising.
The seven CSU students who won GRFP awards were Kathleen Wendt, Jasmin Hicks, Kathryn Moore, Katelyn O'dell, Katherine Bates, Bridget Eklund and Christopher Kopack.
GRFP awards students with $34,000 per year for three years that can be specified over a five year period to pursue their graduate studies, as well as with $12,000 for tuition expenses during those three years.
The application process for GRFP includes a three-page personal statement and a two-page statement of grant purpose in which applicants outline a research project.
The application was judged by the award committee on two bases: intellectual merit and broader impacts.
Out of the 12,000 applications that were nationally received for GRFP, 2,000 awards were offered, and the awardees were announced on April 3.
Wendt, an undergraduate senior human development and family studies major, first heard about GRFP from her mentor and advisor, Doug Coatsworth, Ph.D, as well as Swanson.
"She's put in a lot of effort and is an exceptional student, she's very smart and this was a nice way to communicate to her that she can be very strong in graduate school and beyond, and big things are expected of her," Coatsworth said.
Wendt studies family dynamics and how they influence child and adolescent development. She is interested in implementing mindfulness-based interventions for families with histories of stress and trauma and seeing how different interventions can positively impact families.
"I come from a background of financial insecurity, and so the financial aspect of this program changes my life in that way," Wendt said. "This opens doors to new opportunities and connections with outstanding scholars in the field and places me in that circle to set me up for future positions and opportunities."
Hicks, a master's student studying biomedical sciences, found out about GRFP from her undergraduate research advisor, Dr. Joseph Seggio, and was also encouraged to apply by her Ph.D. advisor Dr. Noreen Reist.
"I am extremely grateful to have been awarded the NSF GRFP Fellowship," Hicks said. "It is a huge accomplishment for any graduate student, but as a first-generation, Cape Verdean woman in science, I am especially proud of myself."
Hicks's research focus is on the molecular mechanism of communication between nerves and muscles at their contact site, the neuromuscular junction.
"If I had not won this fellowship, I would've had to spend 20 plus hours a week working as a teacher's assistant, which would have hindered my participation in outreach," Hicks said.
Moore, a master's student studying atmospheric chemistry broadly, said her proposed study is on ice nucleating particles and what effect aerosols have on clouds and precipitation.
Moore detailed how ice nucleating particles are currently one of the biggest uncertainties in climate models, and she took a field project to the Southern Ocean from January to March of this year to find out more.
"I was a part of a bigger project that was measuring cloud microphysics and how clouds interact with aerosol particles down there," Moore said.
O'dell, a master's student, studies atmospheric sciences. She first heard about GRFP as an undergraduate student at the College of Charleston.
"I was really excited about it because when I was doing this fellowship application different from all my other ones," O'dell said. "I feel like I really put my heart into it, especially with the personal statement and just going through with what I'm passionate about and why I'm passionate about it."
O'dell is specifically interested in studying the impact of wildfire smoke on air quality, and the subsequent effect of smoke on human health.
"We've been working with epidemiologists, and on our side, we identify smoke concentrations and then we give that to epidemiologists who study the health impacts all at CSU," O'dell said. "I'm really passionate about that and I want to continue that with the NFS grant."
Bates, a senior undergraduate zoology major, said she believes that the honorable mention she received from the Goldwater Scholarship last year helped her with being awarded in GRFP.
Bates will be attending the University of Massachusetts at Amherst starting this fall where she will study neuroscience and behavior, researching the evolution of neural mechanisms underlying homologous behaviors in mollusks.
"In academics and research, it can sometimes be hard to be noticed and recognized even though you put in a lot of time and work, and it's gratifying to have recognition," Bates said.
Eklund, a graduate student studying microbiology, is beginning to conduct research on microbiomes. Eklund is researching how the microbiome changes when people get vaccines.
"I think GRFP give me a better opportunity to complete my research, so now I won't have to teach or worry about funding," Eklund said. "It helps reinforce that other people see me as a scientist."
Kopack, a graduate student studying zoology, is specifically interested in the behaviors of different animal species. Kopack was the only person from his department to be named an awardee for GRFD.
Kopack studies common animal species such as coyotes, but more specifically studies endangered and threatened fish species. He looks at domestication and how that along with environments impacts animal behavior.
"It means absolutely everything to me," Kopack said. "I just never really thought that I would be awarded this. Coming from my background, I had a rough upbringing. I didn't even make it into high school. I was a junior high dropout. So to be in this position now, to be able to do this research and have others recognize the value of this research, I'm beyond myself."
Collegian reporter Matt Bailey can be reached at news@collegian.com or on Twitter @Mattnes1999.