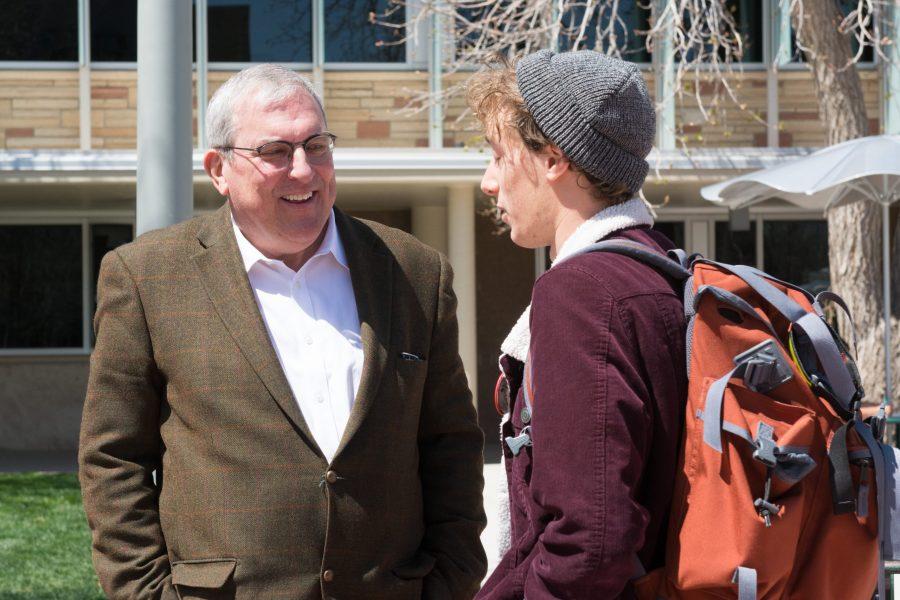 In an effort to get students more engaged in local government, the Associated Students of Colorado State University and Fort Collins City Council, in collaboration with the Center for Public Deliberation, spoke with students on April 25 about local issues and concerns. 
Mayor Wade Troxell and members of City Council talked with passersby on the plaza about issues such as affordable housing, public transportation and U+2. They also encouraged students to write their opinions on these issues and other concerns on whiteboards set up by the CPD. 
Director of Community Affairs at ASCSU Hanna Johnson said civic engagement is important, especially for college students who tend to have low engagement in their local government.  
Johnson said they wanted to make the event personal for the students, so they could meet and speak with their representatives directly. 
"I think that often times students feel disengaged civically because they… don't feel connected to their civic duty," Johnson said. "We really wanted to connect students to those community issues and show them that civic engagement can be really relevant to your everyday life."
Ray Martinez, the representative of District 2, said the engagement from all community members helps to get policy right the first time
"I think it's important that students are more aware. It's not that they don't want to be, they're not always sure as to what's the right question to ask," Martinez said. "There really isn't a wrong question to ask, so the more questions they ask the more informed they become."
Kalie McMonagle, the program coordinator for the CPD, explained how the boards influence the City Plan. 
"The City Plan is something that gives guidance for the city for what were going to do for the next 20-30 years," McMonagle said. "In this case we're looking 20 years ahead to figure out what we want housing to look like here, what we want transportation to look like here." 
Discussions were not confined to housing and transportation. Amelia Guglielmi, a senior political science major and an associate justice in the judicial branch of ASCSU, spoke with representative Kristin Stephens of the fourth district about the empowerment of women in politics. 
"I really wanted to talk to specifically to Kristin because she is the only woman on city council currently," Guglielmi said. "She's claiming that voice for herself." 
Ross Canniff, the representative from the fifth district which includes CSU campus, said the student population is the biggest gap in engagement.
"Being able to connect with your elected representatives means that you have much stronger voice in the decisions made at the local level. You're interacting with your local government multiple times a day," Canniff said.
Canniff also said he noticed an increase in student engagement when local government comes to campus, which is easier for them due to their presence in the community. 
"That's one of the advantages of a local government, were right here. We live here in the community, we interact with people every day," Canniff said. 
Mayor Troxell stressed the importance of civic engagement on all levels, especially from students. 
"Students are first class citizens in our community and so the more that we can actively engage with all of our citizens is good for our community," Troxell said. "The city doesn't run from city hall. It really is a responsibility from all of our citizens to be actively engaged in the community.
Collegian reporter Meagan Stackpool can be reached at news@collegian.com and on Twitter @MeaganStackpool.