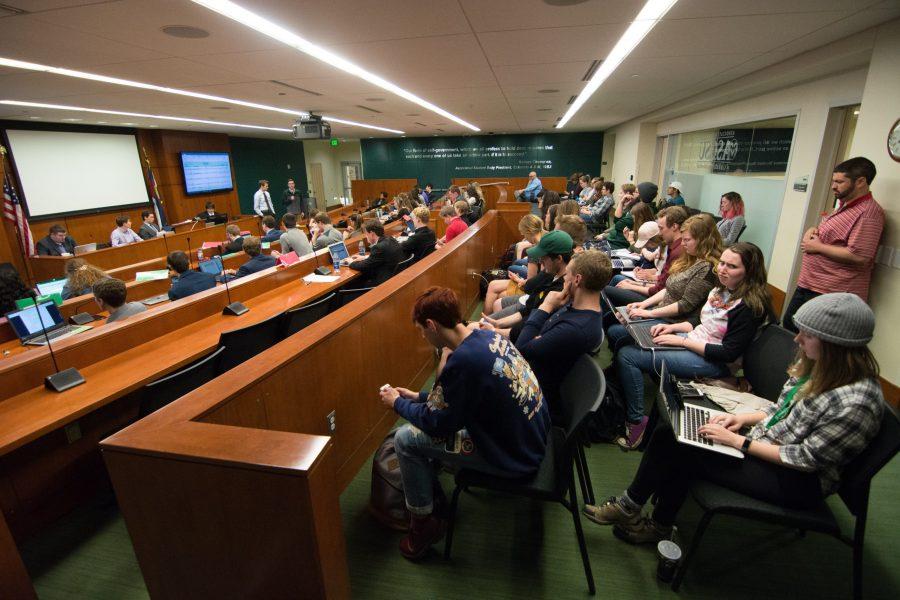 Editor's Note: The Collegian is operated by the Rocky Mountain Student Media Corporation. 
The Associated Students of Colorado State University Senate approved of the student fees proposed for the 2018-2019 school year, passed funding for new furniture for the Student Diversity Programs and Services offices and discussed the upcoming budget Wednesday night. 
Senate approves 2018-2019 student fee package
The ASCSU senate unanimously approved the student fee bill presented by the Student Fee Review Board in a vote of 22-0-0. 
For full-time, on-campus students, the proposed fee increase is $18.82, a 1.59 percent rise from the current fee. This was the lowest fee increase seen in several years, Wise said. 
"(Senate's) vote stands as a vote of confidence in the Board and in their ability to vote on the student fees," Wise said. "It will go on to the board of governors regardless now."
The proposed General Fee totals for the 2018-2019 academic year are: 
Full-time, on-campus students:$1,202.56
Full-time, off-campus students:$480.07
Part-time, on-campus students:$312.54
Part-time, off-campus students:$206.34
Wise said the fee package must now be approved finally by the Board of Governors during its meeting next week. 
ASCSU Senate unanimously passes funding for Student Diversity Programs and Services furniture 
In a vote of 24-0-0, ASCSU passed a bill that would allocate $24,023 from Senate Discretionary Fund to be divided among the five SDPS offices in order to purchase new furniture as follows:
Pride Resource Center: 5 armchairs, 2 couches and 2 tables
El Centro: 26 chairs, 6 sofa chairs, 2 sofas, 4 tables and 1 conference table
Black/African American Cultural Center: 4 chairs, 6 sofa chairs and 1 filing cabinet
Native American Cultural Center: 6 chairs and 1 table
Senator Echohawk, who wrote and presented the bill, said the SDPS offices have previously functioned solely off of used, cheap furniture, some of which are upwards of 15 years old. 
However, in order to purchase new furniture with their organizational procurement cards, the offices must comply with University and Lory Student Center standards as set by contracts with two vendors, President-elect Tristan Syron said.
This means the SDPS offices are limited not only to what furniture they can buy but also by the prices those vendors have set. The potential furniture prices ranged from $250.51 dollars to $2,292.08.
Syron said the funding will significantly impact the lives of students. 
"This is double (the funding of) the water bottle bill. It's going to have way, way more of an impact," Syron said. "The water bottle bill was looking at what buildings were underfunded. This is what people are underfunded."
Isaiah Martin, a former senator and senior political science student, said the necessity for support from Senate is crucial in their efforts to represent traditionally marginalized communities, especially given the campus environment this year. 
"We have a lot of these offices that, unlike a lot of the different organizations we have on campus, do not get the same type of funding," Martin said. "We're a lot more limited in what we can get. I know it seems like it's just couches or chairs, but when you come to a predominantly white university from a marginalized community, these help you feel comforted."
Senator Echohawk said the bill will directly impact both current and prospective members and constituents of the diversity office and students who feel forgotten when relegated to sit on handed-down, broken furniture.
"We talk a lot about how we can support diversity, but we never actually do anything about it," Echohawk said. "Let's do something that's going to last."
Senate discusses 2018-2019 budget, funding of Rocky Mountain Student Media Corp. 
President-elect Tristan Syron and Vice president-elect Kevin Sullivan presented the proposed budget for the upcoming fiscal year. The current proposal sent to the Collegian calls for a total of $1.71 million from the Senate ASCSU General Fund to be spent in accordance with the budget as Syron and Sullivan finalize them.
Syron said it was important to the administration to budget resources in a way that aligns with their campaign platforms such as improving parking, U+2 and improved engagement through an ASCSU ambassador program. 
"Your budget should really reflect your platforms, so I really do believe that," Syron said. "We put the resources where we want to see the change."
The proposed budget intends to allocate resources in a manner that will allow flexibility for funding for local lobbyists on ASCSU's behalf, who could potentially help advocate for student issues such as U+2.
Syron said the flexibility is important in that instance because depending on the outcome of the study currently being done by the City of Fort Collins in collaboration with ASCSU, his administration wants to respond quickly.  
"Let's do it right. So if that money needs to go into a local lobbyist or a local advisor in order to make that impact, let's do it," Syron said. "We have one shot to make it right."
Syron also proposed a resolution to the Senate pertaining to the funding of the Rocky Mountain Student Media Corporation, which currently receives half of its revenue from ASCSU. Senate will discuss the resolution in all committees prior to a vote during next week's session. 
Syron said the intention of the resolution was to improve transparency between the Executive and Legislative branches of ASCSU, since this contract is typically signed solely by the president without the consultation of Senate. However, regardless of the outcome of the resolution, the final decision will come from the Office of the President. 
"We thought there was a huge disconnect between the Senate and the Executive, so when we're signing the contracts let's get the student opinion," Syron said. 
In particular, Syron said he wanted to consult Senate because, due to an error in the Silva-Wells administration's controller book, ASCSU failed to provide RMSMC with a one-time payment of $25,000 that was agreed upon last year. As such, in addition to the rising mandatory costs of minimum wage for student employees and professional staff, RMSMC has requested a one-time increase of $64,000 for the 2018-2019 fiscal year. 
"I know the impact The Collegian can have on an individual," Syron said. "This is not about how The Collegian writes about ASCSU … We really are here for the students."
Collegian reporter Natalia Sperry can be reached at news@collegian.com or on Twitter @Natalia_Sperry.